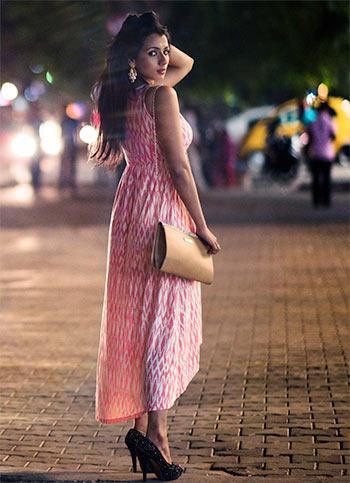 'But practically speaking, I have to feed myself and pay my bills, so I have to do a few commercial films too', Sruthi Hariharan tells Praveen Sundaram/Rediff.com
Sruthi Hariharan is a rare newcomer who tries to balance the 'commercial' and 'offbeat' films.
After the critical and commercial success of Lucia, she acted in Dyaavare and Savari 2.
In 2014, she played a small role in Tamil filmmaker Lakshmi Ramakrishna's Nerungi Vaa Muthamidathe.
Sruthi talks to about her forthcoming releases, A P Arjun's Rhaatee (which releases on March 20), Hemanth Rao's Godi Banna Saadharna Maikattu, and Rajat's Sipayi.
Weren't you shooting for Rhaate before Lucia released? What caused the delay?
Yes, I was. We shot until the end of 2014. The delay was because senior technicians were involved whose dates weren't easily available.
Rhaate means wheel, which is turned by somebody else - God, a greater power, whatever you call that universal energy. I guess even the production of the film was in a similar manner! It was not in our hands, hence the delay and many unexpected problems.
What is your character Rani like?
Initially, Rani was very alien to me. She is from a very small village in Karnataka.
She has very simple desires, she is a huge fan of actor Darshan and her life revolves around this one guy called Raja, played by Dhananjay.
They grew up together - she doesn't have any family – and they have this unconditional love for each other.
Her one wish is to visit Bangalore and watch a Darshan film with him.
Raja gets her to Bangalore and what happens there forms the rest of the film.
It is extremely commercial.
A complete contrast to Lucia?
Yes. I had signed Rhaate before Lucia released. I had no idea how Lucia would do then.
I signed up for Rhaate because the director had two superhits before. It was a good opportunity and I grabbed it.
Tell us about Godi Banna Saadharna Maikattu that has Rakshit Shetty and Anant Nag.
It's a kind of independent film by Hemanth Rao. Once Rakshit Shetty and Anant Sir came on board, I think the project became bigger.
After Lucia, I don't think I have heard a better narration of a story.
I was just blown over. I was so glad that there was someone wanting to make a Kannada film with so much clarity.
It is a feel-good script. There are no forced commercial elements in it. Even the comedy is very situational.
From the teaser, it seems like the story revolves around Anant Nag…
Yes, the story does revolve around Anant Sir. Let's say Rakshit and I form one part of Anant Sir's life in the film.
He is the hero, but I can't tell you any more at this point.
Anant Nag is probably the first senior artist you are sharing screen space with.
I have also shared a very little screen time with Girish Karnad in Savari 2.
Anant Nag Sir is a charmer. I go weak at the knees when I look at him (laughs).
He is a dominant personality; you just want to surrender when he is performing. My character does just that in the film.
Off camera, he is a fantastic conversationalist. Listening to him is mesmerising.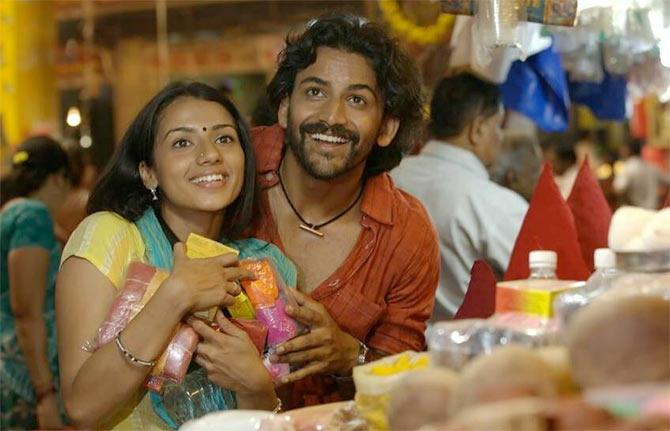 You seem to be balancing commercial and offbeat films very well.
I would like to do more meaningful cinema. I am doing this Tamil film with Balaji Shakthivel, which I am sure will impact society.
But practically speaking, I have to feed myself and pay my bills, so I have to do a few commercial films too.
I will definitely keep a fine balance. I only have to connect with the story and the character.
I may not be able to connect with Rhaate at the script level, but I loved playing Rani and I hope I have done her justice.
Balaji Shakthivel's film is your second Tamil film after Lakshmi Ramakrishna's Nerungi Vaa Muthamidaathe…
Yes, it is called Ra Ra Rajashekar.
Siddhartha Nuni, who shot my Kannada film Lucia, is the cinematographer. That's how I got into this project.
I am working in another Tamil film, Nila, an art film, with a couple of friends from Chennai.
Is Sipayi a commercial film?
Yes, it is. My primary reason for signing it was Rajat, who was the associate director of Lucia and one of the driving forces behind the film.
It has a new guy making his debut. I am doing Sipayi for a friend.
Have you seen the Tamil remake of Lucia, Enakkul Oruvan that released recently?
No, but I've heard the songs. It is very different. Obviously they had a lot of money to make it, unlike the original Kannada film, which was crowd-funded.
I think the Tamil director had his own take on the script.