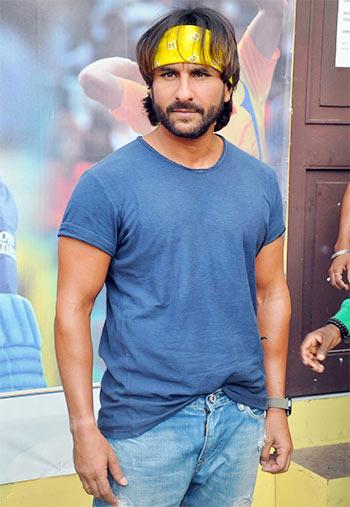 'I told Ibrahim that people are interested in him today because of his family.'

'If Sara wants to act, I will support it. But sometimes, it's nice to have a stable job with normal timings.'

'Most action-comedies I get have flaws in the story or screenplay'

Saif Ali Khan shares his dilemmas as an eager-to-experiment star actor and his kids' probable foray in Bollywood.

Unlike the other reigning Khans of Bollywood, Saif Ali Khan has got a bit of a raw deal dabbling in his recent experimental comedies (Humshakals, Happy Endings) and zany actioners (Agent Vinod, Bullett Raja).

However, the 44-year-old actor hopes things will change with his upcoming release, the Kabir Khan-directed Phantom.
But that's not the only reason he's looking forward to his new gamble.
By his own admission, Phantom was a right decision because he feels it is not right to play 'young and confused boys all the time,' as he has been routinely accused of given his choice of roles.
Patcy N/ Rediff.com listens in as Saif Ali Khan talks Phantom and family.
What made you take up Phantom?
I like to work in these kinds of films. I thought it was a dream combination.
(Producer) Sajid Nadiadwala likes to make exciting films.

He wanted to work with Sylvester Stallone, and he did it (in Kambakth Ishq). He has Stallone and James Bond memorabilia in his office. He is very passionate about films. The scale he has given Phantom is outstanding. We shot in Europe and America.
Phantom should not come across as a documentary or a patriotic film or an anti-terrorism film. It has a great script; it's a fast moving story.
I've been wanting to work with Kabir Khan for a long time. I was offered Kabul Express but it didn't work out. He offered me New York but I chose Kurbaan instead. They were quite similar.
I did Agent Vinod and he did Ek Tha Tiger. So we like the same kind of movies.
And Sajid gave us one of the most beautiful ladies in Bollywood with a strong screen presence to work with, Katrina.
You've had success with your romantic films but not action films. Do you think Phantom will change that for you?
In my romantic films, I've always played young and confused boys and it is not right to play these roles all the time.

I have to aim for something more mature, something that suits me.
I started working in films when I was 19 and now I am 44. People should pay attention to the kind of films I'm choosing and offer me accordingly.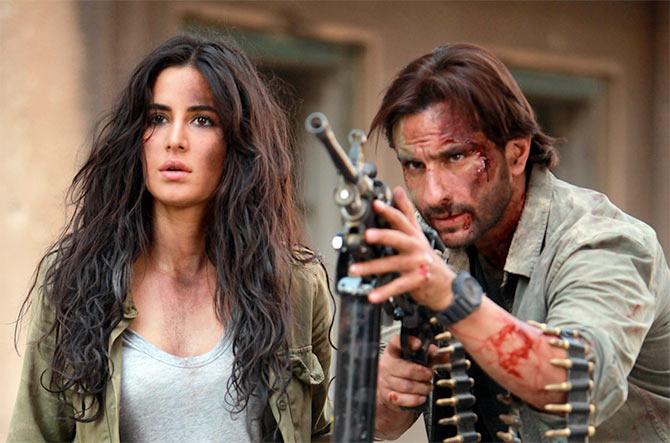 Image: Katrina Kaif and Saif Ali Khan in Phantom
Do you think you will bounce back with the help of Kabir Khan?
This is a new genre for me, so I hope it works.
It's a wonderful plus for the film that (Kabir Khan's earlier film) Bajrangi Bhaijaan has done so well. It would have been a plus if my last film was a hit.
We really miss Saif Ali Khan's performance in Omkara. Why don't we see more of that?
That role was so different and not easy at all. But yes, I look forward to doing something like that.
In future, I would like to work with good directors.
Why was Phantom delayed?
This is the brilliance of the producer, as he decides the release dates. It was nothing to do with Bajrangi, since that's a different production house.
Even though most of Salman's films do well, I don't think a producer will postpone his film to see the box office result of Salman's film.
There were some SFX elements to be done on the film (and that's why the film got delayed). But this is the best release date.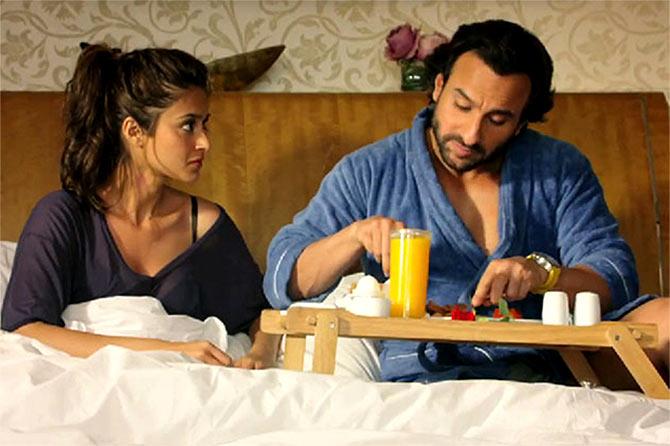 Image: Ileana D'Cruz and Saif Ali Khan in Happy Ending
You did Phantom after a light-hearted film like Happy Ending. How tough or easy is it for you, as an actor, to switch from one character to another?
Every role has its own difficulties. The difficulty in Happy Ending is the way the character has casual conversations. He has to be familiar with the lines, and not speak them as dialogues.
With Phantom, I was trying to make my character realistic -- he's an ex-army guy, who has been disgraced and thrown out of the army.

His father doesn't talk to him; he is an outcast in Kashmir.
Naturally, there is some angst. He can't be a happy person.
Then, he gets chosen for a suicidal mission and gets a chance to redeem himself. So for me, the film is about a second chance for this guy.
So my character has to look like slightly desperate and disturbed, without losing his cool.

It's not easy to maintain that expression throughout. You can't look happy or relaxed, as this is not a regular hero's role.
What kind of research do you do for your roles?
Some films require more research.
There is a combination of so many things like how the character dresses, what he looks like, how much he smiles or when he laughs, is it a full laugh or a small one... but that's the fun, when you choose the characteristics.
The main thing is to make the character like you rather than you becoming the character.

It's difficult to become somebody else, so you should try and make that character you.
Do you miss the action comedies that you did early in your career with Akshay Kumar?
It would be fun to do an action comedy. The kind of scripts I get are slightly limited in quality.

Most of them have flaws in the screenplay or story. I wish there were more exciting and well written films.
Sometimes, when I watch American television shows, they write every episode so amazingly. I hope I get scripts like that.
Last year, people told me it's not good being stuck in a zone. So I made an attempt to find another space with Bullett Raja, Humshakals and Happy Ending.
Raj and DK (directors of Happy Ending) were slightly new directors, so I thought they would present a new type of romantic comedy. I liked their sense of humour.
I hoped Sajid (Khan, director of Humshakals) would make a film like Housefull.
I hoped Tigmanshu (Dhulia, director of Bullett Raja) would make a film like Paan Singh Tomar.
I was trying to do something new and be brave but it went wrong.
You are working with Katrina for the first time, and your wife Kareena has been praising her a lot…
Katrina is a very nice girl. She is intelligent and committed. She works on her dialogue, there's a lot of commitment there.
I wish her all the happiness in her personal life. She seems like a loyal girl and I want to see her happy.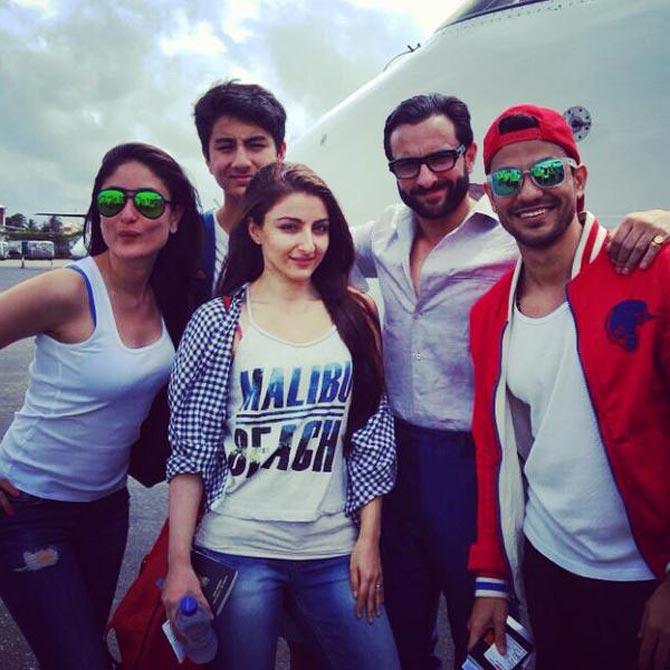 Image: Saif with Kareena Kapoor, son Ibrahim, sister Soha Ali Khan and her actor husband Kunal Kemmu on a vacation
Your son Ibrahim has been trending on social media because of his picture with Sridevi's daughter Jahnvi and Anurag Kashyap's daughter Aaliya.
I had dinner with him last night and he told me other people also post his pictures with some of his film friends.
I hope he understands that social media is a double-edged sword. It's something he should be careful about. People are interested in him today because of his family.
If he is interested in acting, he should do it properly at the right time.
He understood that it is better to be more reserved and be seen less, unless you have something to say. Most people are famous for a reason, unless you are Kim Kardashian!
Has your daughter Sara shown any interest in acting?
Her birthday was on August 12. She's older and more mature now. She's always been wiser beyond her age.
She's got acting in her blood and wants to act.

Next year, she will get a university degree. She tells me that if she doesn't get the kind of roles she wants by the time she's 35-40, she will do something else.
Most kids in our world are interested in acting. Soha had a good education but she would rather act than work in a bank.
It's a great job, of course. Everything I got is from films. I have seen the world, drunk good wine, stayed in amazing hotels…
But education is very important. You can work anywhere in the world and will not be scared of anything. It is good to have a degree.
If Sara wants to act, I will support it. But sometimes, it's nice to have a stable job with normal timings.

Of course, you can't have everything. I wish for security for her.
What are your forthcoming projects?
Right now, only Vishal Bhardwaj's Rangoon is confirmed. It is a period drama.