'Unfortunately, in today's world, people feel it is luxury to eat pizza. I am not saying all pizzas are bad, I am not saying you shouldn't be eating it. But eating fast food constantly is the reason why everyone is getting these problems.'
'The air is polluted, the water is probably polluted. You can't do much about that but we can check our food.'
'Junk food has zero fiber and that creates havoc in your body. That's another reason why people get cancer.'
Emraan Hashmi, in an enlightening interview.
Emraan Hashmi is hungry as he walks into producer Ekta Kapoor's Balaji Telefilms office in Mumbai. It's lunchtime but his lunch hasn't arrived yet.
He asks for a banana, and gulps it down within no time.
And then, he's ready for the interview, ready to talk about his new film Azhar, and his book, The Kiss of Life: How a superhero and my son defeated cancer.
The Kiss Of Life is a touching tale about his young son Ayaan, who fought cancer and defeated it. After all, he was tough as nails!
Emraan chats with Patcy N/ Rediff.com and reveals how traumatic his life was, and how it changed him.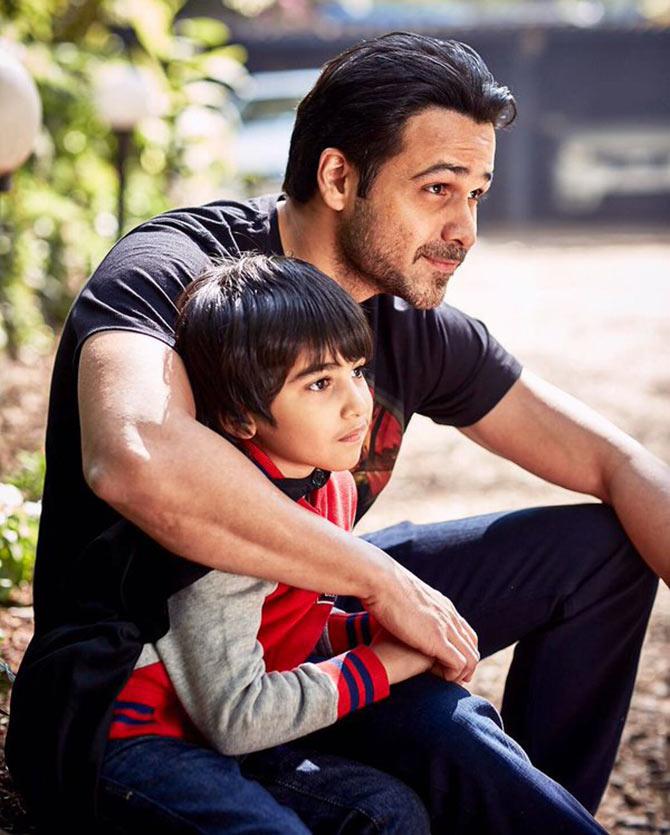 IMAGE: Emraan Hashmi with his son Ayaan. Photograph: Emraan Hashmi/Twitter
Why did you think of writing a book on your experiences? Did you want the world to know how to cope with such a situation or did you want to vent out?
A bit of everything.
As parents, when we discovered the illness, we were lost and did not have information. We got information later but there was no one book or one place where we could go for the information or experiences of other patients, who have been through a similar problem.
There were a lot of things about cancer that I did not know; there were a lot of misconceptions. So I thought that if I put down my experiences in the book, it would be an emotional and inspirational story, and at the same time, educate cancer patients, parents and the general public.
There are a lot of things that you can do to reduce the probability of getting cancer that people don't know. They feel cancer erupts from the thin air, and that's not true. It's a symptomatic problem because of something in the environment has gone wrong.
Whose idea was it to weave in your journey along with your son's heroic battle?
I was looking for some guidance and Bilal (Siddiqui, co-author) gave me that guidance because he has written books before. He told me that the book would be too glum and serious if it was only about cancer. So he said I should add about how I started my journey into this industry. He asked me to add anecdotes from school and college, so that people get to know me better and appreciate the change my son brought in my life.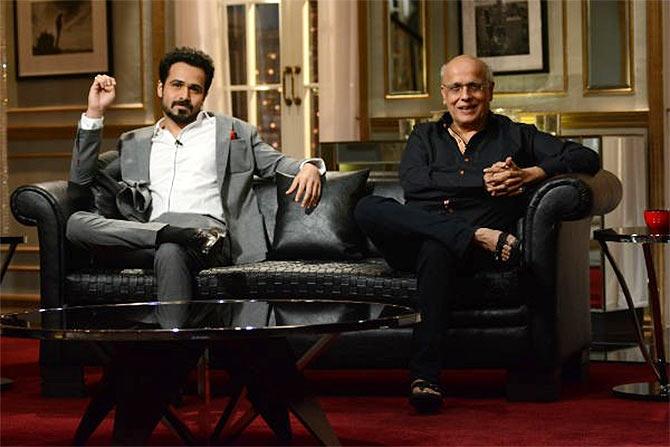 IMAGE: Emraan Hashmi and Mahesh Bhatt on Koffee With Karan.
When you were told your son has cancer, the first person you called was Mahesh Bhatt. What kind of relationship do you share with him?
I am very close to him. I look up to him professionally.
I have always taken advice from him for my personal life. He sees things in a very objective way. That's why I called him first.
Plus, my dad was not in the city at that point of time. He was in Bangalore. He rushed back the next day.
You made up stories for Ayaan every time you took him to the hospital. Did that help?
It wasn't easy. Our hearts would break because we would lie to him. For instance, we would tell him that we're going on vacation but we would take him to the hospital to get him operated instead. But we felt that we won't get him to go anywhere unless we told him these things.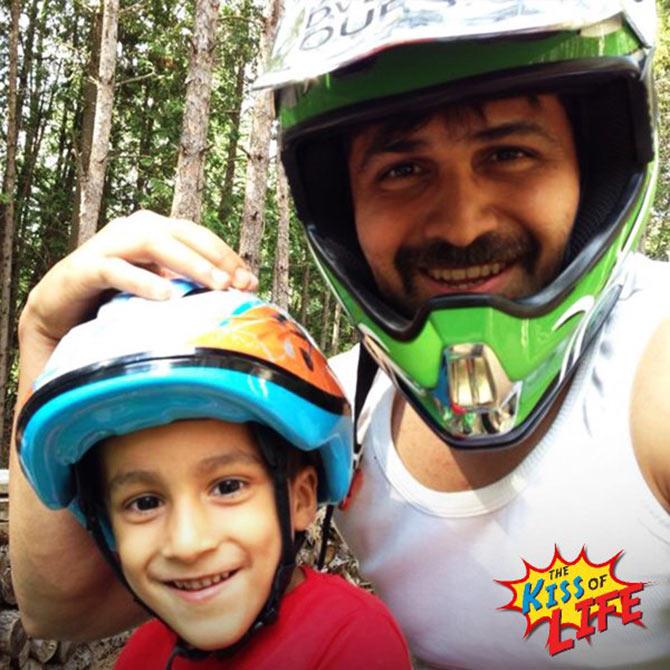 IMAGE: Emraan Hashmi with his son Ayaan. Photograph: Emraan Hashmi/Twitter
You would make calls to him, and pretend that the caller was Batman. Does he finally know it was you all along?
No, he doesn't know yet but he will when he reads the book. By then, maybe he won't remember.
Kids are like that, they don't have a memory beyond what just happened, although he remembers the cancer and the operation.
I have not made the call in a while but the other day, he was telling me that he wanted to speak to Batman. I think I will make the call after Azhar releases. I'm too busy with promotions now, but I will make that call.
Did you actually forget to pack Ayaan's medical documents when you left for the airport, to go to Canada for the treatment?
Our minds were not working at the time; there were so many things going on in our heads.
It so happened that I thought my wife had taken it and she thought I had. In the confusion and rush, it just got manic. But thanks to our discipline of reaching the airport before time, we got the medical reports.
When you had to return to India for your movies, Ayaan got very upset. How did you cope?
It was a difficult time. We had to tell him another lie then -- that I had been kidnapped by the pilot and he was taking me back to India. All the pilots are going to hate me for this but these were the small stories we had to make up for him.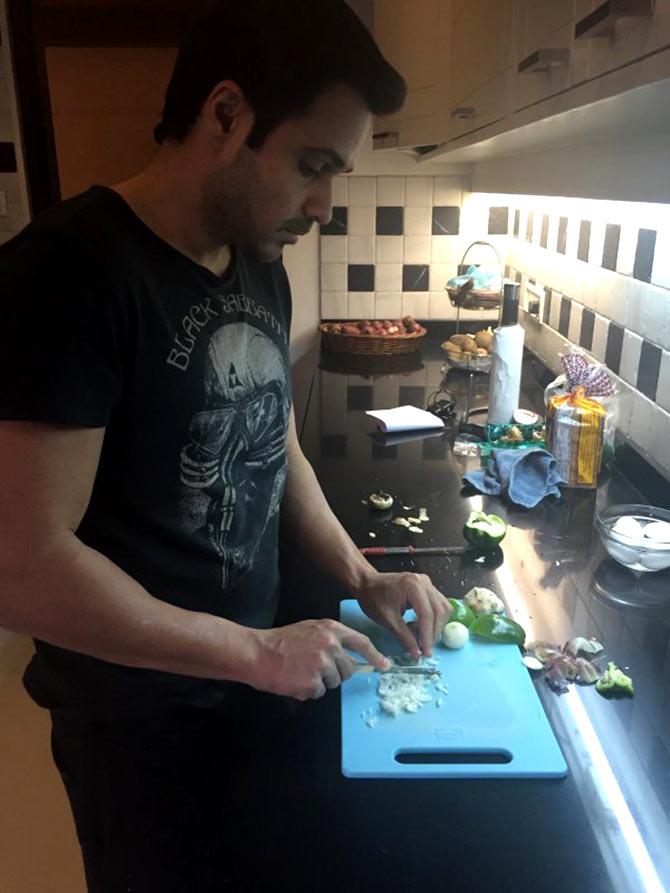 IMAGE: Emraan Hashmi makes an omelette. Photograph: Emraan Hashmi/Twitter
Did it upset you when you had to turn down his pizza and burger demands?
But then I realised that's not a better life, it's poison. When you read so much about these things, you have to make the choices for your kids, as they cannot. As parents, we have to arm ourselves with that information and know what is good and what is bad.
Unfortunately, in today's world, people feel it is luxury to eat pizza. I am not saying all pizzas are bad, I am not saying you shouldn't be eating it. But eating fast food constantly is the reason why everyone is getting these problems.
The air is polluted, the water is probably polluted. You can't do much about that but we can check our food.
Junk food has zero fiber and that creates havoc in your body. That's another reason why people get cancer.
What are Ayaan's lifestyle changes now?
He has his vegetable smoothies now. We treat him to pizza once in a blue moon but it is a different kind of pizza. It's still tasty.
You have to realise that everything you buy from these huge brands can have a devastating impact on your body.
We have added organic vegetables, fish, chicken and sometimes meat to our diet. Milk and sugar is out.
We have kept breads to the minimal. We use brown rice instead of white rice. We have changed the way we cook food.
Since he has only one kidney now, does he have to take more precautions?
A person with one kidney can live a happy life. There are people who play football and other contact sports, who don't even know (they have only one kidney).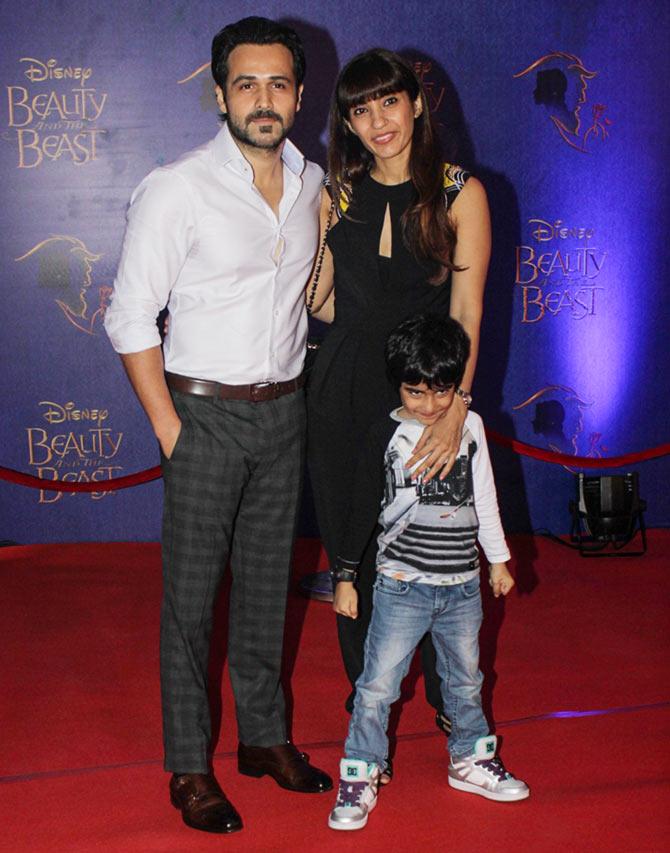 IMAGE: Emraan Hashmi with Parveen and son Ayaan. Photograph: Pradeep Bandekar
Tell us about your wife Parveen. How did she cope?
It was obviously very difficult for Parveen but she was with her family in Canada. She had a support system but still, I was not there. After chemotherapy, there are a lot of side effects, and those were testing times for her.
What about you?
I have no idea how I drew strength. I was living each day at a time. I was frustrated, angry, going through a lot of different emotions but I think the will to protect my son, the hope that he will become okay was something we had to work towards.
You had visited our office during the Mr X promotions, and were so sporting. How did you pull it off; what were you feeling inside?
I really don't know. I still look back and wonder where I got the courage to deal with it. I think every parent has it in them. It is the will to fight for their kids.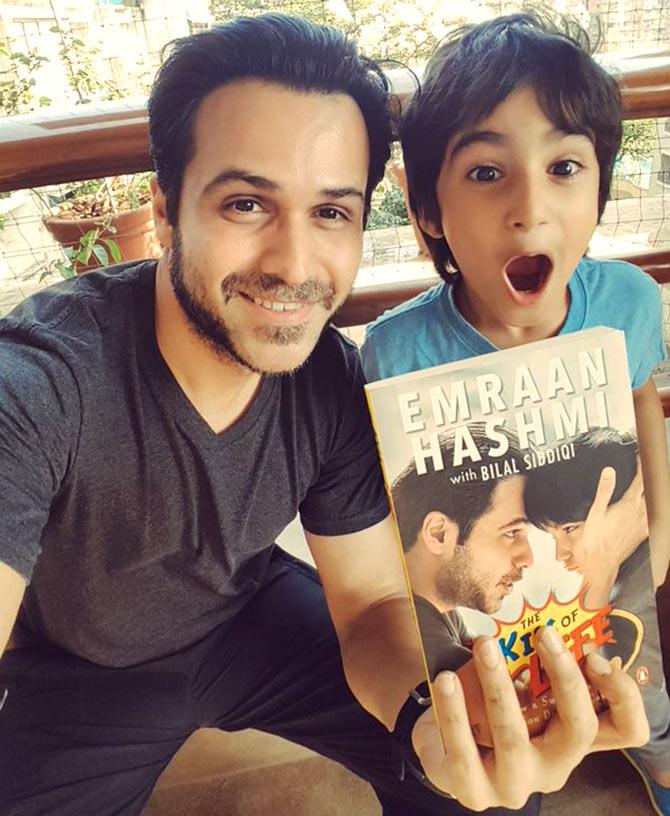 IMAGE: Emraan Hashmi with son Ayaan. Photograph: Emraan Hashmi/Twitter
What kind of support did you get from your colleagues?
Akshay Kumar was very helpful.
John Abraham called up.
People like Sanju (Sanjay Dutt) and Anurag Basu understood the problem because they have been through it and knew how to tackle it, and they offered help.
The movies you were working on those days -- Hamari Adhuri Kahani, Mr X and Raja Natarwala -- did not do well.
Movies don't really matter when your son is suffering from cancer. I just wanted to make sure my son got through this, everything else seemed pretty muted.
Work is an important aspect but when you deal with greater issues, these things look pale.
What is the course of treatment now?
He has to get his tests done every six months now. It has been two years since he's been cancer free. He will have to do the tests for five years, and then it will stop.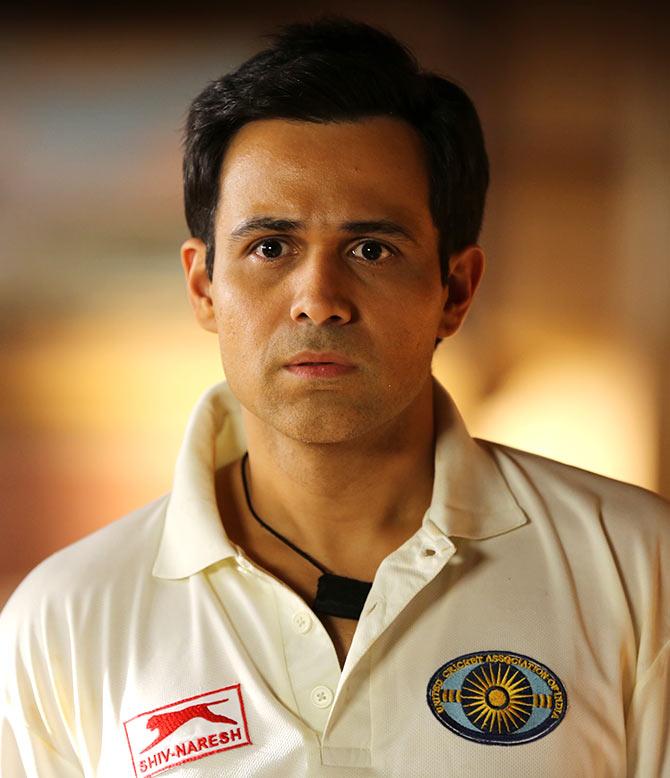 IMAGE: Emraan Hashmi in and as Azhar

Coming to your film, Azhar, is it a biopic?
It's a semi-biopic.
When the controversy broke him completely in 2000, there were many stories that weren't known to the people. So we sat down with Azharbhai and listened to his side of the story. We have showed what happened in those 12 years. Eventually, he won the court case in 2012.
But we have dramatised it a little. We have taken some cinematic liberties, like adding songs and dialogue baazi.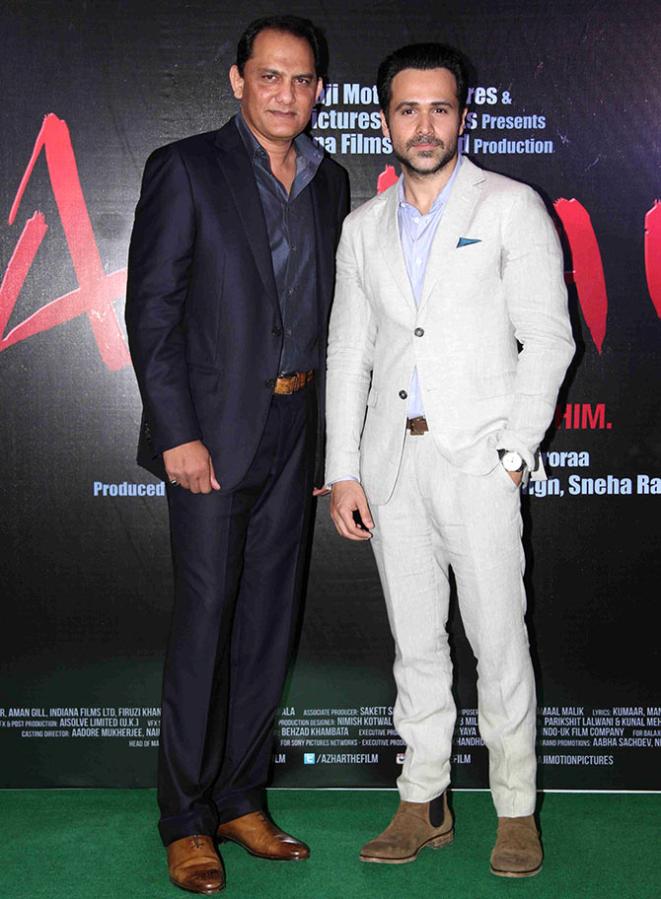 IMAGE: Mohammad Azharuddin and Emraan Hashmi at the Azhar trailer launch. Photographs: Pradeep Bandekar
How big a Azhar fan are you?
I am a very big fan of Azharbhai. I have followed his game in the 1980s and 1990s, like all of us. It was a bit shattering in 2000, when his name was taken along with others (in the match-fixing controversy) When you been following a game that you have truly loved and the players that you loved and respected are suddenly fixing matches, it really shatters you.
You have prayed for their victories and when this comes up, you feel it is just a mock set up.
Did you ever doubt Azhar?
I didn't... (thinks) there was obviously a thought in the mind, where you did feel jilted to a certain extent. But as a fan, when the court case was going on, I did not jump to any conclusion.
We all like to play judge, and say that a certain person has done it.
I might not have followed the court case for 12 years, but eventually when he was given a clean chit, I accepted the verdict.
There are still some people who say he took money even though he won the case. I feel that's wrong because if you are a law-abiding citizen, you should accept the court's verdict.
Was it difficult to play Azhar on screen?
It is definitely more difficult than playing a fictional character. When you play a fictional character, there are 200 ways to play it, and every way is right.
But here, there are only a couple of ways to play it dramatically but at the same time, the essence of Azharuddin had to remain -- like the way he walked on the field, the way he played cricket.
Those things were very difficult because people have seen him very closely.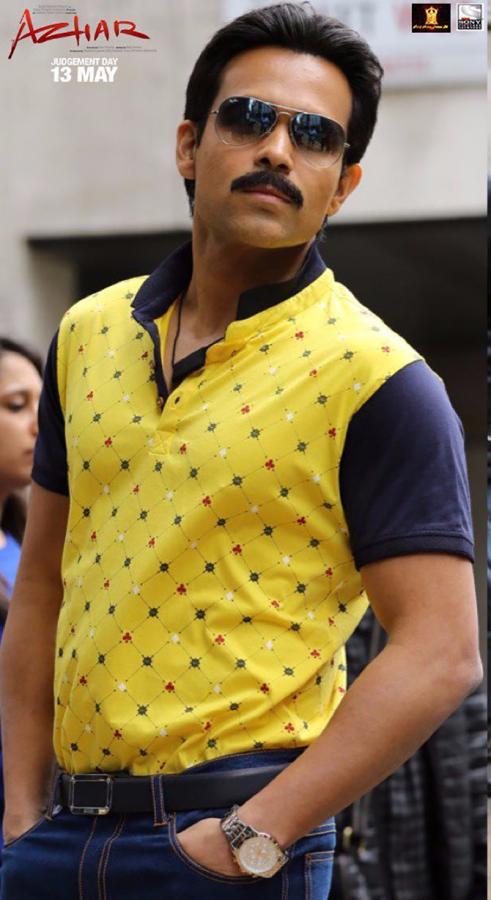 IMAGE: Emraan Hashmi in and as Azhar.

How did you physically transform yourself into Azhar?
I am 5.8 feet while he is 6.1. To get to that height, I had to wear insoles inside the shoes. I even had to play cricket with those.
Then I had to get the way he walks -- he walks with his right shoulder down and head a little down. I used to keep watching him and imbibe all those mannerisms. It took me some time but I eventually cracked the walk.
We had taken videos of how he eats food. We went out with him a lot.
I had to tweak the way he spoke because the film had some punch dialogues, so there had to be some rhythm.
We had to take a call whether I should look like him. I flew to London to see a guy who made prosthetics, and got a facial mask done. But then we thought the climatic condition in Hyderabad, where we would be shooting the major part, would melt the mask.
So we felt we should go the traditional way and change things like the hair -- when he was younger, he had a different hairstyle. As he grew older, he had a receding hairline.
We had a thing put behind my ears because his ears are bigger than mine.
Was it scary do his role, since he has a huge fan following?
Yes, because if you don't get things right, you can receive a lot of criticism. But I think the first validation for me was when Azharbhai's son told me I walk like his dad.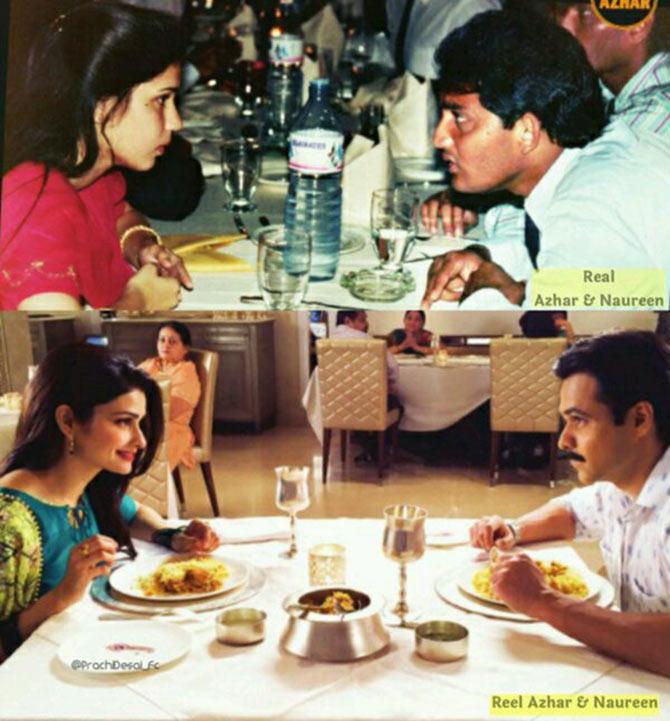 IMAGE: Mohammad Azharuddin and Naureen, Emraan Hashmi and Prachi Desai as Mohammad Azharuddin and Naureen in the film Azhar. Photograph: Emraan Hashmi/Twitter
Were you confident that director Tony D'Souza would pull it off?
He has been very involved. In fact, he has done more work on this film than me because I stared working on this in December 2014 but he has been working on it since June that year.
He's done a lot of research and was constantly in touch with me over the phone, discussing and sharing his research documents.
He has been a fan of Azhar himself because he has seen his journey.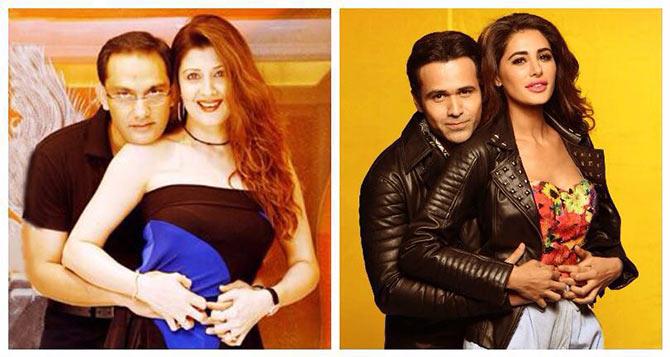 IMAGE: Mohammad Azharuddin and Sangeeta Bijlani, Emraan Hashmi and Nargis Fakhri both of them will play Mohammad Azharuddin and Sangeeta Bijlani respectively in the film Azhar . Photograph: Emraan Hashmi/Twitter
The chemistry between you and Nargis Fakhri looks hot. Are the scenes as bold as what one would expect from an Emraan Hashmi film or have they been toned down?
It's not an erotic film, you can't put it the bracket of say, Murder.
There are kissing scenes but we have not gone all out because it is not that kind of film.
This film is predominantly about the court case, the match-fixing, the cricketing world and stories that have been unheard of, shared by the man himself.
His relationships form the sub-plots. Like the promos show, the film is about this man's faith in God, his two marriages, his three match-fixing allegations...
Have you met Sangeeta Bijlani about this?
I didn't have to. I have met his first wife because we were in Hyderabad.
Is there is a mention of Jwala Gutta in the film?
You will have to see the film to know.
Are you worried about comparisons with the other cricket biopics coming up on MS Dhoni and Sachin Tendulkar?
It would be unfair to compare any two films because every film is an experience in itself.
Different events have happened in their lives, be it Sachin or Dhoni or Azhar.
I think Sachin's film is a docu-drama, so there is no question comparisons.
Azhar has married again. Has that part been included?
I can't reveal the details.