'I did not grow up watching Bollywood movies because I don't understand Hindi. The only Bollywood movie I have watched is Piku.'
'I may have seen Hindi films with my mother when I was younger, but otherwise, I haven't sat down to watch a Bollywood film.'
Andrea Tariang gets ready for her big Bollywood debut.
~ Read the Pink review here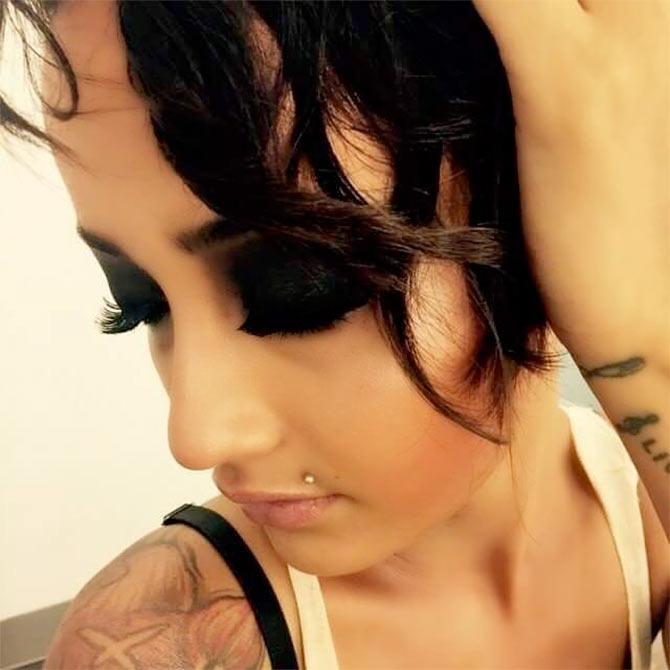 IMAGE: Andrea Tariang. Photograph: Andrea Tariang/Instagram
Shillong girl Andrea Tariang hasn't watched too many Hindi movies in her life but she's making her debut in a film starring Bollywood's biggest superstar Amitabh Bachchan.
"I don't really watch films. I don't have a TV at home; I don't like watching it," Andrea tells us. "I read books. My friends wonder how I survive!"
Andrea has been living in Mumbai for the past two years. Initially, she shifted to the city to become a make-up artist. But she soon realised that she did not like putting on make-up for anyone else but herself!
So Andrea took a break, went back to Shillong, and came back as an intern in a media company. Three months later, it didn't work out, and she headed back to Shillong.
She tried event management and modelling, next before PINK finally happened to her.
"I love Bombay!" she exclaims. "Compared to Shillong, Bombay is super-fast. I don't think I can live in Shillong, for now at least."
In this exclusive interview with Jahnavi Patel/ Rediff.com, Andrea discusses PINK, co-stars Taapsee Pannu and Kirti Kulhari and her first shot with Amitabh Bachchan.
How did PINK happen?
My dad is a friend of Ronnie (Lahiri, one of the PINK producers), who's also from Shillong.
Ronnie doesn't know me but he knew that my dad had a daughter living in Mumbai. He did not want to contact me directly as he felt I might say no. So he got my father to call me.
So my dad called me and asked, 'Do you want to act in a Bollywood film?'
I started laughing.
He asked me to go for the auditions and try my hand at it.
So I went. I didn't know that my sister was also called.
I was in Goa when they called me and told me that I got the part.
We started rehearsing for three months before the shoot started.
Did you grow up watching Hindi films?
We don't have many (cinema) halls there. We have two proper ones with 150-200 seats.
I did not grow up watching Bollywood movies because I don't understand Hindi. The only Bollywood movie I have watched is Piku.
I may have seen Hindi films with my mother when I was younger, but otherwise, I haven't sat down to watch a Bollywood film.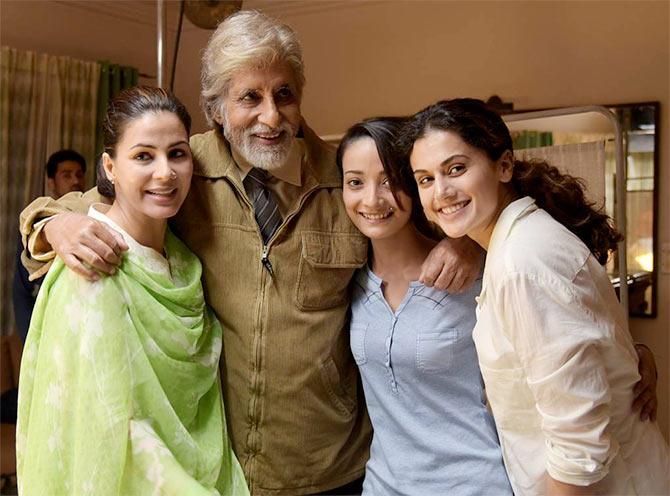 IMAGE: Kirti Kulhari, Amitabh Bachchan, Andrea Tariang and Taapsee Pannu. Photograph: Andrea Tariang/Instagram
Has the acting experience helped you?
I have become more confident. Even though I sing, I used to be very shy. I was very reserved and don't talk a lot.
Even when I am on stage, I go up, sing and then I'm done.
Now, I have become more comfortable in front of people. I talk to people, I don't hold back.
The biggest challenge for me were the cameras.
When we were shooting, there were so many cameras and so many people around that I wondered how I would do it. I was so scared and nervous for the first few shots.
My first shot was with Mr Bachchan. I just had to say three words but I was so nervous.
We finished that shot in one take, and after that Mr Bachchan stood up, congratulated us and said it was really good.
I was like, 'Yay! I can do this.'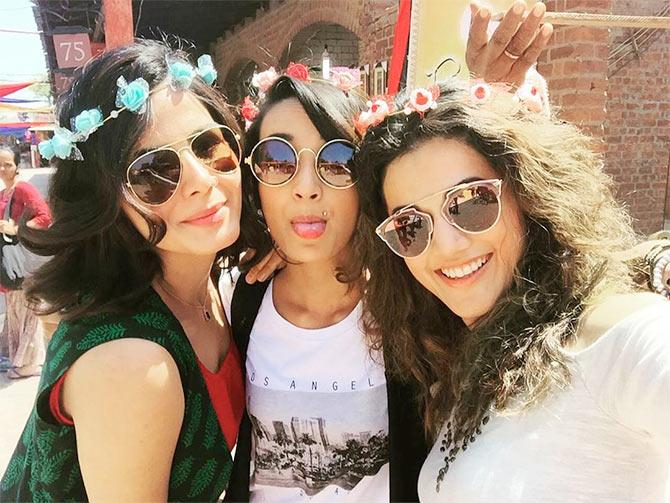 IMAGE: Kirti Kulhari, Andrea Tariang and Taapsee Pannu. Photograph: Andrea Tariang/Instagram
Did co-stars Taapsee Pannu and Kirti Kulhari help you?
They helped me a lot. They helped me every single time for my Hindi dialogues and to express my emotions.
For every scene, I would go to either Taapsee or Kirti, whoever was near me, and would ask them how I should do it. There were quite a few dialogues that I didn't understand, especially when Piyush Mishra talks because he speaks so fast.
Once, we were reading lines and I couldn't understand anything that he was saying! It was so funny.

You said that you're a shy person. So is it difficult going all out to promote the film?
It's extremely difficult.
The trailer launch was my first appearance. I was standing on stage and shivering and was almost about to cry.
Print interviews are much easier for me.
I get very nervous doing interviews in front of the camera.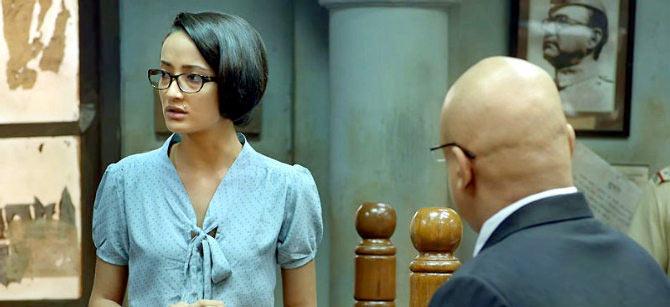 IMAGE: Andrea Tariang in Pink
After PINK, do you plan to have a full-fledged Bollywood career?
That is, if I can improve my Hindi first. I was planning to go for classes to learn Hindi.
If I get a role that is suitable and appropriate for me, I wouldn't mind doing more movies.

What has been the reaction from the people back home?
Everyone is extremely excited.
After the trailer was out, my friends and family called and said that they are going to book an entire hall to see the film! I was very happy to hear that.
Andrea Tariang in a candid chat with co-stars Taapsee Pannu and Kirti Kulhari. Video: Afsar Dayatar
You have a band too. Do you have any plans to compose for Bollywood in future?
It depends on what kind of film because the music I do doesn't really go with Bollywood movies. If I can, then I would.
I wouldn't mind singing for a Bollywood film