'We would do films and think that the work would speak for itself. But now, after working in your film, you have to go and talk about it.'
'The work you have put in doesn't count as much as the work you put around it to let the people come into the theatre.'
'If there is good hype around a film, people will want to see it, irrespective of whether that actor gave a good film previously or not.'
Sunny Deol on movies, memories, dance!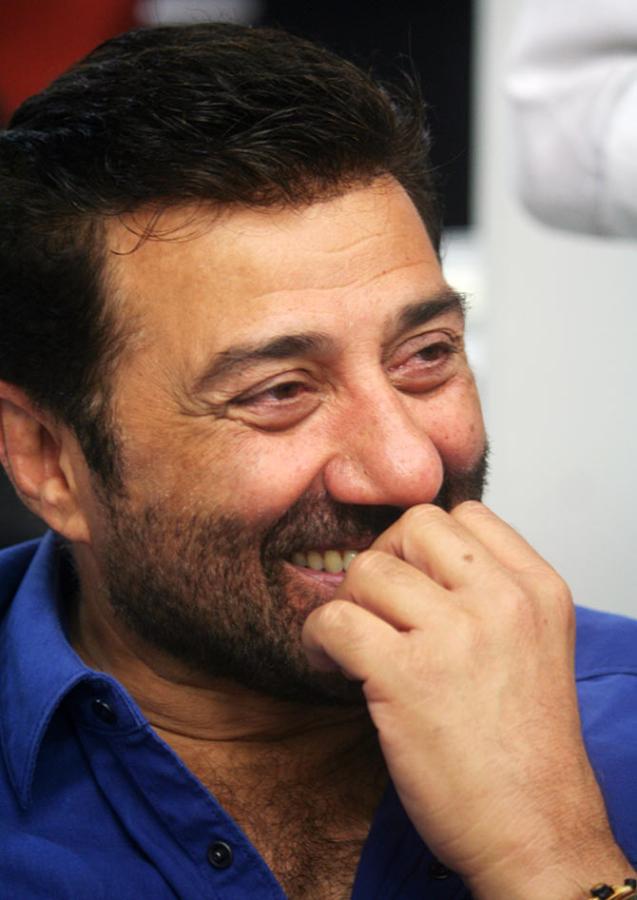 IMAGE: Sunny Deol. Photograph: Hitesh Harisinghani/Rediff.com
Sunny Deol is probably Bollywood's shyest superstar but you wouldn't know it.
When he visited the Rediff.com office on January 29, he spent a good hour posing for selfies with the staff and sportingly played a part in a fun video.
He even danced for his fans -- he confided that he did not know the dance steps of the song Lapak Jhapak, from his film Ghayal Once Again -- which releases February 5 -- but instead treated everyone to his dancing style in Yaara O Yaara (from the 1996 film Jeet).
The actor has been busy promoting Ghayal Once Again, which sees him turn director for the second time after 1999's Dillagi. He has hardly been sleeping, he told us. He has probably hardly been eating too, as his breakfast that Friday was past noon, and comprised of bread and butter, with coffee. And then a few bites of a not-so-nice veg cheese pizza (sorry, Sunny!).
Just like he was raring to go during his 1983 Betaab debut, Sunny is raring to go even today, more than 30 years later.
He spoke to Ronjita Kulkarni/Rediff.com about all things Ghayal, his famous daddy and much more.
Why did you choose Ghayal to make a sequel?
Ghayal has been very personal to me.
The main reason was that nobody wanted to make it. Watch the video to know why.
When I narrated the story to my dad (the legendary actor Dharmendra), he decided to make it.
We faced difficulties during the making of the film because of the kind of cinema it was. Other producers and directors would come and watch the rushes, and make suggestions. Eventually, we decided to stick to our guns and do it the way we wanted to do.
The result is a beautiful film and it makes me confident.
In Ghayal Once Again, I wanted to bring (my character) Ajay Mehra in today's society, how he would behave today. We need that kind of character today.
He is a guy who has gone through all the hardships of life; he goes through a lot of tragedies in jail.
If he existed in today's world, in his late 40s, how relevant would he be to society?
He has matured, hardened. He know what the focus of his existence is.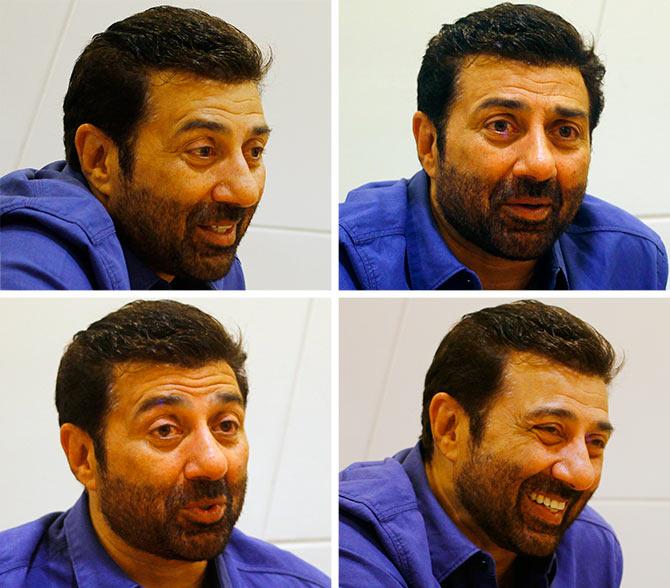 IMAGE: The many moods of Sunny Deol. Photograph: Sanjay Sawant/Rediff.com
How many times have you watched Ghayal?
Most of the time we watch our films only when we dub for it. We rarely watch it after that because we are already busy with our next film.
You haven't caught it on television?
You will rarely catch me sitting in front of the TV. I watch TV only if I want to watch a particular match.
I don't watch much TV.
I'm always thinking of new ideas, new things...
But I watch a lot of Hollywood films.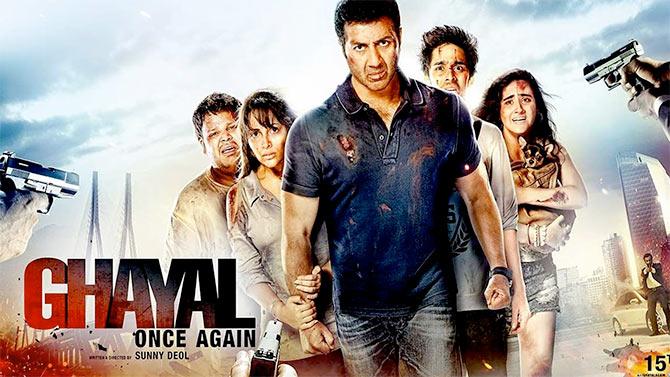 IMAGE: Sunny Deol in the Ghayal Once Again poster.
You are a very shy person. How difficult is it to come out and promote your movies?
Very difficult!
And it's all the more difficult because I'm coming from so many decades ago... my career is so long. We would do films and think that the work would speak for itself. Even when I won awards, I would be taken aback.
But now, after working in your film, you have to go and talk about it. The whole scenario has changed. The work you have put in doesn't count as much as the work you put around it to let the people come into the theatre.
I have tried to analyse this. Cinema has become so expensive. Actual cine-goers are not watching movies as much. It is basically people who go for outings who watch movies. And these people watch movies irrespective of which film is playing.
If there is good hype around a film, they will want to see it, irrespective of whether that actor gave a good film previously or not.
I've worked so hard on my film -- spent nearly two years on it -- so I should do everything to promote it.
Your movie characters are usually very strong and aggressive. How does a shy person perform such aggressive characters so well?
That's because we are actors!
I prefer doing my acting on screen, not off it. And that's why I love being an actor, and am thankful that I am where I am.
As human beings, we have so many emotions inside, waiting to burst out, but we don't let that happen because society curbs us. But we get to play these characters in films and we can unleash these inner emotions.
Dancing has always been difficult for you.
Yes. Maybe because I grew up thinking that men don't dance. But maybe that's my excuse.
Fortunately, over a period of time, my fans started liking whatever I do when I'm dancing.
Then I looked around and saw that everybody wants to dance, but not everyone has the rhythm. So they identify with me very well! (laughs)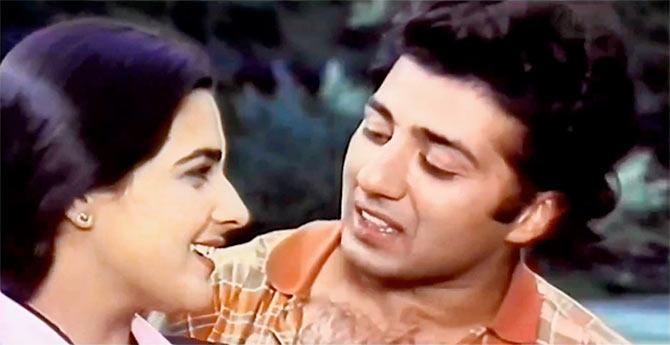 IMAGE: Sunny Deol with Amrita Singh in Betaab.
Which is your favourite film?
It's very difficult to pick a favourite.
Betaab was my first film, so it's very personal.
Ghayal was made against all odds because no one wanted to produce it.
So they are close to me.
On your Rediff Chat, you listed Amrita Singh as your favourite co-star. Why is that?
Amrita was my first heroine and we shared a very different relation because we were both kids trying to discover what we could do. We still catch up sometimes.
Do you remember your first day at work?
Yes, very clearly!
It was a muhurat shot, and the entire industry was present. Before leaving for the muhurat, we had a havan at home. My grandmother had blessed me. My mom was there. I could see the pride in their eyes.
It was so exciting that day. I was raring to go.
There was a dialogue about the sun rising, and we did it with so much confidence even though there were such great personalities around us. It was a very positive feeling.
Now, when I think about it, one would have felt nervous in front of so many personalities, but I felt very encouraged.
Which is your toughest film?
When I do a scene, I always wonder how I should go about it. I get very nervy because I like to get into the root of the character and sometimes that's difficult.
Mohalla Assi was difficult because I play a Sanskrit teacher. I was worried about it earlier, but then I thought I should just jump in and do it. That's how I';ve always worked.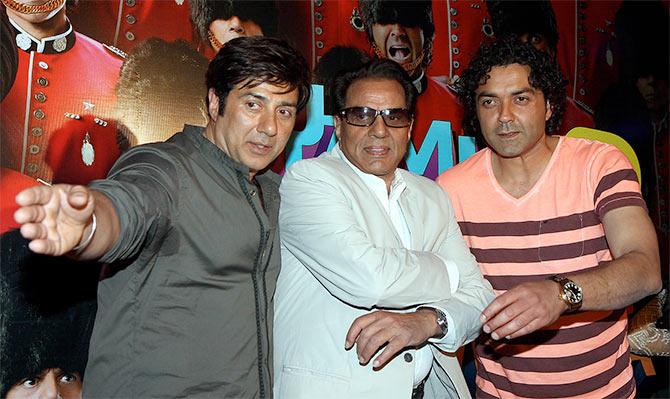 IMAGE: Sunny Deol with father Dharmendra and brother Bobby. Photograph: Abhijit Mhamunkar
As a child, would you accompany your father to his shoots?
I accompanied my father on some shoots, not too many, because of school. We couldn't miss it.
Once my sister and I had gone to Rajkamal studio for the shooting of Aankhen. It was a tiger fight scene, and when we were sitting, the tiger just went past us!
We have gone to Darjeeling and Kashmir with my dad.
I could not go on the sets of Sholay because I was in the last year of school at that time, and was thinking of becoming an actor.
Was you a studious child?
I was never studious. In fact, I wasn't studying properly so they made me do an IQ test! (laughs)
But my IQ was very good, so they were surprised and wondered what was wrong with me. Somehow, I would manage to move from one class to another.
I was more interested in sports. I would be in all the teams. I was into all kinds of athletics.
Was your father strict?
My father was always strict. That's why I have become what I am. But fortunately, he was working in so many films that one could get away with it.
But the fear element is always there. My mom would say, 'I'll tell your father.'
My wife tells my son the same thing. I guess there's a beauty in it, that's how the connection is maintained.
Are you a strict father?
Yes. I believe the father relationship must be followed properly. If you are strict and sensible, your child will have a good upbringing. Teenagers need proper guidance and a fear factor puts them on the right track.
Can you tell us about your younger years?
I was two, three years old, in nursery, when my father started working in films. We used to live in a rented flat in Matunga (in north-central Mumbai) then. There were many families staying there. My father would teach me ABCD!
I have memories of our first house, our first car, playing Holi with my dad, his first film... the villain on that film was M Rajan and he had shot my dad (in a scene). When he came home for dinner, I was waiting to kill him with my toy gun!
Dad loves to drive and travel. I think I've picked that up from him. We've done a lot of journeys together.
Dad always follows what I'm doing, even today.
Which Dharmendra movies do you love?
I love his earlier films, when he was really doing good cinema like Satyakam, Phool Aur Pathar, Chupke Chupke, Mere Gaon Mera Desh and Pratigya. They were films with stories.