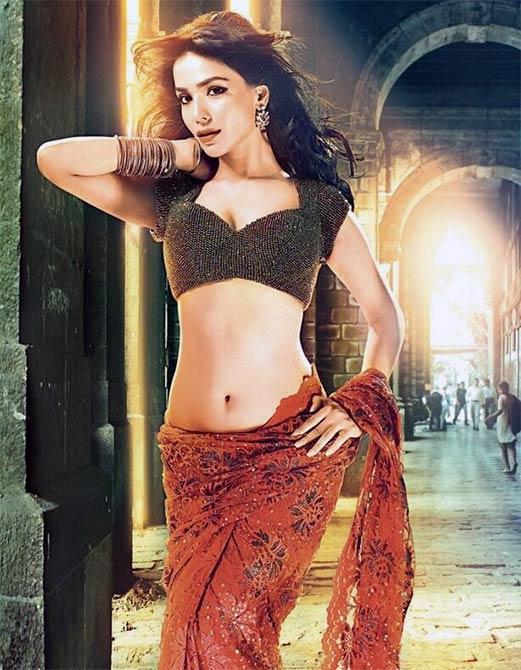 'Talent has no religion.'
'There will be people who will criticise me, but if I take them seriously, I won't be able to do a lot of things in my career.'
Pakistani actress Humaima Malick gets ready for Bollywood success.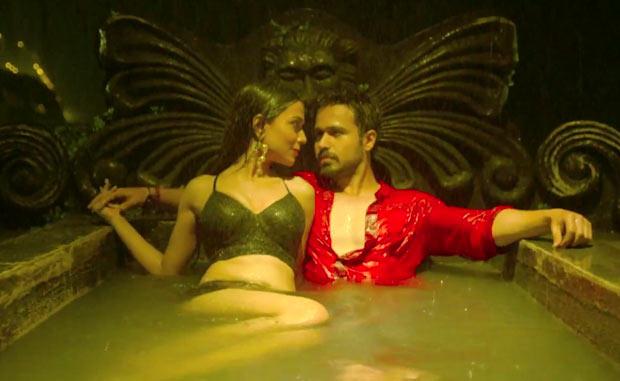 Image: Humaima Shaikh with Emraan Hashmi in Raja Natwarlal
Humaima Malick is hugely excited about her upcoming Hindi film, Raja Natwarlal, where she will be seen opposite Emraan Hashmi.
The 25-year-old girl, who claims to be the highest paid actress in Pakistan, is ready for the reactions to her kissing scenes in the film as well.
Humaima tells Sonil Dedhia why she was worried about kissing Emraan, why she will never wear a bikini on screen and who she has a secret crush on.
You are making your debut in Hindi movies with Raja Natwarlal.
I am excited that I am making my debut with Emraan Hashmi in an out-and-out masala entertainer.
My Pakistani film Bol released in India in 2011. People know about me.
I always wanted to work in Hindi cinema as the language is similar to Pakistan. Bollywood films and songs are a rage in Pakistan.
What kind of response have you got in Pakistan for the trailers?
People love the trailer of the film. Emraan has a huge fan following in Pakistan.
Back home, people feel that he is a Pakistani because of his name.
I am a top model and the highest paid actress in Pakistan.
I am sure people will come to watch both of us and appreciate our work. There isn't a single dull moment in the film.
Tell us about your character in the film.
I play a bar dancer. It is an interesting role.
There is no dance bar culture in Pakistan. My director took me to various bars and I observed the body language of the dancers.
It's a very tough job they are doing and I have immense respect for them.
Tell us about working with Emraan Hashmi.
I was worried about being Emraan Hashmi's heroine in the film. I had some misconceptions about him after watching his films.
But all those theories about him proved false.
He is extremely shy in real life. He is not only a good actor but a good husband and father too.
Was the misconception about his on-screen kissing?
I won't reveal that (laughs).
Almost all Emraan Hashmi movies have kissing scenes. Were you prepared for that?
Of course not. I have never kissed on screen so I wasn't prepared at all. Thankfully, it went really well.
I was pretty nervous on the day we were to shoot the kissing scene. But Emraan made me feel very comfortable and it felt very mechanical.
He is an expert in kissing (laughs). People love him for this and he doesn't make it look vulgar.
The kissing scene may be deleted in Pakistan.
Aren't you worried that there will be a backlash in Pakistan?
I made myself strong with the thought that talent has no religion. It was just a role.
Every actress in Bollywood today is kissing on screen.
I have made my country proud. I was nominated for Best Actress for Bol across several countries at various film festivals and also won the Best Actress at the London Asian Film Festival.
I am sure that people in Pakistan will support me.
There will be people who will criticise me, but if I take them seriously, I won't be able to do a lot of things in my career.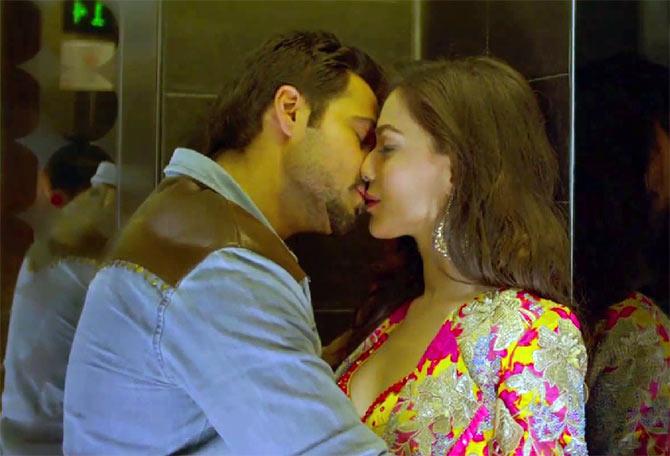 Image: Humaima Mallick with Emraan Hashmi in Raja Natwarlal
Would you wear a bikini or do an intimate scene on screen?
I don't think I will be able to wear a bikini. If I am a good actor, then there is no need to wear a bikini.
In Raja Natwarlal, there is no sex scene put in forcefully. Every romantic part makes sense. It's been shot sensibly, which will not look vulgar.
Are there Bollywood actors you look forward to working with?
I am a big fan of Amitabh Bachchan. I will be speechless if I meet him personally.
I also love Madhuri Dixit. She has a very beautiful smile. I love the way she dances.
Luckily for me, I will be meeting her soon on the sets of Jhalak Dikhhla Jaa.
Did you always wanted to become an actor?
No, I never thought that I would become an actor. I was just 14 when I started modelling and endorsed some of the top brands and became a top model in Pakistan.
When I was little, I would watch the Miss World and Miss Universe pageants on television and would imitate the contestants in front of the mirror!
I would blow kisses in the air and walk and talk like them (laughs).
When I started working as a model, I realised it was a very boring job. Sitting for long hours backstage and waiting for your turn to just walk for a minute on the ramp was unexciting.
So I decided to get into television but I wasn't happy with the remuneration. I was paid better doing television commercials so I just did that.
When I was 22, (filmmaker) Shoaib Mansoor offered me Bol. I really enjoyed it. When I saw myself on the big screen, I told myself that this is where you belong.
My parents have always been very supportive. They only insisted that I should complete my education, so I did my Bachelor's in Business Management.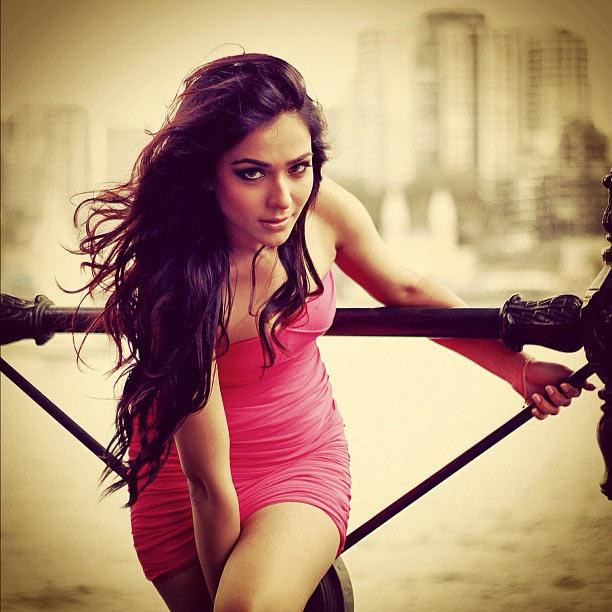 Image: Humaima Mallick
Did you watch Hindi films?
Yes. I loved watching Hum Aapke Hai Koun!, Hum Dil De Chuke Sanam, Hum Saath Saath Hai.
They are all Salman Khan films. Are you a fan?
Yes, I have a huge crush on Salman Khan.
When I was in school, my mother would give me money to buy food. I would go hungry and buy posters and postcards of Salman Khan and Madhuri Dixit.
I still have a cupboard where one door has only Salman posters and the other door has only Madhuri posters!
Who is the biggest star in Pakistan?
Emraan Hashmi and Salman Khan. There is a huge fan following for Shah Rukh and Aamir Khan too.
You were linked with cricketer Wasim Akram. Did that affect you personally?
Wasim is still a very good friend. When these rumours came out, our friendship was affected for a while.
We spoke to each other and we realised that both of us have been successful in our respective fields and people just like to make up things.
Wasim has a beautiful wife and children. I have a family and we both are very happy with our respective lives.
It was embarrassing for me to be known as Wasim Akram's girlfriend. The day I date a guy, I will openly tell the media.
I don't know how to hide relationships. My parents have kept me grounded and I have never hidden anything from them.
You have a three-film deal with Vidhu Vinod Chopra.
Yes, that is still on. He is currently busy writing but we will start working on a film soon.