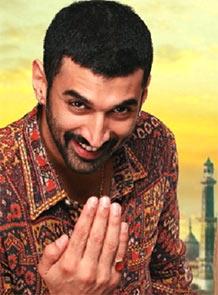 'It wasn't difficult to play a chef because it was not about knowing recipes. I just had to look comfortable in the kitchen,' Aditya Roy Kapur tells Patcy N.
Aditya Roy Kapoor is one of the few actors who tasted success by drinking on set.
But after Ashiqui 2 and Yeh Jaawani Hai Deewani, Aditya wants to leave his drunk characters behind, and move on to 'something different and challenging.'
This Friday, we will see him play a chef in Daawat-e-Ishq, a delicious-looking romantic comedy opposite Parineeti Chopra.
Aditya talks to Patcy N about his movies, why does not like to talk about his equation with Shraddha Kapoor, and romancing Katrina Kaif!
You have lost some weight after Daawat-e-Ishq…
I went on a diet after Daawat-e-Ishq. It was tough to resist eating because we were in Lucknow and Hyderabad and the food over there is amazing.
Tundey ke kebabs became our favourite and as the film progressed, we gradually put on weight and continuity went for a toss.
I am preparing for my next film and so have to lose some weight for it.
I heard that you are not a very good cook yet you play a chef in the film.
I am not a cook at all. It wasn't difficult to play a chef because it was not about knowing recipes. I just had to look comfortable in the kitchen.
I had to know how to handle a kadhai, and your hands have to know how to do that kind of work. So I went into the kitchen with my dad. Both my parents are wonderful cooks -- my father looks like he has been in the kitchen his whole life.
I started helping him around the kitchen. He cuts really fast, so I learnt how to chop from him as that was going to be in the film.
I haven't learnt to cook anything. But I learnt how to make Roomali Roti -- the way they throw it in the air, flip it and make it big. I learnt that in Lucknow.
In your last few films, you played a drunkard. Why break that image in Daawat-e-Ishq?
I wanted to do something different, something challenging. When I got the script, I was very interested in experimenting.
Habib Faisal is a wonderful director. He knew the film very well. If you go wrong, he is very clear and he will guide you.
Has life changed after two consecutive hits (Aashiqui 2 and Yeh Jawaani Hai Deewani)?
Aashiqui 2 changed my life completely. Once you get a film as a solo hero, you get the opportunity to work with more people. As an actor, that is all you can ask for -- options to choose from.
Earlier I had just two options. Now I am getting a chance to work with good directors, good scripts and I can choose my future to an extent.
I am a recognisable face and that also changes so many things in your life.
You played an alcoholic in both those hit films…
It was a coincidence. I had finished two schedules of Yeh Jawaani when I was called for Aashiqui and it felt like it was an extension of Yeh Jawaani.
They were different kinds of films -- in one I was a self-destructive, suicidal guy (Aashiqui 2) and in the other, a guy in denial, who didn't even know that he was drunk.
But you can get typecast…
Yes, but it didn't happen. I have not been offered even one role that is similar to Aashiqui 2 or Yeh Jawaani.
It's a wonderful time for me with different roles being offered.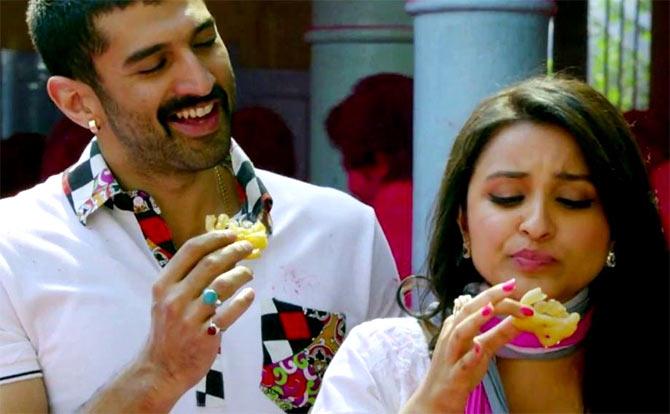 Image: Aditya Roy Kapur and Parineeti Chopra in Daawat-e-Ishq
Did you go through a low phase when your earlier films like London Dreams, Action Replayy and Guzaarish were not working?
I hadn't tasted success, so I wouldn't know what a low phase was. I discovered I liked acting after I started acting. By the time I finished Guzaarish (his third film), I realised I want to do only this.
I did not have any great expectations. I was doing supporting roles in films with Akshay Kumar, Hrithik Roshan, Salman Khan and Ajay Devgn, and I was in the background. So when the films failed, I did not feel bad as the film's responsibility was not on me.
If Aashiqui 2 had not done well, I would have felt very bad.
How did director Mohit Suri choose you for the hero of Aashiqui 2?
Mohit Suri has given hit after hit and for him to give me a break is a testament of his faith not only in me but also in himself and his talent.
The amazing thing about Mohit is that he stands up for people when they are down. Mohit said that he trusted that I could pull off the role; he saw something in me that I couldn't see in myself.
What was it like working with Parineeti Chopra?
We have a similar sense of humour, and it's one that normally people don't find funny.
Filming is a bonding process where you have to wait for three hours for a light to be put up. It is a blessing if your co-star is just like you.
We had a good time. The best thing we both got to do on this film was to meet Anupam Kher. He was so amazing. He has a very important role in the film.
The three of us shared a lot of time together. We ate our meals together and he influenced us in a good way.
Are you dating Shraddha Kapoor?
I am bored of answering this question. Every interview that I give has a headline saying 'I am single' or 'We are friends'. It makes me wonder if this is all I talk about.
The fact is that I am single, but now I don't want to answer it.
What is the equation between you three brothers (Siddharth, Kunal and Aditya)?
It is very interesting that we are all into movies. We have all come through different routes to reach this place.
Siddharth was in Star TV in Hong Kong, came back and joined UTV about nine years ago.
I started off as a veejay (video jockey) and Kunal was doing theatre and the television series Just Mohabbat. Now we are all in the same place but we did not plan it or speak to each other about it, or help out each other.
All three of us have grown up talking about films and are film buffs.
Our age gaps are very huge. Siddharth is 12 years older then me, Kunal is six years older then me. We never had the same circle of friends. I could never be pals with Siddharth's friends -- they are like parents to me!
We never had fights. We are warm and understanding. We know what is happening in each other's lives and we take advice and opinions from one another. Now there is Vidya (Balan, Siddharth Roy Kapur's wife) also. We all sit and have conversations about films.
What next after Daawat-E-Ishq?
My next film is Fitoor. I am very excited about working with Rekhaji. The shooting will start after a month.
I am completely kicked about the cast. I am romantically paired opposite Katrina Kaif. (Fitoor is based on the novel and the film Great Expectations).