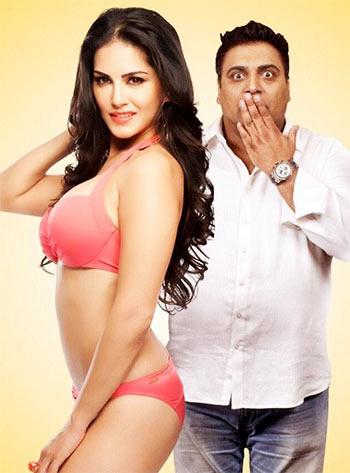 No, Ram Kapoor is not talking about himself, discovers Sonil Dedhia/Rediff.com.
Actor Ram Kapoor belongs to that rare breed of Bollywood actors who appreciate a self-deprecatory joke or two one in a while.
As we sit down to talk about his upcoming film Kuch Kuch Locha Hai at a suburban Mumbai restaurant, a mixer-grinder noisily goes off in the background.
"Switch off that mixer or else I will sit on it," Kapoor warns the person operating it.
Being overweight doesn't really bother Kapoor.

"I look at being fat in a positive way because at the start of my career, I was really thin but that didn't really take me far," he says.
Over coffee and periodically checking his cell phone, Kapoor talks about how Humshakals has helped his career and explains why he is not worried about his costar Sunny Leone hogging all the limelight.
Your last film Humshakals didn't do well. Has that affected your career?
Humshakals was the biggest success of my career. Saying yes to that film was a carefully calculated career move.
Before Humshakals, I was getting serious and intense characters to portray. On television, I've been playing the same kind of character for years.
Udaan gave me a bigger platform, but the roles weren't different. I was not getting a commercial or 'masala' entertainer.
When I agreed to do Sajid Khan's film, I wanted to send a clear message to the industry that I am available for any kind of role.
After seeing me wax my body and play drag, the audience and industry was prepared for anything from me.
After Humshakals I am really getting offers to act in some big commercial films.
There were jokes cracked about the cast and crew of Humshakals.
That didn't affect me at all. I have always been the butt of jokes for being fat.
I don't give a damn about jokes and that is why I am so confident about my work.
I have a good sense of humour and anyone who cracks jokes about others shouldn't mind jokes about himself.
Has being fat ever bothered you?
I don't know. I look at being fat in a positive way because at the start of my career, I was really thin but that didn't take me far.
I had work but never became famous. People like the personality that comes along with my size.
I'm pretty happy with my physique for my career. But it's not healthy to be like this.
I wish to be healthier, maybe lose some weight. But career wise, I'm very satisfied with my weight as I'm getting good roles in TV shows and films.
But doesn't your physique restrict the kind of roles you can do?
Yes, that is true. No one is going to offer me the role of a lover boy hero.
That doesn't bother me at all. I know my strengths and weaknesses very well.
I am genuinely fat and I don't feel bad about it. I am okay with my physique, I am happy with my work and I don't really intend to lose weight.
How was your experience of working in Kuch Kuch Locha Hai?
I had more fun shooting for this film than I could possibly imagine.
Sunny (Leone) and I got on really well.
When we began shooting, I knew I was going to work with this hot, beautiful and in-demand actress.
But I didn't know we would enjoy it so much.
On the sets we were like a big family. No matter how hard we worked the director (Devang Dholakia) and some other people from the crew would come together and we would have a few beers and eat together.
Shooting for Kuch Kuch Locha Hai was very special.
Are you worried that Sunny Leone may hog all the limelight?
I know it's a Sunny Leone film and that she is hot property in Bollywood.
I can sit and crib about her hogging all the limelight, but if I look at it from another perspective, I feel lucky to be the fat man who got to romance the hottest chick in Bollywood!
You might not be aware of this but I have three films in hand and she has seven.
I always wanted to become an actor and every day when I reach the sets and start shooting I realise how lucky I am to be living my dream.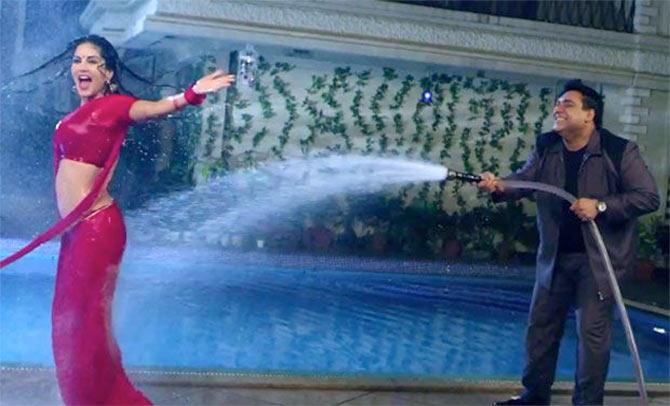 Image: Sunny Leone and Ram Kapoor in Kuch Kuch Locha Hai
Your television shows have projected you as a family guy. Will your fans be disappointed to see you do a film like Kuch Kuch Locha Hai?
Whatever I am today is because of my fans, but I can't do everything according to them.
If I select work according to the audiences' perspective, I am not going to get very far.
I want to grow as an actor. The film is not a sex comedy or a sleaze fest. If that was the case I wouldn't have done it.
It's a family comedy, but it's not a children's film. My kids too aren't going to watch the film and they are very upset about it!
But at the same time I can assure you that you can watch the film with your parents and not feel awkward. It's a very clean film.
What next?
There are a few films in the pipeline but I can't talk about them right now.
I want to continue exploring themes that I haven't yet.