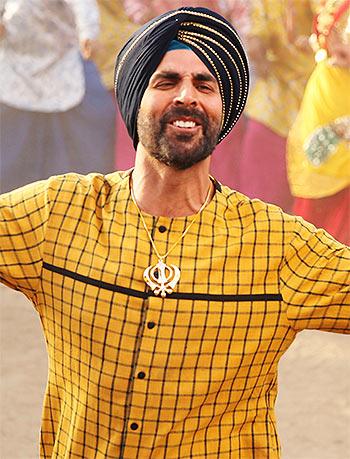 'I don't get involved in my movie characters. That's fake.'

'Let's be practical. We get a nice air-conditioned vanity van to sit in, which has lovely fruits and dry fruits. We get to work with lovely ladies. So it is not taxing at all!'
Akshay Kumar gets candid.
Like his onscreen character in Singh Is Bling, Akshay Kumar was in a comical mood when he chatted with members of the media, discussing his new release.
Yet, he says, his wife Twinkle has a better sense of humour.
Patcy N/ Rediff.com chats with Akshay about his movies and more.
After a series of serious films, you are back to doing comedy.
I have been doing serious roles for the past two and a half years, and trying to pass on a message through the films.
At the same time, I got an opportunity to work in Housefull 3, which is being shot in London. I go wild in that film.
Then I come back to Airlift. I have another film with Neeraj Pandey called Rustom.

I do something different every time.

Isn't it mentally draining to switch characters?
Not at all. I don't get involved in the characters. That's fake.

Let's be practical. We get a nice air-conditioned vanity van to sit in, which has lovely fruits and dry fruits. We get to work with lovely ladies. So it is not taxing at all!

When actors say he or she gets involved in a character, just say to yourself, 'Jhoot bol raha hain yeh.' (he's lying)

Earlier, comedians would do the comedy and villains would do the negative roles. Today, the hero does everything.
Actually, it started with Mr (Amitabh) Bachchan. He was the first actor to play a hero as well as do comedy like Mehmoodsaab in Desh Premee. Even Kishore Kumarsaab did it. Very few people have done this. I just followed it.

It is great to do comedy, but at the same time, quite difficult. Unfortunately, the guy who does comedy doesn't get his due in the industry because we look down at it. Unless you do romance or tragedy or cry and scream, you don't get an award.

If you make people laugh, people look at it as buffoonery. It's very sad.

Aren't comedians getting sidelined because the main actors are doing their bit?
No, they have work too. Some 180 films are made every year, there are lots of television serials and ads. So there's a lot of work. The comedians are still there -- Johnny Lever and Paresh Rawal.

There are so many comedy shows on TV like Kapil Sharma's. There are new shows coming up, so there is a lot of work.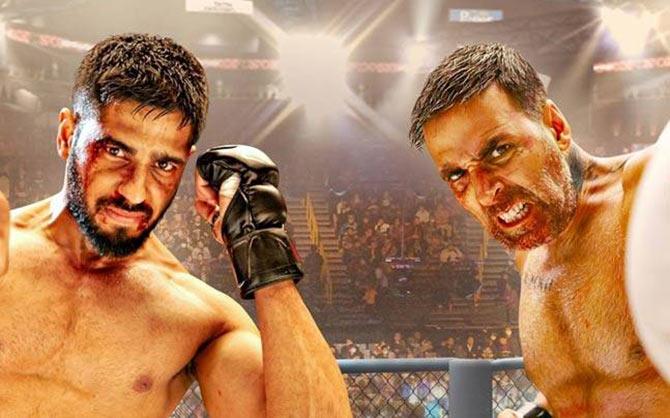 Image: Siddharth Malhotra and Akshay Kumar in Brothers
Your most recent release Brothers hasn't done so well. How do you see it?
I see it as an average film and am very proud of it. It has fantastic fights and is a very emotional film. It's about martial arts and self-defense. It is about two brothers coming together.
You are the only superstar to do four films a year. Do you think there's little gap between your movies and that affects the box office?
Let's talk Maths. When I finish making one film, the cost is about Rs 30-40 crores.
I release a film after every three-four months but I make sure the characters are different.

I produce the movies, so when they release, I am the one who will earn or lose. At the end of the day, it is my pocket that will be affected.

I find nothing wrong in doing multiple films in a year. I've done it for the last 25 years.

My make-up artist told me that he earns the most in the industry, because he's constantly busy.

Everybody is here to earn money.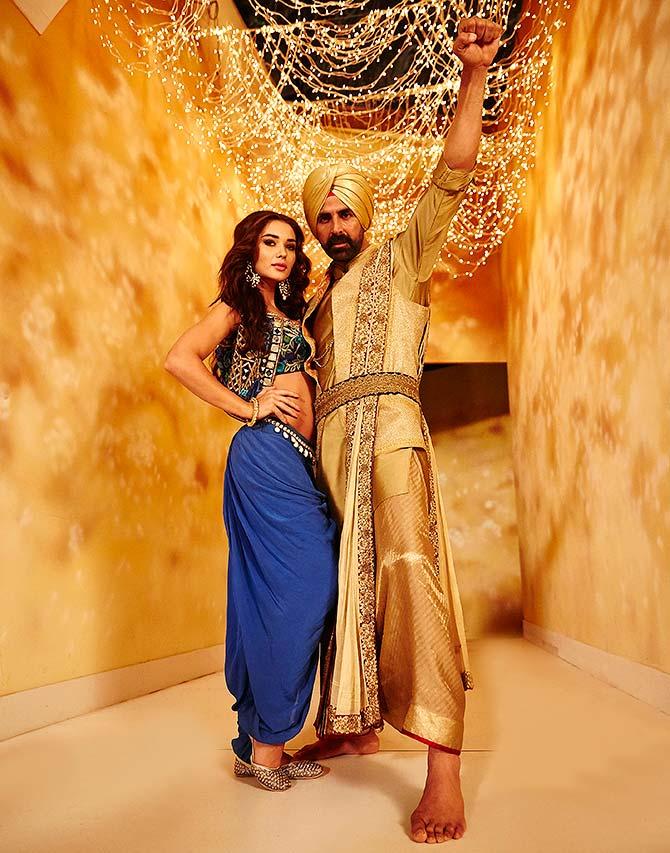 Image: Akshay Kumar and Amy Jackson in Singh is Bling
Will you do more movies on martial arts?

I am doing my Mixed Martial Arts tournament in Surat at this time.
I am very thankful that the Chief Minister of Gujarat will come and watch it.
I want to take this tournament all over India. I want to tell people that it is very essential to learn martial arts for self-defense.

You are working with Lara Dutta after a long time.
Yes. I have around 13 films with Lara. She took a break to have a baby.

I requested her to come and be a part of our film.

Amy Jackson's character in the film cannot speak in Hindi and I cannot speak in English. Our romance starts but there is a communication gap.

So Lara is the translator. She hates me and messes up my love story. Everything goes haywire and that is what the beautiful love story is all about.

There are some fights between Amy and me. Let me tell you, among the heroines, Amy is one of the best fighters I have come across!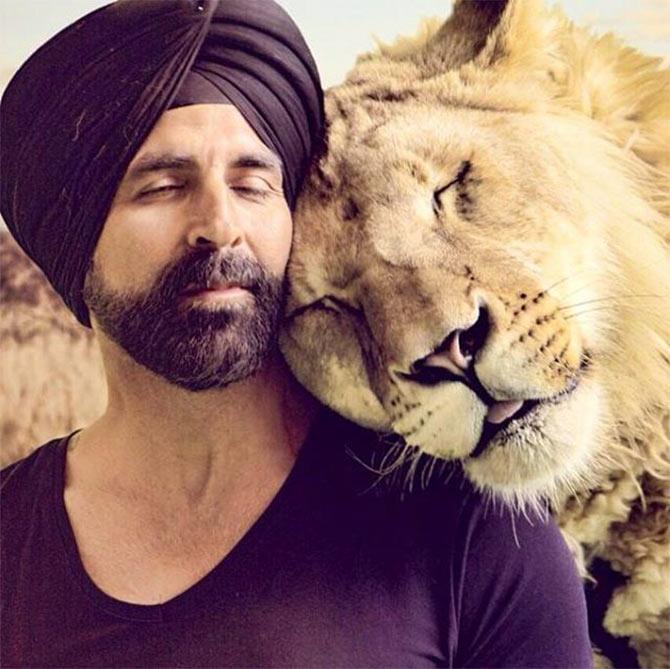 Image: Akshay Kumar on the sets of Singh is Bling
What stunts have you tried in this film?

I have shot with a lion called Mufasa. I do not fight with him but he sits in my car, just behind me.
Once, during the shoot, he saw his reflection on the windscreen and thought it was another a lion. He leaped on the windscreen and hit it so hard that the windscreen cracked! I ran away from there.

People around me said, 'You are a khiladi'.
I told them, 'Khiladi gaya tel lene' (Khiladi has disappeared!).
I told them I wasn't going to go anywhere near the lion or else my photograph would be displayed at the beginning of the film, saying, 'This film is dedicated to Akshay Kumar'.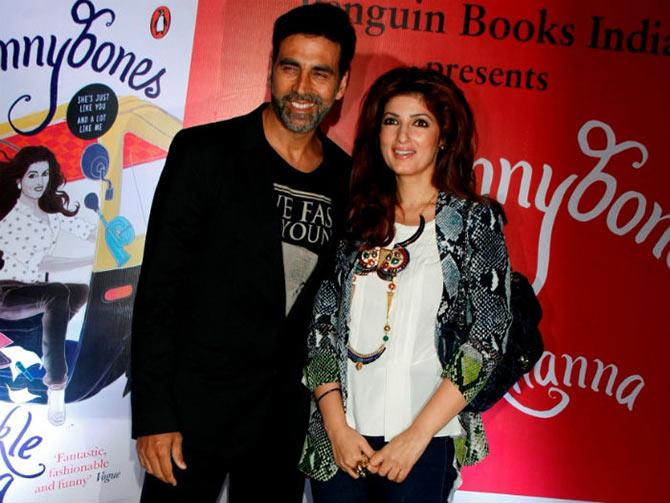 Image: Akshay Kumar at his wife Twinkle Khanna's book launch, Mrs Funnybones: She's Just Like You and a Lot Like Me. Photograph: Pradeep Bandekar
We got to see a very different side of your wife Twinkle at her book launch…
I see that every day. It was not a surprise for me.
Who has a better sense of humour between the two of you?
I think she does. My humour is a different kind, Punjabi humour. She is very blunt.
Does she like your Punjabi films?
She likes some. She enjoys slapstick comedy.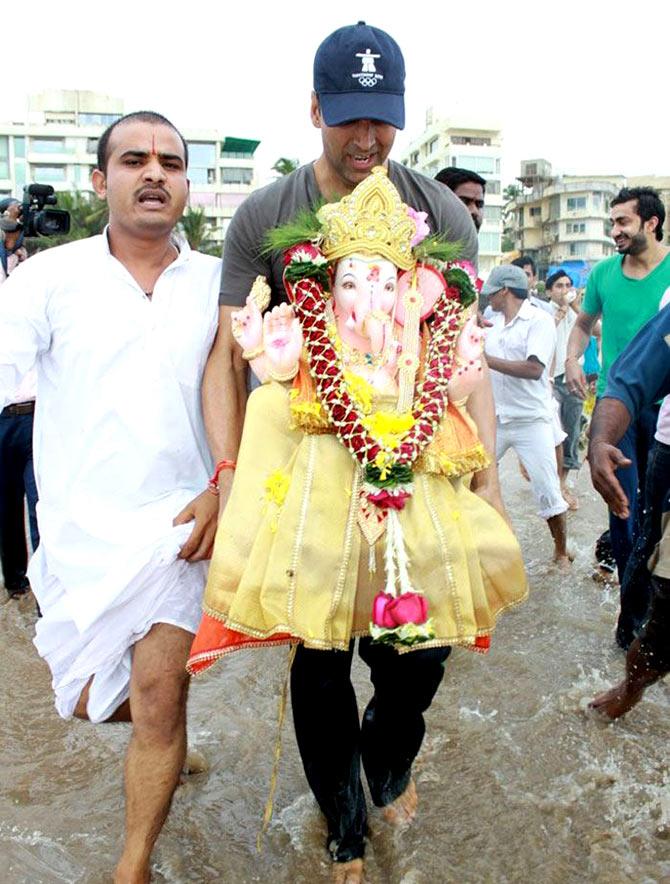 Image: Akshay Kumar at Ganpati visarjan. Photograph: Pradeep Bandekar
What is your earliest memory of the Ganpati festival?
I have danced on roads during the visarjans. It was so much fun.
We would be awake for five nights playing games and having carom and table tennis tournaments. I would go to people's houses to eat prasad. I loved doing aarti also. I have great memories.
After the visarjan, the sight is very bad. I live on the beach. It's very sad to see Ganpati's hands and legs scattered on the beach.