'I was in love and so I got married very early. Love makes you do crazy things. If I had not married then, my life would have been different.'
'Today, I see women balancing their careers and homes. They are giving equal importance to their personal desires and their families, and that is great. I haven't been able to find that balance.'
Bhagyashree, up close and personal.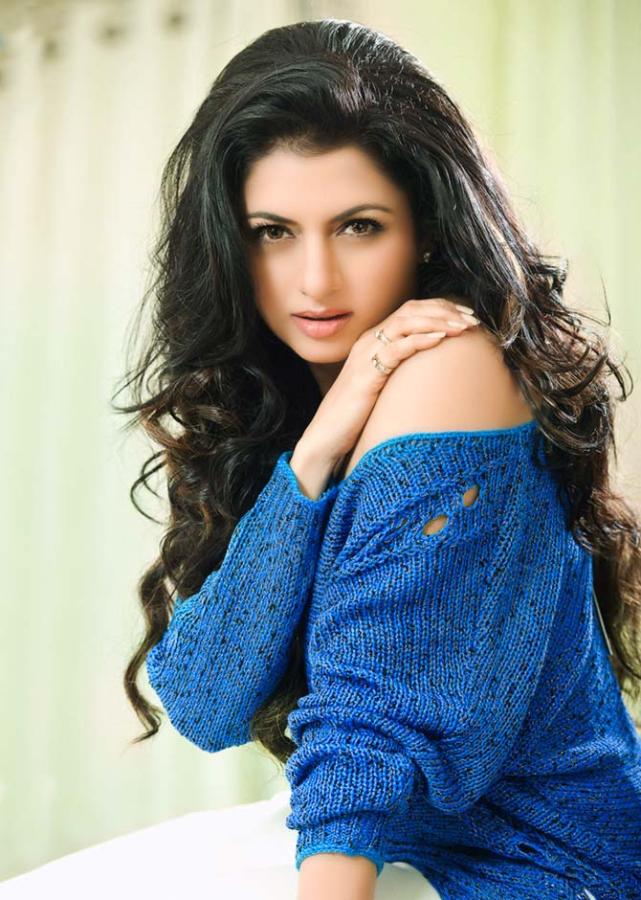 Image courtesy: Bhagyashree.
When Sooraj Barjatya made his directorial debut Maine Pyaar Kiya in 1989, he gave Bollywood two promising actors: Salman Khan and Bhagyashree.
While the former went on to become a superstar, the latter got married and quit the film industry at the height of her career.
But Bhagyashree has no regrets.
Seventeen years after making her smash hit debut, Bhagyashree still looks *gorgeous*.
Wearing a white t-shirt and trousers, she greets me warmly, hugging me, and strolls over to a corner of a sprawling room in her plush Juhu bungalow. She sips from a tall glass of nimbu-paani (lemon juice) and talks about her successful life:
My father Vijay Singhrao Patwardhan is the Raja of Sangli (a city in Maharashtra) even though our family has lived in Mumbai.
We would visit Sangli thrice a year, and a royal protocol would be followed there.
When I was younger, I would find it very odd and embarrassing when people, much older to me, would touch my feet because they had this reverence towards the royal family.
While children of my age grew up with cats and dogs, I got to choose my own elephant!
The Ganpati festival in Sangli was huge; around 6 lakh people came to worship this year. We have our own temple there. The visarjan can start only after my father finishes with his.
So my childhood has been quite different from other young girls.
But in Mumbai, we had a regular home, went to school and did normal things.
My father liked to study; his visiting card has three lines of (educational) degrees. When I look at it, I feel embarrassed because I barely completed my BCom (Bachelor of Commerce). He is an accomplished lawyer, an engineer, a businessman with factories in Mauritius and Africa...
My mother Rohini is a homemaker. She brought us up; we are three sisters. I'm the oldest.

Madhuvanti and Purnima are not into films. They're married -- one is settled in Chicago and the other is in Canada.
'I signed my first autograph in Washington'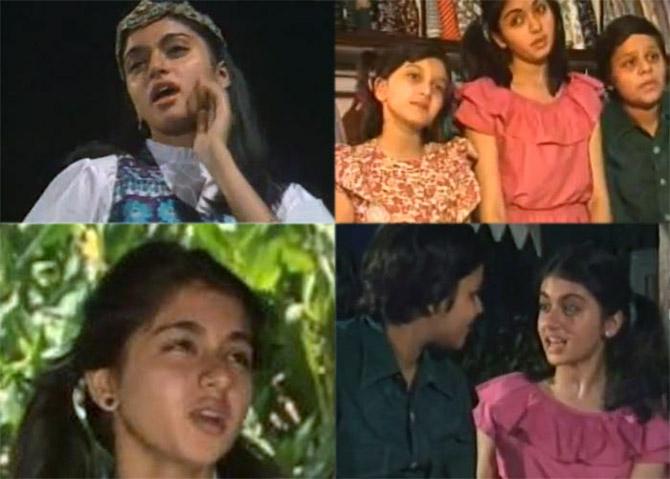 Image: Bhagyashree in various stills from Kachchi Dhoop, with Madhuvanti and Shalmalee Palekar.
It's funny how I started working in television serials.
Amol Palekar was our neighbour. His daughter Shalmalee and my younger sister Madhuvanti were of the same age, and we would all play together.
When Amol uncle started the TV serial Kachchi Dhoop, he asked my youngest sister whether she would like to star in it. She was all for it because she loved acting and would take part in school plays.

I was very studious and had eyes for books only. I was a very obedient daughter and student. I never got remarks; I was the class monitor.
Amol Palekar had put up a set in Nataraj studio. The night before the shooting, he told me that he wanted me to play the elder sister.

I was shocked. I had never acted in my life nor had I ever been on stage. The last time I was on stage in school, I was a tree (laughs). So I was petrified. I told him I was not used to learning dialogues and wasn't sure if I would manage that.
So he explained it's all about what children do at home. He told me just come and play on the sets.
Apparently, the girl who was supposed to do the part had run away. Since the sets had already been erected, they would incur huge losses if they did not find a replacement. So I said okay.
The moment I said yes, my father gave me a long lecture. He wanted me to test the acting field, let it be a learning process -- how each shot is taken, why there are close-ups, trollies, mid-shots, how lighting is used...
I told him that it was supposed to be a summer vacation! (laughs) I was 14 years old then.

But I said okay, since I was an obedient daughter. So I went to the set with this open mind full of questions, and would keep asking Amol uncle how he worked.
It was a fun atmosphere. Once, just before a scene, Amol uncle's daughter Shalmalee burst out laughing just when she had to say a dialogue. And that made me laugh, then my sister laughed and the entire set laughed!

She just couldn't complete that dialogue and it went on for a long time. We had to re-take that scene for at least 46 times, after which Amol uncle said 'Pack Up.' After that, there was pin drop silence.

That was the first time he had raised his voice and it really scared us.

We shot Kachchi Dhoop in one month and I became very popular because of it.
I still remember, we had gone to America for the first time. We were at a Washington museum when suddenly, I heard screams. I turned back to see a mob of children, running towards me. We thought they would run ahead, but they had actually come to get my autograph! So I signed my first autograph in Washington. I couldn't believe it!
I did plenty of one-off serials but it was more of fun and games. I was totally focused on going abroad for my education.
But then Maine Pyaar Kiya happened.
'My dad glared at me so hard during the song Tum Ladki Ho that I almost died in my seat'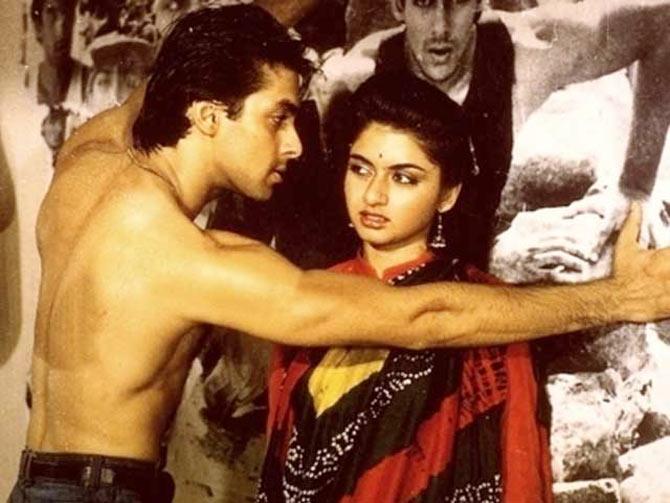 Image: Salman Khan and Bhagyashree in Maine Pyaar Kiya
Soorajji (Barjatya) and my family knew each other socially. Once, he saw me and wanted me to do a film. He had also seen Kachchi Dhoop.

All of a sudden, he landed at my home and said that he wanted to cast me in a film.
I said I wasn't interested; I didn't want this career.

He asked us to at least hear the story.
When he started the narration, I started crying. The moment I started crying, he thought I really understood the script.

I told him I loved the story but couldn't do certain scenes. So he made some alterations.

I said no again because I had to attend college. So he said I could shoot after college.

But I found another excuse.
He must have come back at least seven times. Sometimes, the problem would be a kissing scene, sometimes a costume.

But whenever destiny writes something out for you, you have to do it.
My family was very conservative; we were brought up in a very protective environment. When I was going to college, my father told me not to wear skirts and jeans. I wore salwar kurta all my college life.
I wore skirts and jeans in Maine Pyar Kiya without informing him for the song Tum Ladki Ho. During the trail screening, my dad glared at me so hard during the song that I almost died in my seat.
It was lovely on the sets. Our scenes were all drawn out on chartpaper. It had everything -- where who should go, how everyone should stand... the detailing for every scene was amazing. So everyone on the set knew exactly what to do.
Soorajji would be the first to arrive on the sets, even before his assistants, and the last to leave.
He had just gotten married then, and Salman (Khan) and I would tell him to pack up early and spend time with his wife.
Vanitabhabi would get food on the sets and literally serve him. We would all sit together and eat.
Everyday I would attend college, and then go for the shooting. My lectures were at 7am. I would come back in the afternoon, sleep for an hour or two, and then leave home at 4pm and reach Madh Island at 6pm. The shooting would get over by 4 or 5 am, and I would rush back home, take a shower, and go to college.
I started shooting for Maine Pyar Kiya when I was 18 years old. The film went into post-production for nine months, and I got married at 19. I was 20 when the film released.

'My parents did not attend my wedding'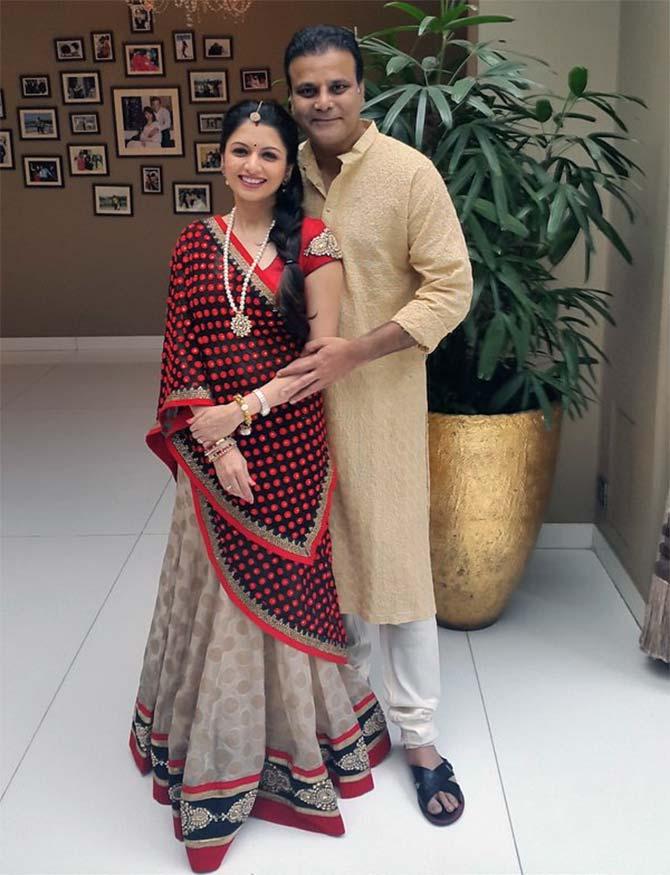 Image: Bhagyashree with husband Himalaya. Photograph: Bhagyashree/Twitter
Himalayaji and I went to school together, and love happened over the years. We would have catfights in school but we couldn't do without each other.
But my father disapproved of our relationship. So I broke up with him. There is this saying that if you really love someone, set him free and if he really loves you, he will come back. I believed in that.
At our wedding, only Salman Khan and Soorajji's family attended from my side.
My parents were not talking to me and did not attend.
They felt I was too young (to get married) and I don't blame them. My parents thought if they don't come for my wedding, I will not get married.
I had told my parents to get us engaged, and that we could get married later. I even asked them if I could meet Himalaya at home, in front of them. But they did not agree to anything.
So I was left with no choice.
Everything got sorted after my son Abhimanyu was born a year later.


'I never said I would work only with Himalaya'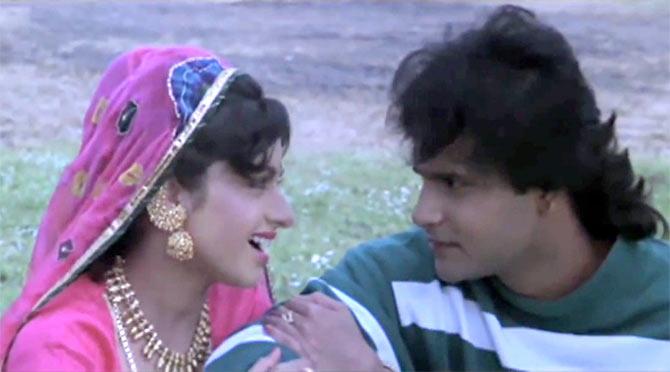 Image: Bhagyashree with husband Himalaya in the film Qaid Mein Hai Bulbul

I never said I would work only with Himalaya.
Once a journalist had asked me whom I would prefer doing intimate scenes with. I started laughing and said that I wasn't comfortable doing even hugging scenes with Salman Khan. I added that I had a husband, so intimacy began and ended at home.
Because of this, film offers did not come to me.
Once, Himalayaji was offered a movie and he accepted.
I thought working with my husband would be easier but when we started shooting, I realised it wasn't. You get so conscious!

I am a very shy person. At that point of time, I wouldn't even sit close to my husband when my in-laws were around. So sitting on someone's lap in public, even if he was my husband's, was difficult.
Those intimate scenes that I thought I would be comfortable doing suddenly looked very difficult.
Actually, there were lots of love stories being made after Maine Pyaar Kiya and Qayamat Se Qayamat Tak. Action movies followed but the roles offered to women were of painted dolls with no soul. I did not feel comfortable doing such films.
I did not want to compromise my relationship with my husband by doing something I was not comfortable with. We got married young and he was possessive like any other man.
Plus, movies demanded outdoor schedules and my husband wasn't comfortable with me going away for a long time. I haven't left my daughter alone for even a single day.
You put your personal desires on the back burner for the sake of your family.
Yes, I would have loved to balance things. Today, I see women balancing their careers and homes perfectly. Actually, I can't say if they are perfect but they are managing. They are giving equal importance to their personal desires and their families, and that is great. I haven't been able to find that balance.

'I played a husband-beater in a film'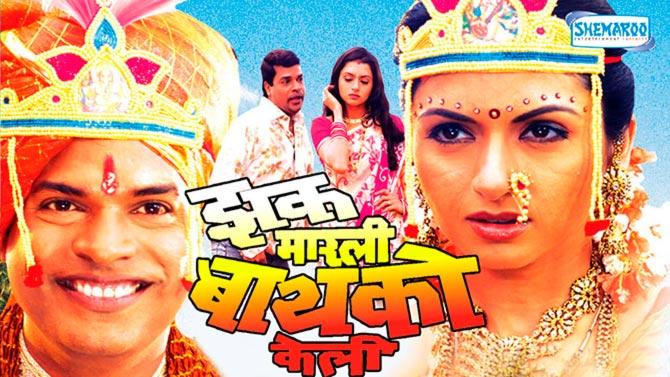 Image: Bharat Jadhav and Bhagyashree on the poster of Zhak Marli Bayko Keli
I have done lot of movies in Kannada and Telugu. They were all powerful, women-oriented roles.
In one film, I played a husband-beater and in another, I played a journalist who tries to understand the lives of criminals.
I did a lot of regional cinema during those 10 years, like Prema Paavuralu (1990), Yuvaratna Rana (1998), Omkaram (1997), Avuna (2003) and Ammavra Ganda (1997). I did Bangladeshi movie called Sati Behula.
Last year, I did the television show, Laut Aao Trisha. It came at the perfect time because my daughter had just left for London.
Laut Aao Trisha was about a mother's search for her daughter and that suited me too.


'There's is so much emptiness that it's painful'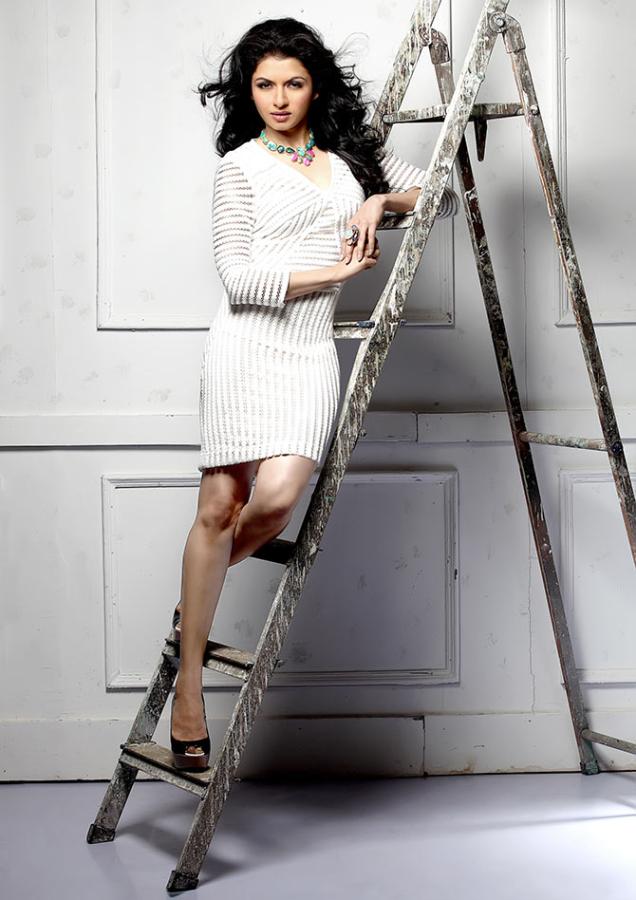 Image courtesy: Bhagyashree.

I was in love and so I got married very early. Love makes you do crazy things. If I had not married then, my life would have been different.
But I am not dissatisfied with life, no regrets.
I am remembered for just one film but I am not upset because that's the best work in my life. Twenty-five years later, people still remember me and respect me.
I gave up a lot of things when my children were born, as I had to take care of them. My children know what I have given up and they appreciate that.
I think I have spent my best times with my children and so I have no regrets. I have done everything a normal mother would do. I have gone for their karate classes, gymnastics classes, swimming classes, I have massaged them as babies, I have taken them for musicals and we would come back singing loudly in the car, I would take them to Juhu beach and had golas with them...
Today, my children are constantly pushing me to do what they feel is good for me. They are my biggest support system.
My son Abhimanyu has finished his education and is getting ready for films. He studied at the Lee Strasberg Theatre and Film Institute as well as at Anupam Kher's Acting School. He assisted Ramesh Sippy and Rohan Sippy in their films, and now he is learning martial arts and dance. He has started meeting producers.
My daughter Avantika is not interested in acting. She is studying business in London.
Both my children have grown up and are busy with their careers. I'm alone now, and there's is so much emptiness that it's painful.
Now, I am waiting for the perfect script that I may be destined for (laughs).