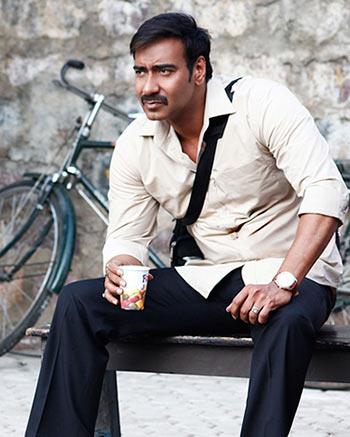 'I have done a lot of films for friendship and whenever I have done that, I have suffered.'
Ajay Devgn gets candid with Rediff.com's Savera R Someshwar and Sonil Dedhia about his career, and Drishyam.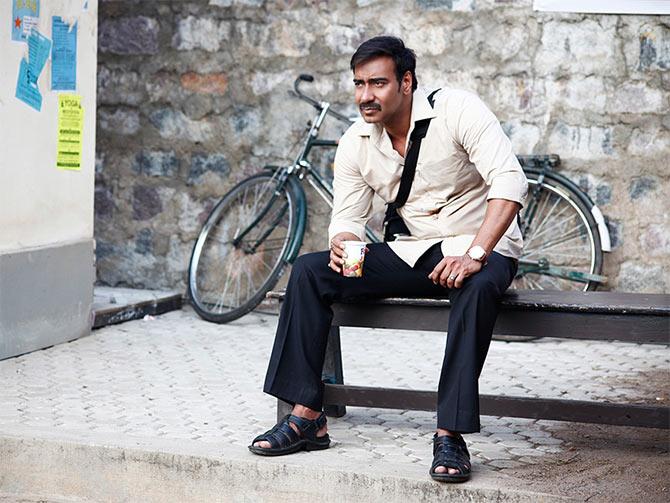 IMAGE: Ajay Devgn in Drishyam.
Ajay Devgn, stumped?
Yes, and all it took was one question.
Which of the many characters that he played in his 24-year-long career in the industry would he invite home?
First, Devgn smiled.
"My characters?"
Yes. His characters.
There was a long pause, followed by another smile.
"Bhagat Singh (from his movie The Legend Of Bhagat Singh), because I am in awe of him."
"Malik bhai from Company, because I loved that character a lot."
"Sultan Mirza from Once Upon A Time in Mumbaai."
And he smiles yet again.
In each of these roles, there were both 'relationships' and 'emotions' involved.
And there are 'relationships' and 'emotions' involved with his next release, Drishyam, a remake of the 2013 Malayalam hit that starred the talented Mohanlal in the lead role.
Drishyam -- for the actor (we are deliberately not saying the star) -- is special. It is a meaty, emotional role he can sink his teeth into, the kind of roles he was known for (Zakhm, Raincoat, Hum Dil De Chuke Sanam) before he discovered he had a talent for comedy on-screen (Avid Bollywood buffs will know that Ajay Devgn has the reputation of being a mega-prankster on the sets).
He is is confident about its success even though the trailer does not have the regular dishoom-dishoom his fans expect.
"My character in Drishyam may not physically strong," says Devgn, "but, mentally, he is as strong as Singham (the inspector he played in the two hit movies directed by Rohit Shetty). This is an edge-of-the-seat thriller and, once my fans and the audience watch Drishyam, they will realise that I play a very strong character."
There is another reason why he finds this film special and that's Tabu, a co-star for whom he has a very special corner. Vijaypath (1994), the first film in which they acted together, was Tabu's first hit and Devgn's third; besides, they have been pals since before they joined the film industry.
"We have known each other since we were kids," Devgn cracks a rare smile that sees his eyes crinkle. "We are like two guys who are abusing and hitting each other. Till now, we call each other with the names that we addressed each other earlier (as kids)."
But the camaraderie would disappear each time the camera switched on at the sets of Drishyam. "The film has a story of conflict between the two of us and we needed an actor of Tabu's calibre to pull it off. She is an intense actor and is fabulous at her work," he says in tone that brooks no argument.
Drishyam is a film he's clearly comfortable with, unlike others where he has lost interest mid-way. And when that happens, here's what Devgn does.
"I switch off," he says. "Anyone (watching the film) would easily notice it. But I've made a commitment so I fulfill it (by finishing and promoting the film)."
This sense of commitment -- towards his films and towards his friends -- is the reason why, at times, he has seen professional setbacks (Drishyam is co-produced by his former manager and long-time friend Kumar Mangat).
"I have done a lot of films for friendship (against his better judgement) and, whenever I have done that, I have suffered," he says.
This, says Devgn -- who will complete 25 years in the film industry in 2016 -- is something that the new generation of actors "don't do. There are very few friendships that exist in the industry today. Our generation has maintained the relationships but the new generation are hard-core professionals."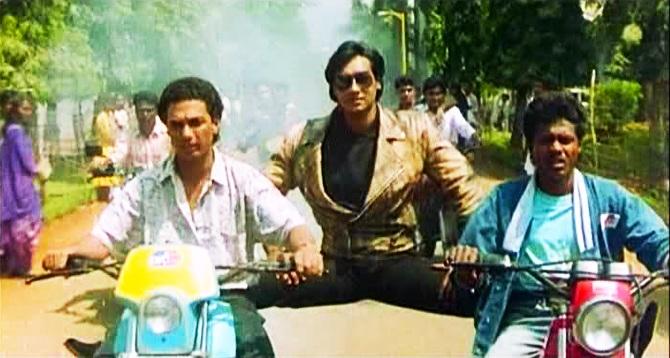 IMAGE: Ajay Devgn in Phool Aur Kaante.
Devgn began his career with the hit, Phool Aur Kaante, in 1991, when the industry was "close-knit".
"The warmth is gone. Filmmaking and films have just become a business," he says.
There is, he believes, something that could be learnt from the way the present generation of actors approach their profession. "The new generation is evolving. They are emotional but, at the same time, very practical. Even my children talk about practicality more than anything. I am not saying that they are wrong. Like I said, I did films for friendship, but now when I look back, I think I should have said no to them because it would have saved me and the producer too. Sometimes, it's practical to say no."
Devgn says he now tries to "strike a balance" between the films he would like to do as an actor and the films that his fans would like to see him in. "Now, I make it a point to do films that I like... films that I would like to watch in the theatres. But I always keep in mind that my work should be liked by fans."
What about those who announce the numerous film awards?
Devgn dismisses awards as he would a pesky fly. "I don't believe in awards because they are a sham. It is a show and the organising committee pay the actors to attend the function. Awards are given to almost all the actors who agree to attend the function. It has become a business," he says.
But there is, even for someone like Devgn, an award that matters. An award that that has not yet been given to Aamir Khan, who has been hailed as thinking man's actor, or Salman Khan or Shah Rukh Khan.
The National Award.
An award that he values. An award that he has been honoured with twice.
"I did not reach on time to receive my first National Award (Zakhm in 1998). I was shooting in Ooty and was supposed to take a morning flight to Delhi which got cancelled. I called the authorities and told them that I wouldn't be able to make it. They requested me to send someone from my family and my mother went to receive the award," smiles Devgn.
The second time around, he was holidaying abroad with his family. "I flew to Delhi," he recalls, "received the award (for The Legend Of Bhagat Singh in 2002) and went back. It is a fabulous feeling because there is no show off, no speeches, no dances. It is just the President of India who is giving the award."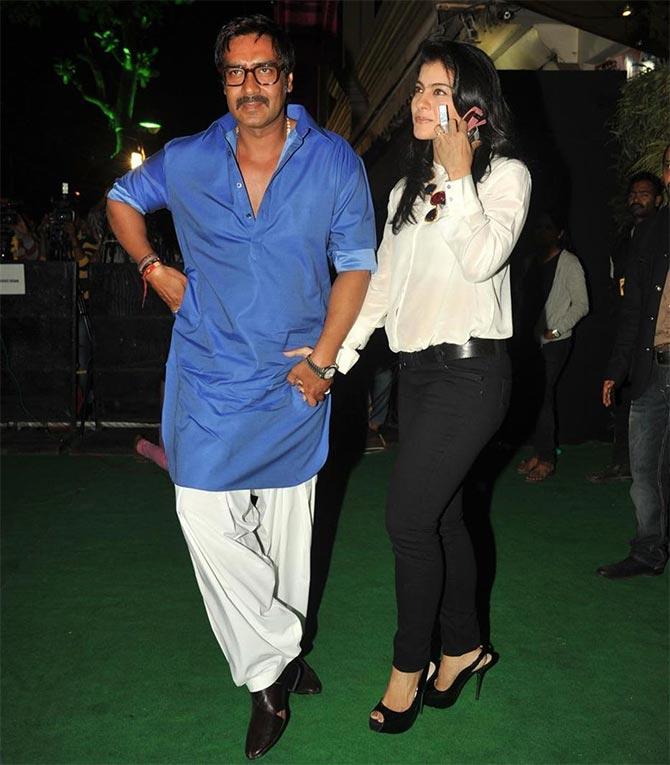 IMAGE: Ajay Devgn and Kajol. Photograph: Pradeep Bandekar
"I believe in spending more time with my family," he says firmly, though he will not speak about his brother, Anil Devgn who directed Raju Chacha -- a huge debacle for Devgan Films -- and Blackmail. "The mindset in our house is still very middle class. My parents live with me. My mother runs the house. Staying connected with your parents is very important. Right now, my mother is in Bulgaria with Kajol (who is shooting there for Rohit Shetty's Dilwale). My father is with me, as he is unwell and cannot travel."
In an earlier interview with Rediff.com, he had spoken about how he was "fortunate to have such beautiful parents. It is always important to have a good upbringing."
"A lot of people," he says, "are shocked when I tell them that I live with my parents, but they have made me who I am today. At home, I am just a normal person. I believe in traditional Indian values. I am a very orthodox person. If I see a guy misbehaving, I blame the parents for not giving him a good upbringing. I may be wrong, but I think parents have a lot of influence on their children."
Ajay Devgn loves his privacy. Unfortunately for him, it is not a decision that's entirely in his control.
As a star in the Hindi film industry -- in fact, as an actor who commands a reliable presence at the box office with anywhere between two to three releases a year and a legion of fans -- limelight is a double-edged sword he cannot ignore.
So, if he takes on Yash Raj Films -- the powerful production house that produced his wife Kajol's runaway hit, Dilwale Dulhania Le Jayenge and made her the heartthrob of the nation -- because he believes they arm-twisted distributors and theatre owners into ignoring his film, Son Of Sardaar, in favour of their Jab Tak Hain Jaan (both released on the same day in 2012), it was a battle that had to be fought in the public arena.
Taking on one of the giants in the industry -- at a time when its patriarch, Yash Chopra, had passed away, as a result of which emotions were ranged against Devgn -- did not faze the actor.
Nor does the fact that he sometimes juggles multiple roles, of producer, director and actor. "I am directing, acting and producing my next film Shivaay and I enjoy each role. Sometimes, I feel I like directing more than acting. But those phases come and go," he smiles.
Yet, there are things that make him insecure even today. "There are a lot of expectations (from me). I need to perform and I guess that is the biggest insecurity that I have. There are times I become conscious about choosing the right films," he says.
And then, there is the pressure created by these expectations. "There was a time when I would react under pressure. I would get angry about certain things that were not happening the way I wanted them to. But now I am very calm under pressure. With time, you learn how to deal with it."
Devgn is now distracted. Kumar Mangat, clearly a more important claimant on his time, has walked in a few minutes ago. Devgn's hands, which he had patiently and politely kept at his side, now itch for his mobile phone.
Outside the huge glass windows of the suburban Mumbai hotel, the waves lap the sand at regular intervals. The sky is a bright, bright blue.
But these are distractions for which Devgn does not have time.
Not yet.