There is a group of La La Land haters -- especially jazz aficionados who feel the film gives too much importance to a white man who sets out to save the musical genre associated with the African American community, points out Aseem Chhabra.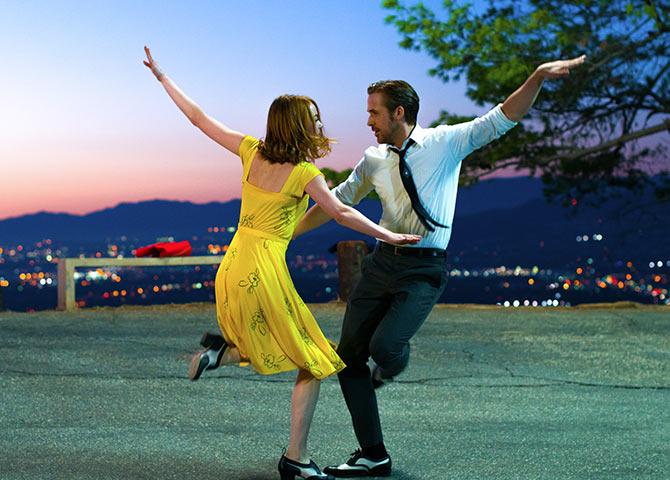 Is Meryl Streep the greatest actor of our times? She definitely is. But does she deserve another Oscar? Probably not!
After Tuesday's Oscar nominations announcement the actress now has 20 nods in the acting category -- the most for any actor ever. But she has won only three times, as compared to Katharine Hepburn's four acting Oscars.
In her acceptance speech at the 2012 Oscar ceremony, where she was recognised for playing Margaret Thatcher in The Iron Lady, Streep said she was sure that was her last time to go up on stage to accept the trophy. But it seems many members of the Academy of Motion Pictures Arts and Sciences think differently.
And so Streep was nominated for the 20th time -- on this occasion for her performance in Florence Foster Jenkins.
Streep joins four other talented peers -- Isabelle Huppert (Elle), Ruth Nega (Loving), Natalie Portman (Jackie) and Emma Stone (La La Land).
One name absent from the best actress nomination list was that of Amy Adams. Many Oscar watchers felt that Adams not just deserved a nomination (she has so far been nominated five times), but also had a chance to win an Oscar for her role in Arrival.
The race is open in the best actress category, although I believe Stone has an edge over the one-time winner Portman.
The lovely and super talented Huppert may go back to France empty handed after the Oscar ceremony on February 26. But she already has a Golden Globe for her role in Elle.
There were other snubs in the nominations. And that happens every year.
One of the most prominent omissions was that of Tom Hanks, who was ignored for his performance in Sully.
Hanks is universally liked in Hollywood. He has been nominated for five Oscars and has won twice. But the Academy members followed the Screen Actors Guild and picked the same nominees for best actors -- Casey Affleck (Manchester By the Sea), Andrew Garfield (Hacksaw Ridge), Ryan Gosling (La La Land), Viggo Mortensen (Captain Fantastic) and Denzel Washington (Fences).
Affleck has been the favourite to win in this category. But reports of sexual harassment charges and lawsuits against Affleck by two former colleagues (he settled the cases in 2010) may derail his chance to win the biggest acting award in Hollywood.
There was no surprise that Damien Chazelle's La La Land, an ode to Hollywood musicals of another era and a love letter to Los Angeles received the most nominations -- 14 in all.
The love fest for that film continues to build up since its world premiere in Venice in September 2016.
There is a group of La La Land haters -- especially jazz aficionados who feel the film gives too much importance to a white man who sets out to save the musical genre associated with the African American community.
It needs to be seen if that argument holds up through the coming month.
La La Land is a lovely film, although one can say it is a bit too white. But, this much is clear -- no one is going to use the #OscarSoWhite hashtag this year.
There are quite a few African American themed films and other nominations across the top categories -- Moonlight, Fences and Hidden Figures for best picture; Washington for actor; Nega for actress; Barry Jenkins (Moonlight), only the fourth African American to be recognised for best director; Mahershala Ali (Moonlight) and even a token brown man -- Dev Patel (Lion) for supporting actor; Viola Davis (Fences), Naomie Harris (Moonlight) and Octavia Spencer (Hidden Figures) for supporting actress.
There were other African American projects nominated: Three documentaries -- I Am Not Your Negro, OJ: Made in America and 13th.
Joy McMillon is the first black woman and only the second African American to be nominated for best editing (Moonlight)
There were other snubs. Martin Scorsese's 161-minutes long meditative film about two priests in Japan got all but one nomination -- for cinematography. But this is the same Academy that only recognised Scorsese's directorial abilities in 2006 for The Departed, 39 years after the release of his first film Who's That Knocking on My Door.
Two other films that were talked about during the awards season were virtually shut out -- Nocturnal Animals (it only received a supporting actor nomination) and 20th Century Women (only recognised for its original screenplay).
On a personal level I had one major disappointment, although I was expecting it to happen. I think Jeremy Irons gave the finest performance of his career in the role of G H Hardy in The Man Who Knew Infinity.
But one of the film's Indian producers had told me that they had no budget to promote the film among the Academy members. So Hollywood simply forgot Irons in a film that opened in late April in the US.
As in past years, several excellent foreign language films were shut out by the Academy, including Neruda, Clash, Elle, Sand Storm, Ma' Rosa, The Age of Shadows, From Afar.
The foreign language film category is hard to predict, although I believe this year Germany's Toni Erdman is the film to beat.
Finally the nomination I am most happy about.
In early August I saw what would definitely be my all time favourite animation film -- Kubo and The Two Strings.
It is a joyful stop-motion film, using animated origami. Every time I think of that film I start to smile.
I had expected Kubo to get the best animation film nomination. But I was thrilled to see the film being also recognised for visual effects along with Jungle Book and Rogue One.