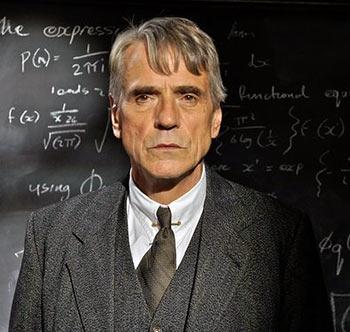 Jeremy Irons considered maths 'very boring' till he read G H Hardy's A Mathematician's Apology. The actor, who plays the British mathematician in The Man Who Knew Infinity, talks numbers, acting and his legacy with Aseem Chhabra/Rediff.com.
Jeremy Irons began his career with a big splash when he was cast as Charles Ryder in the television mini-series adaptation of Evelyn Waugh's classic novel Brideshead Revisited. The show was a huge hit in the United Kingdom and the United States.
The year was 1981. That year Irons also acted opposite Meryl Streep in the French Lieutenant's Woman.
Since then, Irons has had an immensely rich career in films, ranging from Rever­sal of Fortune (1990), which won him an Oscar, to Louis Malle's Damage (1992), David Cronenberg's M Butterfly (1993) and Die Hard (1995).
He was even the menacing voice of Scar in the Disney hit Lion King (1994).
On April 29, Irons will be seen delivering one of the best performances of his career in the role of G H Hardy, a mathematician at Cambridge, in The Man Who Knew Infinity. Hardy was the mentor to Srinivasa Ramanujan, a mathematics genius who traveled all the way from Chennai to work with Hardy in the early part of the last century.
Irons tells us about what it took to portray Hardy and whether the British mathematician was possibly gay.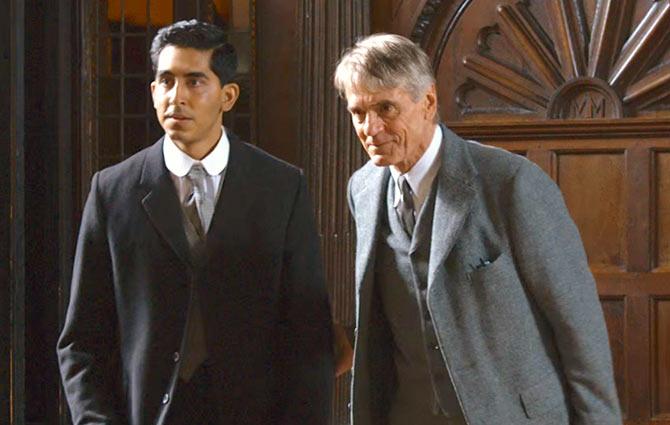 IMAGE: Dev Patel and Jeremy Irons in The Man Who Knew Infinity.
Did you have a good relationship with mathematics as a student or is that even essential to play this role?
I was never any good at it. I always thought it was very boring. It was only when I read G H Hardy's A Mathematician's Apology -- a little booklet he wrote -- that I realised you could be passionate and interested about mathematics and it is a fluid thing.
Pure mathematics is almost like a painting. Reading that and seeing the passion he had for it made me realize this was an area I've never experienced. It opened up Hardy for me. Within his mind, what he worked on was really exciting and thrilling.
So, when he met this young Indian from the subcontinent colony of England and discovered that this man could literally fly with mathematics, he wanted to know how he did it.
Hardy rigorously tried to get Ramanujan to prove it. And they are still doing that to this day, trying to prove Ramanujan's work.
This was so exciting for Hardy. And he writes that this was the only romantic period of his life. And it wasn't sexually romantic. It was romantic because here was this boy who could do this stuff for Hardy. So, together it was headfunk.
Though I believe Hardy was probably gay.
I was going to ask that...
And he couldn't face that. He was uncomfortable in his skin I think. Later in life when he moved to Oxford, he had a relationship.
With a man?
Yes, but I am not sure how long that lasted, but he did. There was an obvious attraction, which often is between men.
In those days, it wasn't so black and white. It wasn't spoken about it. There were many male societies in many universities and men would just bond in ways that women bond now. But it wasn't gay. I practiced that in Brideshead where Charles and Sebastian sort of have that.
And now we have to label everything. I remember when I was in school, it was a privilege when you were in the sixth form to walk arm-in-arm with another boy. And you could do that only up to sixth form.
I was in New York the day before yesterday going to dinner with a friend of mine whose wife has just died. We were walking up Broa­dway arm-in-arm and I thought 'I wonder if this looks odd?'
Good thing you were not spotted by a tabloid photographer.
(He laughs).
But there was some speculation that there was something on between Hardy and Ramanujan also -- sexually.
I don't think so. I think Hardy was millions of miles away from facing that. I think he loved him. He would never acknowledge there was anything sexual about it. He was not easy physically with people. But there is no doubt that their set -- I mean Bertie (the mathematician-philosopher Bertrand) Rus­sell and all of them, they were all of that proclivity as many people in academia and universities...
...are these days also...
Right! Nothing has changed (laughs).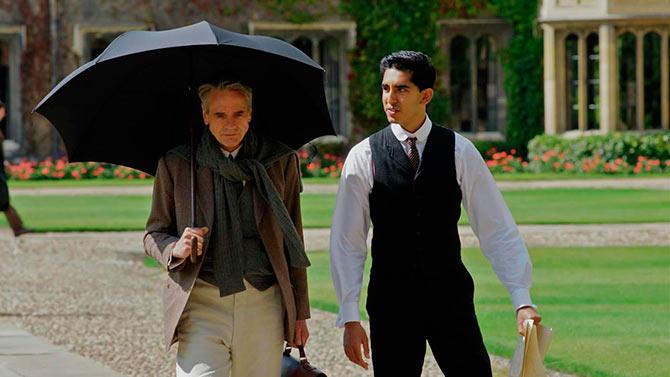 IMAGE: Jeremy Irons and Dev Patel in The Man Who Knew Infinity.
When you work with younger actors -- like Dev Patel -- do you sense them looking up to you or you advising them?
No, I hate that. It sort of comes with age. Because you have done stuff, people expect you to mentor others. I like to feel that we are all very equal. We are all equally unknowing. We are children discovering a story. We play, we pretend.
I am sure you have worked with other young actors, but somebody young like Dev Patel, what is that like?
He's not that young? He's 35.
No he's 24.
Is he really?
Yes, he was 17 or 18 when Slumdog Mill­ionaire was made.
He's very good for a 24 year old.
I am sure you have your own method of acting. But what does it take when your co-star is in his mid-20s?
If the actor is good, then you don't think about method or technique. You just do it. If the person you are playing with is real, makes it that easy for you. It's like tennis. If you're with a good player, it doesn't ma­tter if they're young; you have to keep wa­tching, listening and return the ball. The fact that Dev is good makes it very easy.
You have been acting for so long. What do you like your legacy to be?
Oh very little I think. I am just a film actor. I worked for an organisation which put yoga and meditation into prisons and I think my legacy there may be more imp­ortant than any of my film work. I rebuilt a ruined castle in Ireland. That would outlast me. That is part of my legacy.
I suppose if what I have done on the screen means anything to the future generations then that would be a good legacy. I hope through my children my legacy will pass on.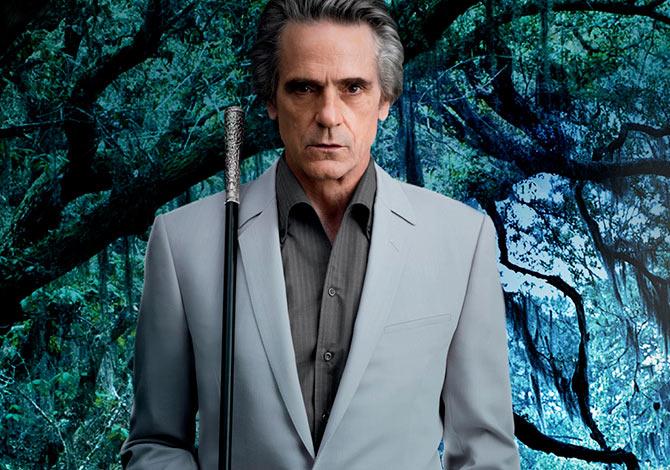 IMAGE: Jeremy Irons in Batman v Superman: Dawn of Justice
It's a good legacy. I remember seeing you first in Brideshead Revisited... and I was watching you in this film. You play a very socially awkward guy who doesn't even look up. It's so rewarding for us to see you perform. I was going to ask you, had you done a role like this before where the man is so socially awkward and he is so much into his own world?
I don't think I have. I was fascinated by that. He would go to a hotel room and cover up all the mirrors. He couldn't bear to see hi­mself. We didn't use that in the film because it is very difficult to show a man afraid of his reflection. That spirit I carried with me.
What was it like playing Alfred in the new Batman/Superman film, stepping into Michael Caine's shoes?
It's nice because they repositioned Alfred slightly. I didn't feel I had to step into his shoes. He is a different beast now, Alfred. I just played what was necessary for the script that we had.
I am a great admirer of Michael Caine and Mickey Gough who was Alfred before that and who was also a friend.
The great thing about Batman is that he morphs; he changes from film to film...
Did you enjoy being in a franchise superhero movie?
I did, but if this one doesn't work we won't make another.
In a way, Die Hard is a franchise.
Which got you a lot of attention.
It did, especially in your country. I go to India and every time people go "Ah Diee Haard." There is nothing wrong with that.
If you try with a career to have a broad base, so franchise movies are really helpful actually for a movie like The Man Who Knew Infinity, which are hard to finance.
You talked about yoga and meditation in prisons. Do you practice yourself?
No. I wish I did more. I smoke, which I think is my meditation. I make my own with tobacco, licorice paper and a filter.
Have you considered giving up this 'meditation'? You would be a lot happier.
I know, I know; I get letters all the time.
To tell you the truth, it helps me relieve the pr­essure. I know there are other ways. Walking on a Toronto street (where this interview was conducted) when I have 15 minutes between interviews, yes, I could sit on a wall and meditate or I could have a smoke. And it is sort of easier to have a smoke.