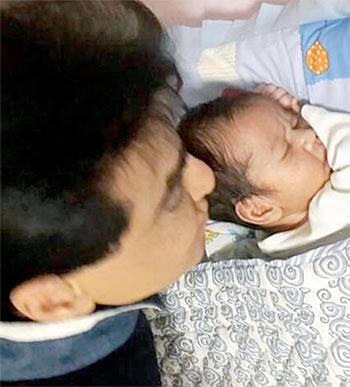 Tusshar Kapoor's decision is unique in a country where society still places so much emphasis on marriage and making a family, feels Aseem Chhabra.
Tusshar Kapoor has never had it easy.
He is the son of a famous father, who was a big star, jumping around in his white pants, until one director saw the real actor in him and gave him a second chance.
His sister is one badass, hugely successful television producer. One may not like the shows she produces, but there is no doubt about her success.
So given the track record of his family members, it is unfortunate that Kapoor's career has fallen into the Golmaal and Kyaa Kool Hain Hum slots of Hindi cinema. He may be in a good financial position, but he gets no respect from critics and is often the butt of jokes on social media. This despite the fact he showed real talent as an actor in the 2011 film Shor In The City, where he acted as a small-time businessman, who engages in book piracy and is also Radhika Apte's spouse.
I believe the actor deserves a lot of praise for the news that he recently became a father -- a single father -- through a surrogate mother.
This is not the first time a Bollywood actor has become a surrogate father. Both Aamir Khan and Shah Rukh Khan have been through that path, but then they are married men and already have children.
Kapoor's decision is definitely unique in a country where society still places so much emphasis on marriage and making a family. He is not the first single parent in India. There are many unsung heroes. Sushmita Sen had adopted two baby girls while choosing to remain single.
But each time single people make such decisions it is their way of saying that they can live their lives outside the dictates of the social norms. A traditional society like India needs that kind of a reminder again and again.
It is also rare for a celebrity to make such an announcement, since how the public perceives them defines their celebrity status. People look up to celebrities for role models, but are also quick to judge them and try to bring them down, when they are easy targets.
As expected, there were some random trolls on Twitter who thought Kapoor's announcement was worthy of making fun.
Kapoor's announcement basically means that he does not care what people will say about him. For that I respect him a lot, especially given that he has not had a remarkable film career.
I am glad that at least a few folks from Kapoor's Bollywood fraternity -- Karan Johar, Abhishek Bachchan, Farah Khan and Riteish Deshmukh have come out in support of the actor.
Parenting is not an easy job, although most of us choose to become parents. But as single parents, it is doubly difficult. Sen and Kapoor have the financial means to hire a lot of help, and the latter already has the support of his parents. But the onus of raising the children will always fall on the parents.
I have a friend in Mumbai -- a well-to-do businessman who is also a single father raising two young daughters, while the mother is living in the West. My friend has help at home, but the basic issues of parenting -- from making sure the kids do their homework to dealing with their emotional needs and then sitting by their bed massaging their foreheads, when the children are sick -- always falls on him.
Kapoor's announcement reminds me that it is especially rare for a man to make such an announcement. I do not want to differentiate between female and male single parents, but the fact is that society tends to be make those judgements. And we usually hear about Madonna and Angelina Jolie (and less about Brad Pitt) adopting babies.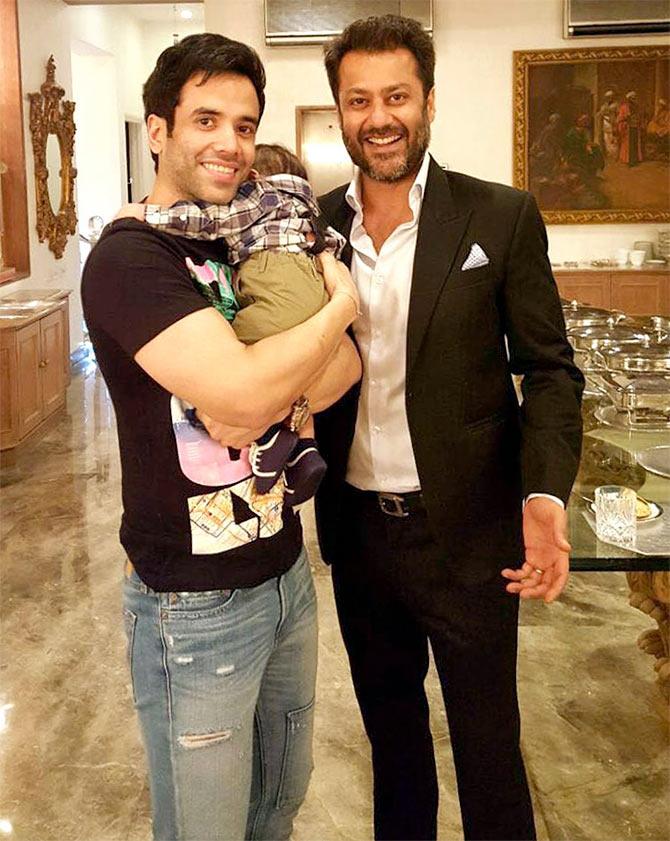 IMAGE: Tusshar Kapoor poses with his nephew and cousin director Abhishek 'Gattu' Kapoor.
Earlier this week, Kapoor spoke to the press about his decision: 'I will be turning 40 in a few months. I feel that I am in the right stage of my life to be a single parent,' he said.
Filmmaker Prakash Jha, he added, suggested that he should have a child through IVF and surrogacy: 'I met Prakash Sir on a flight and he told me this is a way also to have a family.'
So thanks to Prakash Sir and to Kapoor for reminding India that families come in different shapes and configurations.
The conversation about the birth of Kapoor's child Laksshya will not bring about a social revolution in India, but it is definitely a step in the right direction.