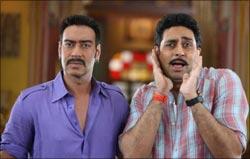 Raja Sen lists his reasons for not wanting to watch Rohit Shetty's latest comedy Bol Bachchan.

I haven't yet watched Rohit Shetty's latest film, Bol Bachchan, and I don't intend to.

Not that my staying away from the neighbourhood multiplex should make a huge difference to Mr Shetty, who will be counting on another monster multicrore opening to maintain his hitherto bulletproof box office record. This column has been written the Thursday before the Bol Bachchan release, its contents therefore shielded from gushy trade analyst tweets and succinct 'will beat Rowdy' speculation from fellow reviewers.

Choosing not to watch this latest film isn't self-preservation on a purely aesthetic level.
I didn't mind Shetty's first Golmaal which offered a modicum of genuine humour (or, what often passes for it in our current cinema, actual energy) relative to the Priyadarshan assembly line, and his Singham seemed to get the job done -- deplorable as the brief for that self-spoofing genre may well be. And while the vulgarly vacuous trailer ought be reason enough to give this monstrosity a miss, my hopes for the failure of this film aren't as offhandedly casual.
When it comes to Hrishikesh Mukherjee, you might as well call me a fundamentalist.
In my estimation, the most consistently excellent storyteller in the history of Hindi cinema, Hrishida crafted unassuming masterworks. Made of simple characters and relatable follies, of day-to-day drama and familiar frailty, he gave us films to live by.
The 1978 Gol Maal is an absolute classic, a gentle, irresistible comedy -- a comedy of manners and of moustaches -- with much to cherish and be awed by. Lovingly skewering formula films, a misplaced sense of propriety, imperious fathers and sports fans all at once, it remains immaculately fresh despite the couple of hundred times we've all watched more than small bits of it. To me Gol Maal is unquestionably one of the best Hindi films Of. All. Time.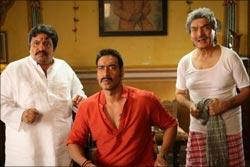 Therefore, the fact that the late great Utpal Dutt, at his officious, eesh-ing best, is replaced by Ajay Devgan (playing a grammatically-challenged goon, an idea itself cribbed from Tashan) is, to me, tantamount to the worst sacrilege.
Worse even than the time Devgan played Dharmendra in the new Sholay. Yes, truly.
It is worse, and because the outrage now is muted.
We fight for our blockbusters, for our epics, for our grand, overreaching dramas, for films actors won Awards for. And while our love for a Gol Maal might be more unanimous than for any of the classics whose remakes we rally against, we unfathomably figure its forgivable for some exploder-of-Scorpios to take a crack at a film whose title he's already hijacked for many a million. I stand against this pillaging of pure comedy into pantomime simply because I must. (Why must the other fundamentalist nutjobs have all the indignant fun?)
Sorry, but I do not wish you well, Bol Bachchan. At All.
This is why I didn't review it. I can't stomach the idea of Archana Puran Singh screeching around in Dina Pathak's most memorable role, and I've had enough of Abhishek Bachchan making his wrist floppy to appear gay.
I do not want this film to be yet another summer success because its impact won't be a harmless one. Unlike a Rowdy Rathore or a Singham which just continue to ride an awful bandwagon and slowly but surely exhaust the genre in the process, the success of Bol Bachchan may mean the end of holy cows, comedic or otherwise.
It's important that everyone in America dissed Gus Van Sant's Psycho remake because it had to be shunned. We must stand for the films that matter, not let their remakes trample box office records. Nothing will remain sacred anymore, and we'll be doomed to nightmarish remake loops forever, our greatest cinematic glories rehashed into forgettable flicks.
What's next, Chashm-e-Buddoor by David Dhawan? Oh damn, wait.