Cinema screens bring in over 60% of the Rs 19,100 crore that Indian films earned in 2019.
The reception a film gets in theatres impacts the price of every other revenue stream -- TV, OTT, overseas.
Vanita Kohli-Khandekar explains why the theatre business is not doomed and why OTT won't become the first window of release.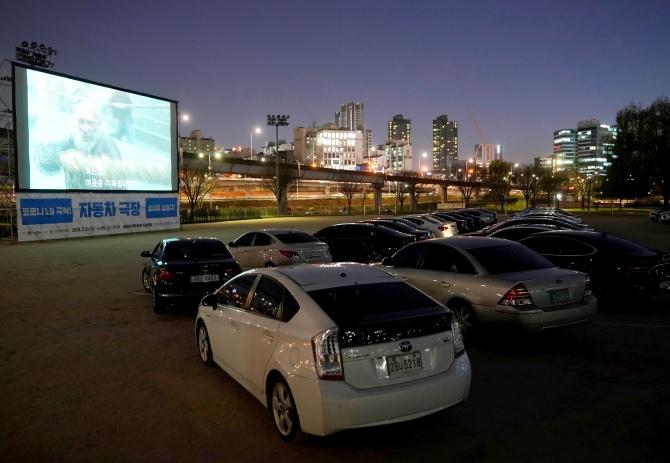 On any given Saturday in the seventies, the Kohli clan would clamber into their doughty Fiat and head out to the drive-in theatre in Bandra East (north west Mumbai).
It was where the Bandra-Kurla Complex now stands in Mumbai. We would buy tickets to the first show from 7 pm to 10 pm, park next to a small stand with two speakers and hook one to the door of our car, one among hundreds.
Some families sat inside their cars, others on folding chairs or little dhurries on the ground and watch Ankhiyon Ke Jharokhon Se (1978) or Kaala Patthar(1979) or whatever was playing. I was too small to remember the films.
But they came back to me because in scores of towns across the US, in Germany and other parts of the developed world people are going back to drive-ins.
It is their way of following social distancing while beating the cabin fever of a prolonged lockdown triggered by the Covid pandemic.
Almost all the 300-odd drive-in screens in America are running to capacity and are booked through the week.
Note that America, the home of Netflix, has some of the best broadband on offer and has a robust television market.
Yet, people are seeking the out-of-home feeling.
That is what Indian multiplex operators and film studios should look for as they squabble.
Last fortnight, all hell broke loose over the announcement that Shoojit Sircar's Gulabo Sitabo and Anu Menon's Shakuntala Devi would release on Amazon Prime Video.
INOX Leisure issued a terse statement talking of retributive measures.
PVR Cinemas expressed disappointment and the Producers Guild of India talked about trying to understand their predicament. You can't blame any of them.
Cinemas in India have been shut since mid-March even before the lockdown began.
Film producers and studios, who raise money on interest to fund films, are sitting on completed ones even as interest and employee costs keep adding up.
The ones who have staying power hold on, others give in.
This capitulation is an aberration brought on by an unusual set of circumstances and will not last for three reasons.
One, a theatrical release combines revenues and an amplification that is unmatched by any other format.
Cinema screens bring in over 60 per cent of the Rs 19,100 crore that Indian films earned in 2019.
The reception a film gets in theatres impacts the price of every other revenue stream -- TV, OTT, overseas.
For instance, films are the second most popular genre accounting for almost a fourth of all TV viewing in India.
In 2019, broadcasters paid Rs 2,200 crore for film rights bringing in 12 per cent of the industry's revenues.
This money resulted in estimated ad revenues of Rs 7,700 crore for broadcast networks.
If a film has been exposed on OTT first its ad revenue potential goes down. Why would they pay that kind of money for it then?
You could argue that OTTs could fill the gap. That's the second reason this is just an aberration.
As a format, OTTs brought in 10 per cent of the film industry's revenue. It might go up a bit more but it cannot substitute what a film makes through the entire release cycle from theatre, overseas, TV/OTT et al.
Three, for four years ending 2018, cinema audiences or ticket sales had been stagnant or falling.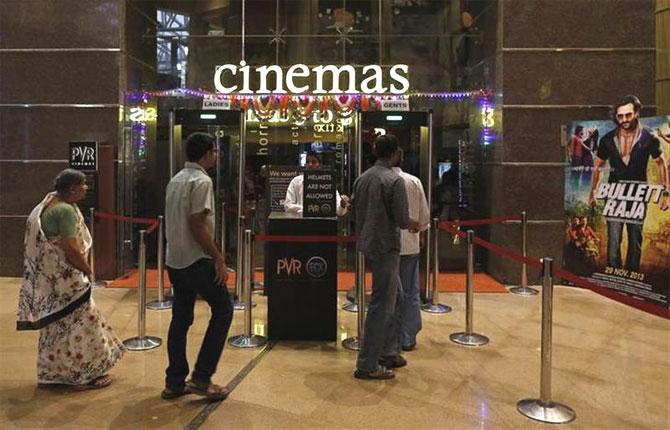 Last year, just when OTT viewership shot through the roof, film ticket sales hit a record billion plus. And the trajectory was upwards given the creative transformation of the film business.
But now, instead of a great year multiplex chains are looking at long months of bearing rent and salary costs without any income. Much of the talk of retributive action then is simply posturing born out of anger.
None of this means the theatrical business is doomed or that OTT will become the first window of release. That is the kind of babble that arises every time a new format becomes fashionable.
Remember radio was going to kill the live performance music business, TV was going to kill films, the Internet was going to kill everyone.
All formats eventually survive.
A film never earns in one shot; it earns over a year, five years or even decades like Dilwale Dulhania Le Jayenge or Sholay that continue to make money.
It is part of an ecosystem that stretches across formats, geographies and audiences. Producers/studios and cinema owners are critical parts of this ecosystem. Their interdependence is too high to risk it for short-term cash.
Take a look at what's happening in the US -- many studios are releasing their smaller films (Trolls World Tour) online and holding back the bigger ones (No Time to Die).
They know the big bucks will come only when theatres open.