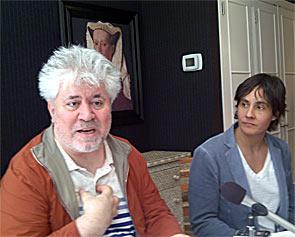 Here was this filmmaker, who has won so many awards, including a couple of Oscars, and there was not an ounce of arrogance in him, says Aseem Chhabra.

It was the fall of 1984. I had to pick up a friend from LAX airport in the evening. I had about five hours to kill and so I headed to Los Angeles' WestwoodVillage area. The Los Angeles Film Festival was on, and I decided to see a film on my press pass, then drive to the airport.

The only film I could watch during that time period was in Spanish, with a peculiar title What Have I Done to Deserve This?

The title and the film's poster -- a elderly woman with glasses and a lizard on her shoulder gave me the sense that this could be fun. Two hours later I seemed blown away by what I had watched -- a shocking, hilarious play on society's values and taboos.

Nothing was off limit for this outrageously wacky film -- including a funny take on pedophilia.

At the end of the screening a young flamboyant director with a big mop of jet-black hair appeared before us. He was animated, hilarious, camp and quite unlike any filmmaker I had ever met or seen.

His name was Pedro Almodovar.

I told Almodovar this story when I met him last week at the press junket for his new film I'm So Excited -- another outrageous comedy, set in an airplane, his most gay film to date that also examines Spain's current economic crisis.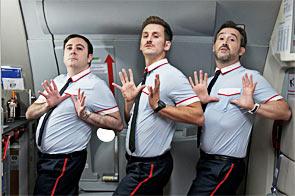 We were at the Cosby Street Hotel in SoHo. Almodovar arrived looking disheveled. He had not shaved for a few days, and his large jet-black hair was all white now, but it was still looking wild. I could not help think that he must spend a lot of money on that wild hair look of his.
"That was my first trip to America," Almodovar, now 63, said. And then he added, pointing to his hair: "This is not natural. I mean I dye my hair. I am like a blond ambition." A couple of journalists sitting in the room started to laugh loudly.
Back from Los Angeles in 1986, I became a huge fan of Almodovar's irreverent, raw and independent films, seeing all of his early works -- Pepe, Luci Bom, Labyrinth of Passion, Dark Habits, as they opened in New York City's art house theatres.
He played with themes that challenged the Catholic Church, sexuality, gender identities and the issue of machismo, so important and engrained in the traditional Spanish society. And I could not seem to get enough of this wildly crazy filmmaker who never failed to entertain us.
His early scripts were not tight (that started happening with his latter films, as he became world renowned with works like Tie Me Up! Tie Me Down!, Women On The Verge Of Nervous Breakdown, All About My Mother and my favourites Talk To Her and Bad Education), but there was the promise of playful comedies that explored deeper human relationships, with his brightly coloured production designs, and haunting soundtracks -- something few other filmmakers and writers were attempting to approach.
I have seen all 19 of his films -- including I'm So Excited, which I recently watched at the Sony Screening Room in midtown Manhattan. It opens in New York on June 28.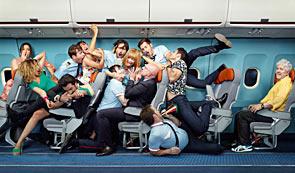 In some ways I can track my life in the US, based on which cities I was in and in which theatres I saw each of the 19 films.
After What Have I Done to Deserve This? I saw Almodovar at a press conference for Talk To Her at the New York Film Festival in 2002 and later in 2004 when he came to the Telluride Film Festival with Bad Education.
Last week was the first time I sat down to interview him. And I was amazed. Here was this huge global celebrity filmmaker, very successful, who has won so many awards, including a couple of Oscars and there was not an ounce of arrogance in him.
He was wacky and approachable, like his films that continue to enthrall us, even when the end result is not so perfect (I will not say I am blown away by I'm So Excited).
Film personalities -- even the most famous, need all the love they can get from the press, when they are about to release their films. But it is rare to find one who is genuinely funny, who enjoys hanging out with the press.
My interview with Almodovar will run closer to the release of the film. But here is another gem he shared with me last week.
During the same 1984 trip, the director traveled by economy class to Los Angeles. And the film's distributor was so short of cash that he and Almodovar shared a single hotel room, with a king-sized bed.
"Oh, but nothing happened, between us," Almodovar added, laughing, recognising the sense of surprise on my face!