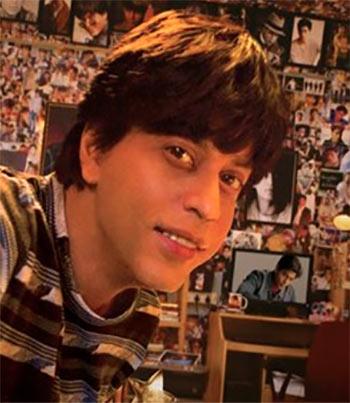 Fan gives Shah Rukh Khan space to exploit the actor in him, with a nod to his creepy characters in Baazigar and Darr, says Aseem Chhabra.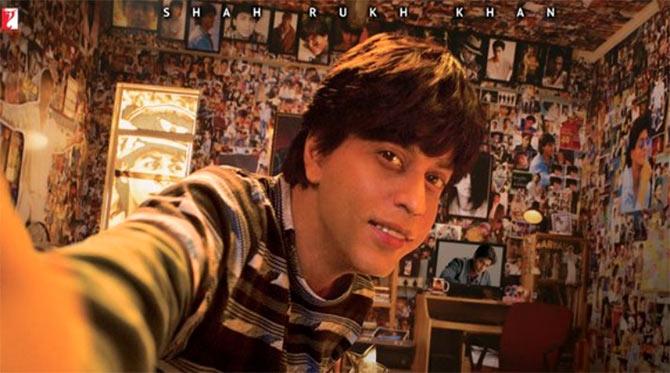 IMAGE: Shah Rukh Khan in and as Fan.
What a great idea Maneesh Sharma had.
You take a mega superstar, ask him to play his own persona and then also cast him in the film as his younger obsessive fan.
The star will get a chance to look into the eyes of the fan and perhaps the two (and the audience) will be able to understand each other better.
Plot it like a thriller, but take the opportunity to explore what makes the star and the fan click -- who they are, how they influence and inspire each other.
At least that is what I thought Sharma and his smart writers Habib Faisal and Sharat Katariya were setting out to do, once they had convinced Shah Rukh Khan to take the plunge.
Khan needed a comeback film that could explore the star as well as the talented actor, who had been shut inside his Bollywood manufactured persona.
His roots belong to Delhi's unique middle class. Sharma, Faisal and Katariya are astute at exploring those same roots, especially the aspirational qualities of the middle class as they have done so well in their respective films Band Baaja Baaraat, Do Dooni Chaar and Dum Laga Ke Haisha (well, okay, this one is based in Hardwar).
Perhaps it is entirely my issue.
I had hoped Fan to have a narrative that would for once go deep into the relationships between fans and superstars.
Two recent documentaries Being Bhaijaan (about Salman Khan and his fans) and For the Love of a Man (on Rajnikanth and his devoted fans) capture that narrative very well.
But I am afraid to say Fan is a missed opportunity. The film gives Shah Rukh Khan space to exploit the actor in him and he tries hard, even with a nod to his creepy characters in Baazigar and Darr. But his efforts are hampered by a script that only works on the surface.
As Aryan Khanna, Khan gives us a glimpse of his life -- his sweet loving wife and two kids (what happened to that adorable AbRam?), and even winks at us as he performs at a rich NRI wedding for a large sum of money.
I know Khanna is not Khan, and Fan is not supposed to be a biopic about Shah Rukh Khan (for that one should watch Nasreen Munni Kabir's documentaries The Inner and Outer World of Shah Rukh Khan and read the star's biography King of Bollywood, by Anupama Chopra).
But Khanna is too self absorbed and it is hard to say why we would like him, other than how he is projected on the screen. In fact, Shah Rukh Khan, as we know him -- from his interviews, with his wicked sense of humour and sharp mind -- is a lot more likeable than Aryan Khanna.
The film does not give us enough material to understand Khanna and it becomes hard to empathise with the character, especially when he is placed in dire situations because of the actions of his fan Gaurav Channa.
The fan, on he other hand -- a 20-something cyber cafe owner in West Delhi's Indra Vihar (Sharma clearly loves West Delhi, having placed Band Baaja Baaraat in Janakpuri) -- has an innocent, endearing quality to him and one is almost willing to forgive him for his singular obsession: Aryan Khanna.
But once Channa and his character are established, the script takes such implausible jumps.
The second half of Sharma's film, with its James Bond movies-inspired action and chase sequences, in beautiful European locations, is a very different film than what Fan set out to be.
Even for a thriller, it is absolutely hard to believe that the naive, gullible Channa could turn out to be such a smart, conniving man, a super action hero, never mind how he is able to travel through Europe, sometimes in disguise and land in all sorts of locations -- from Madame Tussauds in London, to gate crashing a very rich NRI wedding in Dubrovnik.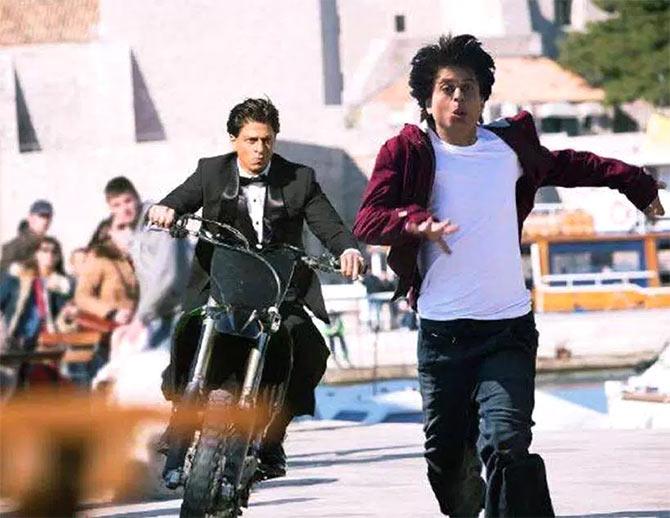 IMAGE: Shah Rukh Khan fights Shah Rukh Khan in Fan.
It is even harder to believe that Aryan Khanna will move around with practically no security, whether in Europe and especially towards the end of the film when he shows up in Indra Vihar.
And gosh that dhishom-dhishom moment in the end with Shah Rukh Khan fighting Shah Rukh Khan and a hysterical, loud over-the-top, soundtrack -- that is such a 1960s old cinema sequence. I thought we had come a long way.
With Fan, I hoped we would move away from Shah Rukh's errors in judgments -- films like Happy New Year and even more so Dilwale. But I guess we will have to wait a little longer for the Khan of Chak De! India and Swades to reappear before us.
Being a star as big as Shah Rukh Khan is a complex phenomenon. To exploit that phenomenon for a narrative and still find an actor within the star requires a lot of handling with care, caution and yet a risk-taking creative mind.
Sharma and his team made an effort to mine the mind and the soul of the star and also his fan, but they did not go far enough.