Both stars suffer from delusions of grandeur, feels J Jagannath.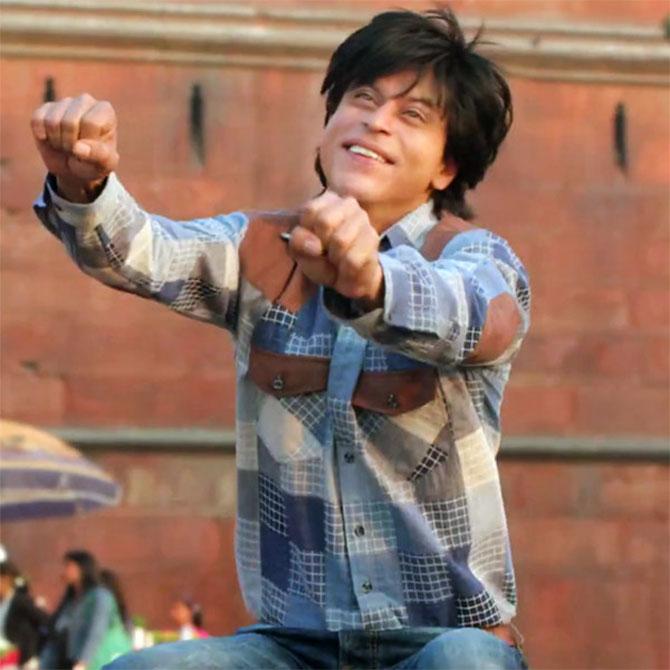 IMAGE: Shah Rukh Khan in Fan.
I was able to go through War and Peace in 20 minutes.
'It's about Russia,' Woody Allen famously quipped once.
Ten minutes into the movie and I felt exactly the same about Fan albeit only on a far more serious level: it's about Shah Rukh Khan.
The movie is purportedly about a Bollywood actor Aryan Khanna (Shah Rukh Khan at his meta best) who draws the ire of one of his wildly obsessed fans, Gaurav Chandna, a near lookalike of Aryan. When Gaurav tries to spend five minutes with the sole obsession of his life, he gets severely ticked off by his demi-god and he decides to wreak havoc in Aryan's life.
'Hell hath no fury like a Bollywood fan scorned' could easily have passed off as this movie's tagline.
As a Delhi-bred 20-something lad, Shah Rukh revels in his street swagger and a disarmingly funny voice. It's as if he's telling the audience how he used to be 25 years ago.
When the movie began, I found myself deeply arrested by each of Gaurav's antics. But as the movie progresses, Gaurav's playfulness get replaced by an egregious change in character that just gets risible.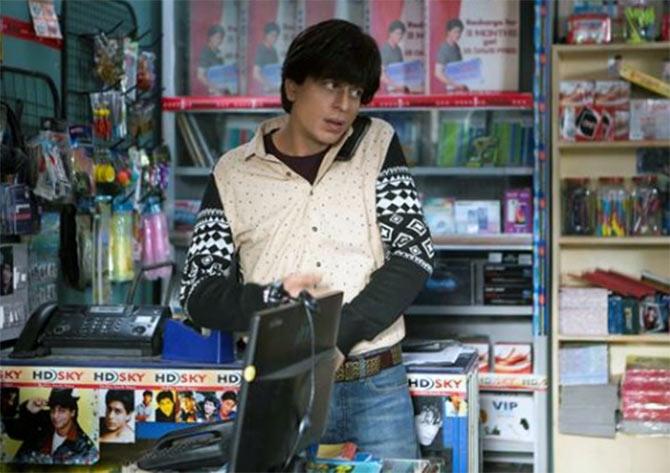 IMAGE: Shah Rukh Khan in Fan.
In director Maneesh Sharma, Shah Rukh found his own version of Leni Riefenstahl who would deify him to no end.
Some parts of the movie exude the warmth of the world's worst documentary. There are extensive shots of his humble interviews when he just entered the movie industry. The Brechtian fourth wall version of the SRK world is off when the audience is made privy to the fact that every day at least hundreds of people mill around his home in Mumbai. What more, we are also taken inside his home.
At this stage, I was so convinced of Shah Rukh Khan's preening vanity that I expected Aryan Khanna to keep looking at his hair in the mirror every five minutes.
When the first half finished, I was doing a minor jig in my multiplex seat that Gaurav is Shah Rukh Khan's return to form ever since his nuanced performance five years ago in My Name is Khan.
My joy was short lived because the second half is just pits. Even those yawnfests Dilwale and Happy New Year had more joyous moments than this one. So many improbable chases are there in the second half that our gleeful Gaurav has transformed into a morose Jason Bourne.
If only Sharma didn't have to pander to his actor's supposed narcissism, both his strong characters could have cohered on a more enjoyable level.
The movie's only shining performance comes from Yogendra Tikku as Gaurav's father. As someone who is supposed to indulge his child in his outlandish fantasy, Tikku's character does it with a winsome smile that never leaves his face.
All said, I found it extremely admirable that he allowed himself to be shown as someone who dances unabashedly for money at weddings of uber-rich people.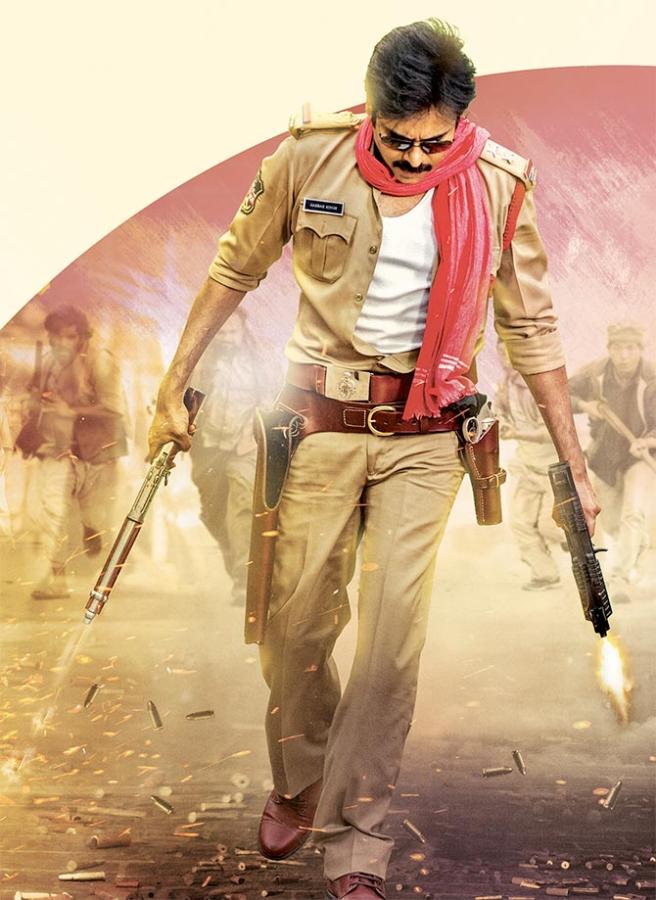 IMAGE: Pawan Kalyan in Sardaar Gabbar Singh.
Telugu movie hero Pawan Kalyan suffers from even worse kind of delusions of grandeur.
His latest movie Sardaar Gabbar Singh is an unmitigated disaster. As the cop-cum-messiah who rescues a fictional town called Rattanpur from a savage anti-hero, Kalyan does his job ably. But the story is so old as the hills that it becomes achingly predictable.
Kalyan, Chiranjeevi's younger brother, has always been a one-trick pony throughout the two-decade span of his career. He never did anything strikingly original, but his unique mannerisms and decent grip on martial arts won him over a massive fan base that swears by him. He's such a maverick that not many filmakers approach him.
In an interview to a Telugu channel, he said that directors don't approach him often, which is why he was nearly forced to write the story of Sardaar himself. Each shot explains that he interfered too much in the making of the movie, something he's anyway always accused of, and thus rendering the director Bobby to a mere onlooker.
If this muddled mess is called a movie, then a chicken is a banquet.