Vanita Kohli-Khandekar on why Indian media and entertainment quality will remain a national gripe and why we, the viewers, are not blame free.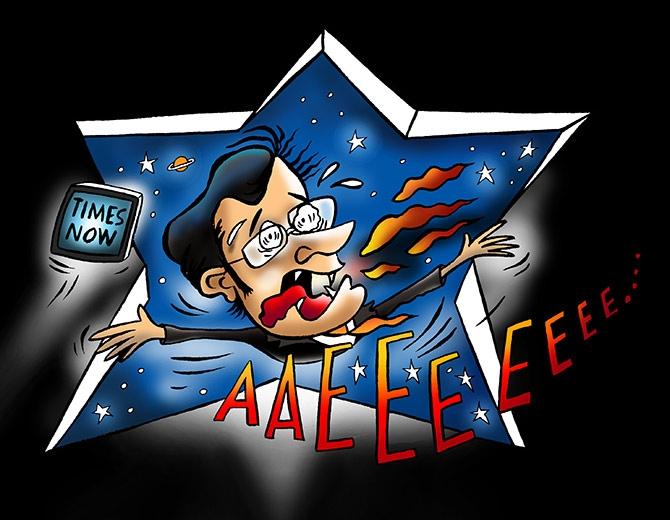 At the NFDC Film Bazaar last month several independent film-makers talked disparagingly about the quality of mainstream films being made in India. Gripes about entertainment on television are common in columns by TV critics or at any gathering when talk turns to entertainment or media. "Doordarshan made such good shows like Buniyaad", is a line I have heard ad nauseum. And of course almost everyone laments the drop in quality of discourse on news television.
Some of this is true. The quality of television news in India is appalling. But a lot of "popular" chatter about media and entertainment content in India stems from three things.
One, social schizophrenia and intellectual arrogance.
Going by ratings data, more than half of all TV viewing in India is on general entertainment channels in Hindi, Tamil, Telugu and other Indian languages. A bulk of their programming is soaps and that is what Indians -- men and women -- enjoy watching of their own free will.
On news TV, the anchors and editors who manage to get their guests shouting and saying intemperate things -- like Arnab Goswami did on Times Now -- get the largest audiences and revenues. BBC or Rajya Sabha TV are not the most watched.
The schizophrenic relationship Indians have with their media shows up in ratings, readership and other audience metrics. Like that piece of research from the 1980s, which showed that 70 per cent of the readership of a women's magazine, Savvy, was actually men. Or surveys that show that people want to watch educational programmes. Yet, Discovery and National Geographic remain niche although they are widely available. And re-telecast of Buniyaad several times in the last two decades did not rock the rating charts.
The intellectual arrogance bit comes from TV and film critics, many of them from a Mumbai-Delhi-Chennai or another metro and/or English background, who look down on popular entertainment.
The second is business structures.
A dodgy cable distribution set-up and messy price regulation mean pay revenues never took off in TV. Real prices of cable TV have fallen in the last two decades. Its abject dependence on advertising means everything from news to entertainment remains, largely, at a lowest common denominator level since advertisers buy eyeballs.
The only industry segment where prices have risen, with dramatic effect, is films. In 2000, the Indian film industry was a basket case with bad films and theatres, which did not declare half the money they earned. Then it corporatised and multiplexes took off.
Both transparency and higher ticket prices helped money to come back in the system and the quality of Indian films improved significantly. India makes better popular films (Piku, 3 Idiots and Badlapur) and more critically acclaimed ones (The Lunchbox), too. Its films are now routinely screened and awarded at some of the best film festivals around the world.
Globally, too, there seems to be a positive correlation between the money paid for content and its quality. The Economist costs Rs 220, but its content is compellingly good even if you don't agree with its point of view.
That brings us to the third reason why the quality and diversity of Indian media and entertainment content will remain a national gripe: our unwillingness as users, audiences or consumers to pay for content.
Indians pay a fraction of what it costs to print a newspaper. Ever since Business Standard went behind a paywall online, there have been so many requests for scanned copies of some article or the other. Most of us believe that price regulation in TV is a good thing while holding up Game of Thrones and Sherlock, which come from robust pay markets, as examples of good content. Every attempt to offer a better product and get consumers to pay for it in India -- ZeeQ and Cbeebies, Worldspace Radio or UTV World Movies -- failed.
This unwillingness then is the undoing of the business. Note that given a chance even the most well-off people pirate movies rather than pay for them in theatres. And 2016 was a record year for film piracy in India. Now studios are scaling back or shutting down.
Wait for a fresh round of griping.