Some live life like a short story, in the fast lane. Others plan a grand novel, almost akin to an investment. Still others dwell from moment to moment. The last approach is almost mathematical and, in my experience, most gratifying.
I had one happy moment of rediscovery recently. It was almost like bumping into a lost, old school friend after several years. But the Hindi film zealot that I am, it had nothing to do with the blessings of Facebook.
Instead, a few days ago, as always, I was browsing through a weekly movie supplement. There was nothing exceptional about its content for most pages, filled with publicity exercises for movies that were lined up for release the coming Friday, mandatory interviews of the cast and all that, you know.
Just when I was beginning to go ho and hum, my eyes fell on an interview of an actor I have the highest degree of admiration for -- Farooq Sheikh. (That he happens to be a fellow St Xaverite only swells up my pride still further.)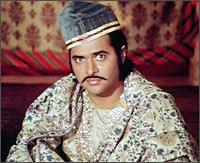 My nostalgia buds immediately began to kick in. Without further ado, the ever-obliging screen of my imagination processed a photo-feature of the cuteness personified actor in his characteristic pristine white, baggy kurta pyjamas. I reckon he was animatedly chatting with Saeed Jaffrey. Like he always does in all those wonderful films -- Chashme Buddoor or Kissi Se Na Kehna.
Clearly, serendipity was in play when I came across an obscure Hindi film called Lorie on my cable television. Now the film was rather silly and tried (and succeeded) to justify abducting another's kid under the pretext of motherly instincts. Still I endured the absurdity of it all because it featured Sheikh and a surprisingly over-the-top, Shabana Azmi playing a melodramatic married couple yearning for kids.
A man of abundant aptitude and fluent charm, the bouncy boy-next-door of the 1980s always embodied earnest and endearing in my eyes. I've always thought if his spontaneity was measured on a scale, it would probably level up with Shammi Kapoor's classic yahoo. And, in spite of all that truckloads of talent and interesting range, he didn't quite receive the sort of recognition he deserved.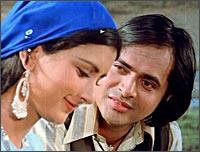 In effect, all through his 35-year-old career, Sheikh reached a golden peak only between the late 1970s and early 1980s. Although his body of work might not be extensive, it certainly rates aces as far as quality goes. Having worked with the likes of Satyajit Ray (Shatranj Ke Khiladi), Hrishikesh Mukherjee (Rang Birangi), MS Sathyu (Garam Hawa), Muzaffar Ali (Umrao Jaan), Yash Chopra (Noorie, Faasle) and Sai Paranjape (Katha), Sheikh maintained high-standards of acting, deftly getting under the skin and linguistics of the Nawab or nobody he chose to play.
Needless to say, it didn't require any effort to root for him whether he essayed a tutti-frutti loving, middle-class bloke awkwardly wooing his boss's daughter in Chashme Buddoor or bashfully rendered a ghazal or two to his naïve beloved in Bazaar.
After gems like these, seeing him in parts as Amitabh Bachchan's sympathy-arousing sidekick in Toofan or Rekha's gutless hubby in Biwi Ho To Aisi was rather distressing. Although he did dabble in television and theatre, on and off, it would be ideal to see a lot more of this vibrant personality.
Even in the most inane circumstances, Sheikh can be relied on to maintain a state of tickling subtlety. And if you thought he was only good at being at the receiving end of a joke, you must acquaint yourself with a season of Ji, Mantriji. Sure it's unabashedly inspired by the British sitcom, Yes Minister. But I bet you'll agree that Indian politics is colorful enough to encourage its own recipe of amusement. Bottom-line: Farooq Sheikh rocks!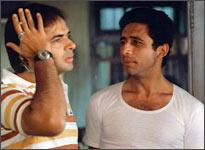 I've loved him as the proverbial Mr Nice Guy, the scheming Hare-in-a-rush-to-win, the lyrical albeit weak-willed Nawab and even when he played himself as the spontaneous and ribbing host of Jeena Isi Ka Naam Hai. Certainly, Shah Rukh Khan or Salman Khan could sign up for a crash course on impromptu from the veteran Sheikh and do world of good to their respective shows.
While I don't really care about that, I am quite excited about seeing him at it again on celluloid after almost a decade-long gap in the forthcoming Saas Bahu Aur Sensex.
At a time when any non-entity earns the right to be called star and glamour has superseded talent, actors like Farooq Sheikh are remarkably special and of significantly rare shelf life. They don't strive to be in news. They don't make a deal of their choices. And no matter how irregularly we see them on screen, we just can't have enough.