Feroz Khan was many things to many people -- cowboy, rockstar, star, actor, director, producer, friend and lover. To me, he was a mentor, a father figure and a friend. The fact that I co-wrote Janasheen or that he acted in my directorial debut, Ek Khiladi Ek Haseena, is co-incidental.
I was six years old when Qurbani released. It was a word I could barely pronounce. That summer vacation I would run up and down singing, 'Singhdani, Singhdani, Singhdani, allah ko pyaari hai Singhdani'.
At 27, when I met him courtesy Ram Gopal Varma. On my way back from work, I stood outside the imposing structure of the FK House in Jussawala Wadi, opposite J W Marriott in Juhu, a Western suburb in Mumbai. I was ushered into Feroz Khan's den, where he was dressed in a white nightdown, having his favourite whiskey.
I had heard many stories of him sitting with a gun next to him. I think that was my second question. He laughed and then told me about the guns he had. A few months later, I spent many weeks with him at his farmhouse in Bengaluru, writing a script. That's when I held the Walther PPK he kept there.
The thing about Feroz Khan is that if he liked you, he would love you to the core and unquestioningly. If he didn't, you should make sure you never met him again.
He was the one man I could be totally honest with, with my feelings and opinions. A lot of people were scared of his persona but that was carefully created by him to ensure one thing -- his privacy.
He lived a public life. He lived it as he pleased without being judgmental about others or caring about they thought about him. He would be surrounded by a lot of people and and yet, he created a distance, where he could objectively see things as they
were. He remembered each and every single day of his struggle, right from the time of his pool playing days to his struggle in the early years in the film business.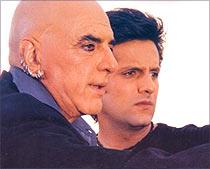 A very well read man -- not just in literature but also in religious works right from the Koran to the Bhagwad Gita -- his favourite was Oscar Wilde. He could quote Wilde at the drop of a hat, or pull out a sher and charm a beautiful woman. It came effortlessly to him.
The Bad And The Beautiful (1952), an old classic film, was his favourite. It was his dream was to make a film on it.
His biggest turn on wasn't the obvious. It was music. He would transform into a child when he would create songs or hear them endlessly -- dancing away, enjoying every lyric and note.
I don't think he ever got bored in his entire life because he never did anything he didn't enjoy. He lived a full life, celebrating every occasion, as if it were the greatest moment of his life. I don't think he had many regrets in life. He achieved that because he was brave -- brave enough to face life on his own terms and face the backlash too.
Fardeen and Laila were born into a life of luxury but he instilled in them values they never took for granted. Anyone who knows the family will vouch for the fact that his kids aren't just sauve but extremely genuine people. A large part of that is to Feroz Khan's credit.
When he consented to act in my debut film, it was a great moment. But it was also a scary one because I had no clue how would he be as an actor on the set.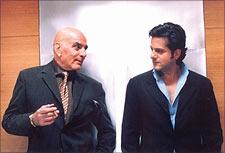 His call time was 9.30 am. I thought he would come in his time when my assistant came rushing to me, saying Khansaab's car had entered the Grand Hyatt location on the dot. Literally. The next time all of us actually stood at the gate to see how could he come exactly at 9:30. Well, at 9:29.10, his car appeared at the beginning of the lane and he entered again precisely at 9:30!
He was a joy to direct. A week before shooting, he flew me down to his farmhouse and went over the scenes. He cracked up when I told him that the line 'maut kabhi rishwaat nahin leti kyonki kafan mein jeb nahin hoti hain' was something I saw written behind a autorickshaw. One of the additions he did was use a line from Aadmi Aur Insaan -- 'boli lag rahi hai imaan bik rahe hain.' Incidentally, he got his first Filmfare award for that film.
One of my memorable memories involved him calling me when I was getting up to do my [wedding] pheras. He couldn't make it; only Fardeen would come. When I saw his number flash on my phone, I took the call. He chatted with me, laughing at the moment I had actually taken the phone call, while aghast relatives looked on.
There are countless of memories and I am blessed to have them. To have known a man who was all heart is one of the greatest gifts life has given me.
After I write this, I shall live my life and celebrate his -- pour out two glasses and have one because I'm sure he has kickstarted his party with a bang.

By the way, he never kept a gun next to him. But forget I said that. Let it be part of the many legends that surround him.
Suparn Verma is a former rediff.com staffer, who has scripted films like Qayamat and Janasheen, and directed Ek Khiladi Ek Haseena. He is currently directing Sanjay Gupta's multi-starrer, Acid Factory.