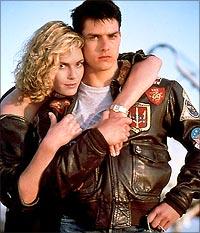 Raja Sen pays tribute to the great director Tony Scott whom he will miss all his life.

I was 20 when I watched Top Gun, and making it through the 1980s and 1990s without having seen the Tom Cruise epic was no small feat.

The ubiquitous posters, the Take-My-Breath-Away, the bomber jackets, fellow schoolboys carving Maverick into their desks… I lived through it all, but never got around to watching it.

I'd missed the boat at a simpler time, I felt, and assumed watching the gargantuan blockbuster decades after the hype would have dulled its shine.

 I got a phone call midway through, an intern checking up on a brief, and told her I was watching Top Gun.

"Oh, is Goose dead yet?" she asked, and I yelped, stung to the quick.
"What? Who hasn't seen Top Gun yet?"
Fair enough, I see now, even though I glaringly resented her freshman presumptuousness at the time.
Top Gun, an alarmingly glossy rah-rah-war film, is anything but a cinematic masterpiece. Over the years, it has earned much blame and shame: it spawned a hilarious and stunning Quentin Tarantino monologue [External Link] and Mark Harris squarely accused it of singlehandedly killing intelligent cinema in this sensational piece. And yet, 15 years after it came out, I couldn't look away, instead fuming at a young girl for destroying my afternoon with a fatal spoiler.

And that's what Tony Scott could do, even when pulling brightly-coloured wool over our eyes in collusion with the Jerry Bruckheimers of the world. A dynamic storyteller with an inherent ability to fascinate, his films relied on a flawless sense of pacing to bring us to the edge of our seats.
Sometimes the stories were retreads, sometimes the scripts were weak, sometimes it all seemed too packaged to be worthy, but the craft was always that of a master, a sly and slick -- and highly, highly self-assured -- shyster who understood adrenaline better than anyone.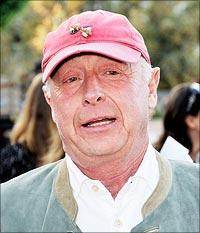 Tony Scott is gone now. Tony Scott, who made a vampire out of David Bowie and a racecar driver out of Tom Cruise, jumped off a bridge and killed himself on Sunday. He was 68, and, while alive, never won the sort of critical plaudits earned by his elder brother Ridley Scott. He did, however, earn exponentially more money than Ridley, and -- as is increasingly clear with the outpouring of grief and the words of his filmmaking peers -- might have had a more telling impact on popular cinema.

Directors far and wide spent this week swearing that Tony's films taught them how to cut action, how to effectively play a rat-a-tat dialogue scene in between explosions, how to make stars into heroes and how to make them look good, and how best to use slow-motion.

Beneath that red baseball cap was a director utterly lacking in pretension. And one with a sense of humour about his own work. Years after that infamous Tarantino clip dissing Top Gun, Scott took one of Quentin's scripts and made it into a film called True Romance, arguably Scott's finest feature. Because, make no mistake, he was in on the joke. That's what made him better at delivering those bombastic punchlines. With perfect, perfect timing. He might not have deadpanned it, but he bloody delivered.

Thank you, Tony Scott.
We'll miss you, and your films: those ingenious actioners with precision, style, narrative grace. With the flair that separated them from summer chaff. Thank you, true maverick. May you enjoy hanging with Goose.