'2015,' says Sreehari Nair, 'gave us a set of Hindi films that brought to light the true uncorrupted joys of filmmaking even in their roughness.'
'Films which told us why we loved films in the first place. Films that were less ashamed of revealing their weakness and ones that took chances with audience expectations.'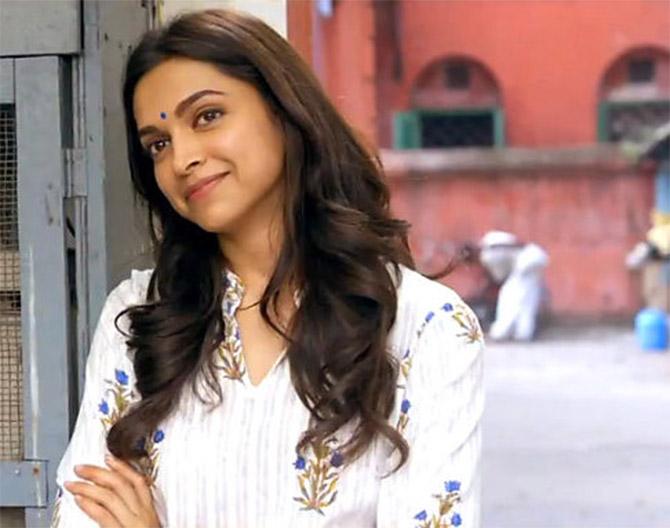 IMAGE: Deepika Padukone in and as Piku.
2015 was a great year for Hindi movies. Not because it gave us small films that did well at the box-office, or films that balanced 'art' with 'commerce' -- that's just the stuff of roundtable discussions.
2015 was important because it give us a bunch of films that played it 'free' and 'airy', films in which directors tried to chisel out little thumbnail essays out of typical movie settings.
Films which told us why we loved films in the first place, films that were made not just for the Friday on which they were released, but for the library; films that were less ashamed of revealing their weakness and ones that took chances with audience expectations.
2015 gave us a set of Hindi films that brought to light the true uncorrupted joys of filmmaking even in their most unpolished bits.
Here then are my top 5 movies of the year: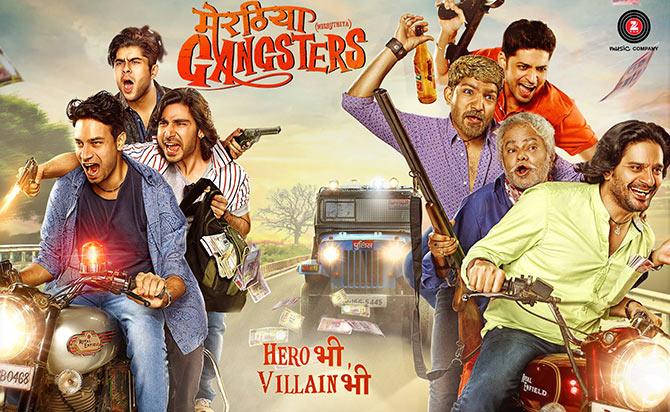 IMAGE: The poster for Zeishan Qadri's Meeruthiya Gangsters.
5. Meeruthiya Gangsters
Zeishan Qadri's debut film was a criminally under-watched affair. Qadri keeps the proceedings loose and his sparkling dialogues are not weird for weird-sake -- they seem to emerge from dailyspeak. The director here has mounted a scream of ambitions and he tries to be Scorsese, Toback, Anurag Kashyap and Kafka, all at the same time.
The movie's messy and jagged tone has a poetry of itself and you feel like Qadri the writer has even more material safe-kept in his head -- his own talent is too much for him. And when he doesn't know what to do with the material, Qadri gets high on excess and tricks. But one thing: He directs actors with great finesse throughout.
Meeruthiya Gangsters has probably the best ensemble cast to arrive at the screens this year with the incredibly gifted Jaideep Ahlawat leading a band of 6 boys who all see crime as a way to release their pent-up energy and masculinity.
Mukul Dev is terrific as a cop suffering from a specific case of genius-complex while Bijendra Kala and Sanjay Mishra effectively dispense plot pointers. The final scene may be viewed as amoral and casual, but it actually is the stuff of great literature.


IMAGE: Deepika Padukone and Irrfan in Shoojit Sircar's Piku.
4. Piku
Working from a cracking script by Juhi Chaturvedi (easily the best of the year), Shoojit Sircar delivers a tone-deaf first half and a near-perfect second half. This isn't as much a film about a specific body condition as it is about the tendency of many Indians who believe that we need to depress ourselves every now and then, to feel happy and complete -- the kind of people for whom happiness expressed as muted happiness is a sign of intelligence and life-experience.
Chaturvedi's writing is full of glancing, sharp, observations, but Sircar's direction comes across as verbally inarticulate and self-conscious initially. However, the limited ambience that the car scenes grant surprisingly liberates the director, who from that point on slows things down and allows us to soak in the eccentricities of his characters. We no longer sense them as anomalies, but as people who just 'are'.
In Irrfan's company, both Amitabh Bachchan and Deepika Padukone discover their true reservoirs and the Kolkata section of the movie and onwards present a series of charming vignettes that does total justice to the feathery nature of Chaturvedi's script.
The last scene especially has such a lazy elegance in that, it elevates the lead character to an almost novel sense of heroism. We feel like she has earned the movie title, wholly and unquestionably.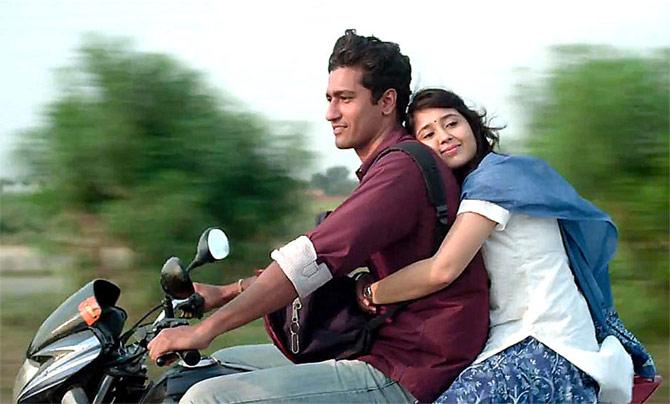 IMAGE: Shweta Tripathy and Vicky Kaushal in Neeraj Ghaywan's Masaan.
3. Masaan
Neeraj Ghaywan's brilliant debut feature about escaping the inescapable cycle has both the flowing nobility of Satyajit Ray and the 'We all are in this thing, together' philosophy of Krzysztof Kieslowski's best films. The story resolutions, however, might seem a tad too easy and what might also be missing is the Dickensian wide-eyedness of both Ray's and Kieslowski's best characters.
The movie feels wonderfully alive though. Alive in its performances, its environment and its rough edges. Voices on TV play out news of a young man eaten by a tiger, sex scandals and scams even as characters in the movie go through rituals of their own precarious lives.
Shweta Tripathy as the girl who recites poetry with lines on seasons, trains and bridges segueing into riffs on human complexes, heartbreaks and loneliness puts in a shattering performance as does Vicky Kaushal, who unknown to himself, might just be a poet of a very different kind.
The cinematography projects a sense of shade even in the dark, and the parts of the movie seems like it was re-edited for the Indian audience.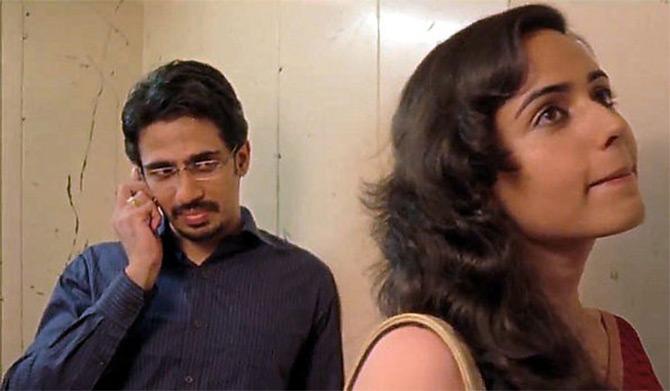 Gulshan Devaiah in Harshavardhan Kulkarni's Hunterrr.
2. Hunterrr
A virile, fluid, movie about a man looking to score and the women in his life who respond by keeping scores.
Director Harshavardhan Kulkarni maintains a light and pulpy tone throughout, but he also draws from his own fantasies, memories and follies.
Gulshan Devaiah plays the hustler protagonist Mandar Ponkshe with an instinctive, moment-to-moment understanding of the character's motivations and together with Radhika Apte (probably our very own Diane Keaton) they form the perfect acting tag-team, conversing primarily in half-finished sentences and half-explained inhibitions.
Kulkarni has an inherent understanding of the Maharashtrian innocence and like a gagster-artist he mixes that with the 'Jhumper Bagh philosophy of the trashiest of Marathi movies -- the effect is an absolute romp.
The domestic scenes between Ravindra Mankani (who plays Mandar's father) and Neena Kulkarni (the mother) -- him so lost in his own music, and she with her nervous energy -- are so keenly observed and authentically mounted, that you might just miss the charm in those moments if you aren't truly attentive.
The lovemaking scenes in Hunterrr are lyrical, and even with a man at the centre of the narrative, it's the women who end up revealing a sense of true resourcefulness and resilience. Features a rapturous turn by Sai Tamhankar as the doleful housewife who is steady in her gaze, uses her eyebrows to great effect, bolts the door, and creates colourful ripples in the steamy air.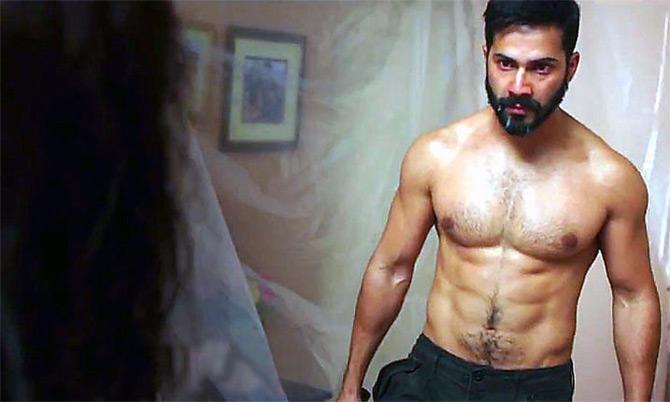 IMAGE: Varun Dhawan in Sriram Raghavan's Badlapur.
1. Badlapur
Sriram Raghavan scrambles up pathos, comedy and tragedy to give us a movie that is both beautiful and upsetting at the same time. Badlapur may be as much a 'tease' of our collective cinema consciousness as it is a story well told.
If you enter the cinema hall taking Badlapur for a 'revenge drama' and if you keep yourself open to being surprised, you are likely to see this as a film about perpetration of hate and how it affects an entire ecosystem.
Radhika Apte, Huma Qureshi, Vinay Pathak, Divya Dutta, Yami Gautam, Murli Sharma Pratima Kazmi, Ashwini Kalsekar and Kumud Mishra are all terrific and most importantly their characters seem to have a life beyond the parts they play in the movie.
However, it's Varun Dhawan and Nawazuddin Siddiqui -- in a way playing 'doubles' of each other -- who get the maximum screen time and who whip up genuine tenderness out of movie prototypes.
With Badlapur, Sriram Raghavan seems like he is taking startling first steps in his journey towards another level of artistry altogether. It's a great movie.