Nawazuddin Siddiqui's survivor instinct has been learnt on the streets.
His hard-earned victory has come after innumerable struggles, but he hasn't lost focus of one simple fact.
Suparn Verma -- who directed Nawaz in Aatma -- tells us what it is.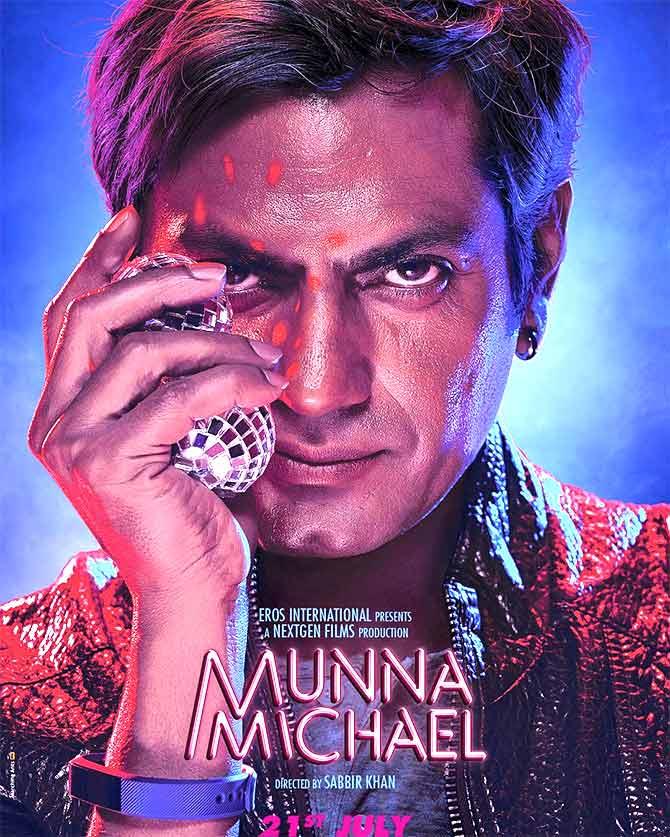 IMAGE: Nawazuddin Siddiqui on the Munna Michael poster.
Nawazuddin Siddiqui is a shy, diminutive, man in real life.
But on screen, he is a giant, towering over his co-actors -- even the biggest superstars -- by the sheer force of his performance.
His method of acting doesn't involve physical transformation as much as the internalisation of the character he is playing.
He is believes he IS the character and that belief is complete without an iota of doubt in his being.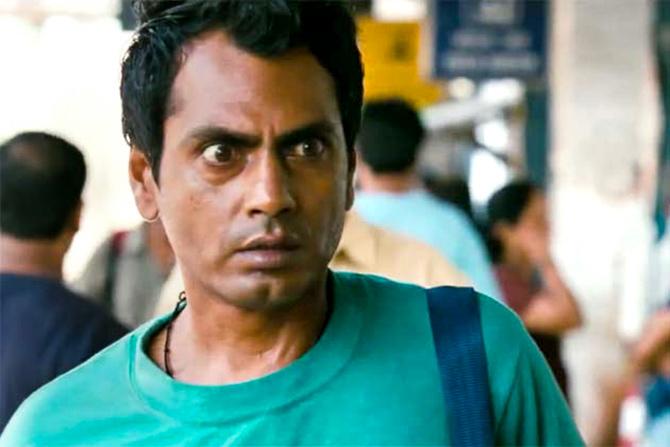 IMAGE: Nawaz in Talaash.
Nawaz started out with bit roles and as a background dancer, so the length of a character has never bothered him.
Popularity has been a poison pill for many talented, unconventional, actors because to become more popular, one needs to do conventional roles -- and the very thing that made them popular stops being their USP.
This experience of his peers has made Nawaz smartly plot his career.
No one can come close to the popularity of a Salman or Shah Rukh. Every film that Nawaz does with the Khans simply increases his fan base, which gives him the box office muscle needed to do smaller independent films.
Interestingly, even the superstars realise his value and want him to be a scene-stealer because in the end, it benefits them.
This win-win system has made Nawaz a very busy actor, but it has also freed him to be able to do a Manto or a Manjhi without worrying about its completion or date of release.
IMAGE: Nawaz in and as Manto.
This clarity of thought hasn't come overnight -- he is still the same man he was before being 'discovered' as the phenomenon he has become.
His survivor instinct has been learned from the streets up. His hard-earned victory has come after so many struggles, but he hasn't lost focus of one simple fact: He is here to act.
The rest is all a phase, which can vanish in the blink of an eye.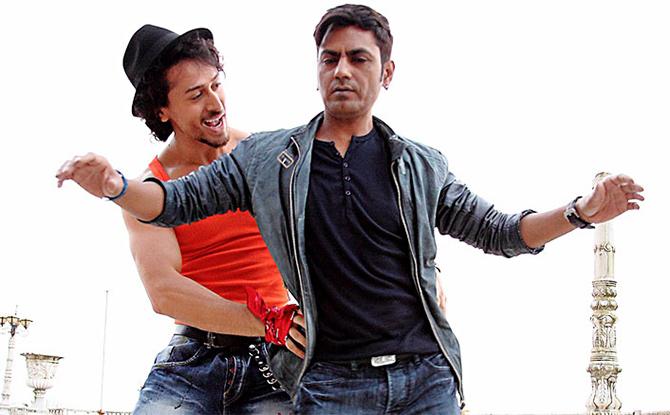 IMAGE: Nawaz grooves with Tiger Shroff in Munna Michael.
This month sees him in two films.
The Sridevi starrer Mom has an unrecognisable Nawaz drawing on the mannerisms of someone he knew and making it his own.
Munna Michael will see him play the role of a gangster wanting to dance and hiring Tiger Shroff to teach him.
It is an inspired piece of casting -- Nawaz's acting skills and Tiger's dancing skills are legendary.
Both of them will complete what lacks in the other.
The audience will see yet another side to him.