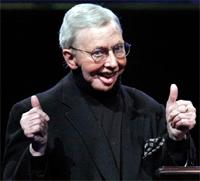 We will always remember Roger Ebert at the movies, says Arthur J Pais, in his tribute to the prolific movie critic, who passed away on April 4.

Roger Ebert, the prolific movie critic, author of half a dozen influential books on cinema and a brave fighter against cancer which had robbed him of his voice and finally, his life, on April 4 -- nearly 11 years after it was first detected -- had visited India only once, for less than two weeks.

'But I left a part of my heart there,' he wrote in a review of a small budget film Patang, three years ago. 'I can't say I know it well but I know how it made me feel, and it seemed impossibly exotic and absolutely comfortable at the same time. I was curiously at home in a strange land.

'At an event in my hotel, I met a police chief's wife, who invited me to her home for dinner. Just like that. The families seemed to function in the ways of families I knew.

'The fact that so many people in this far-away land spoke English made it more accessible to me. I loved the way so much of the talk circled around philosophy.

'I developed a particular love of the exuberant music, colours, scents and tastes. It occurred to me that no women can fail to look well-dressed in a sari.'
Why was the Putlizer Prize winning writer taking so much time with his Indian visit? You will know as you read on: 'But these are all superficial tourist truisms. I have learned more in my reading, but so could you. It's in the movies where I find sensual and instinctive insights. I like Bollywood, and the classicism of Ray, but there's one area of Indian films I've missed, or remain ignorant of: The low-budget indie scene. Sometimes, all over the world, such films are freed of the lockstep of plot and have a better feeling for the thing itself.'
Prashant Bhargava's film Patang had been shown at the Chicago Film Festival.
The independently made film, Ebert said, 'opened a new world for me. It plunges head-first into a family based in Ahmadabad, where India's largest annual kite festival is celebrated. It reflects the way Indians live in each other's pockets (to borrow the British expression). Homes and businesses, temples and roadways, are all crowded close together, neighbours know one another, and it's all held together by a network of the most baffling and chaotic traffic in the world.
'This film is joyous, but more than that: It's lovely in its construction.'
One of the most read film critics in the world whose reviews appeared in some 250 newspapers (and a widely seen Thumbs Up, Thumbs Down TV reviewer before cancer took away his voice) Ebert, 70, was with the Chicago Sun Times for over 46 years.
Some of his critics said he liked too many films but he made no apology for his taste. He did not feel shy of not being a snob. And he took pride that some of the small films he had championed could find a market because of the exposure they received from him.
That precisely what happened to Patang, which its producers released in some 20 American cities and recouped the film's less than $1 million investment.
Ebert concluded the review with a rousing endorsement: 'His (Bhargava's) film took three years of research, was seven years in the making, had 90 percent non-actors, improvised its takes based on the script. And it flies as free and colourfully as a kite.'
One of his pioneering achievements was the Ebertfest 15 years ago at his alma mater, the University of Illinois in Urbana-Champaign, which showed American and non-American films which were overlooked by most critics.
He found the visuals, music and dance movements irresistible in Subash Ghai's Taal and showcased the film at his festival.
Ghai, who attended the screening, had tears in his eyes when he told this writer that the honour meant for him much more than the profit the film had made.
Every September, for many years, I had been seeing a debilitated Roger Ebert at the Toronto International Film Festival, walking haltingly but courageously with his wife Chaz by his side. I would delicately salute him, tipping my imaginary hat and he would give a little smile. I did not want to introduce myself or shake hands with him, for I did not want to interrupt his continual conversation with films.
I admired his prolific writing -- he is said to have reviewed some 300 films last year alone -- and how every piece he wrote had an air of elegance about it.
I admired, most of all, his fight for life. He had lost his voice to cancer and had undergone several surgeries in the past decade. He had even lost his sense of taste and had to be fed with a tube.
Two years ago, Ebert, who had become the first person to win a Pultizer for film criticism in 1975, even wrote a well-received cookbook, The Pot and How to Use It.
'I can remember the taste and smell of everything, even though I can no longer taste or smell,' he told a New York Times interviewer in 2010.
He was a fighter and a writer till the very end. When he told the readers through the Internet two days ago that his cancer had returned, he said he was going on a 'leave of presence.'
His presence will be felt for a very long time. As USA Today informed, his 2011 memoir based on his blog essays is being turned into a documentary with the help of Martin Scorsese. The re-launch of Rogerebert.com, the new Ebert Digital will be 'an entity run by his ever-present wife and tireless supporter of 20 years, Chaz, that will house an archive of 10,000 of his reviews.'
And we will remember him at the movies, and his sign off from his TV years: 'Thank you for going on this journey with me. I'll see you at the movies.'
Photograph: Ethan Miller/Getty Images