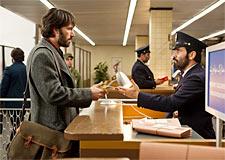 The final battle will be between Argo and Lincoln at the Oscars, and Argo will win with flying colours.

It is a certified hit and critics' darling.
But whoever thought a month ago that Argo -- a fast moving political thriller about rescuing a group of American hostages in Iran and which received seven Oscar nominations -- would prove a serious contender to the more ponderous but critically acclaimed hit Lincoln?

Many commentators say as Hollywood's highest honours are handed out on February 24, awards watchers are keyed up for one of the most exciting nights in recent Oscar history. The most eagerly battle for the Best Picture Oscar.

Argo, which began its Oscar nomination buzz at the Toronto International Film Festival much before Steven Spielberg and Reliance Entertainment's Lincoln was released in November had almost finished its run in North America with a handsome $105 million.
The $45 million film, directed by its star Ben Affleck, was re-launched after its key Oscar nominations and earned an extra $20 million in the last six weeks. What is giving it the mighty hope of taking home the crown for the Best Picture is that it has defeated Lincoln at other major awards including the ones from Produces of Guild of America, Directors Guild and the Writer's Guild. Even across the Atlantic at the British Film and Television Awards (BAFTA) it snubbed Lincoln. At the Golden Globes too, Argo beat Lincoln, first of the many upsets in favor of the film.

At the box office though, Lincoln has grabbed $175 million (and is on its last legs barring several top Oscar wins) while Warner Bros.' Argo has taken in some $128 million.

Argo's triumph lies in the smart blending of thrills and satire on Hollywood movie making. It is based on the true story of the CIA rescue from Islamic Tehran of six US diplomats who are spirited out of Canadian embassy where they had taken asylum and pretended to be producing a film on their way to the airport..

Whatever may be Argo's fate, it will be out on DVD and Blu-ray next week and given the huge publicity it has received on the wake of Oscar nomination, it could do better than expected business and sell over $12 million DVDs and Blu-ray in its first week in North America alone.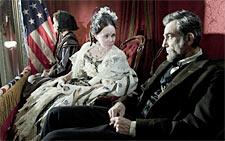 If Argo wins, it will be a sweet victory for Ben Affleck, who also produced the film. For the directors' wing at the Oscar nomination level did not nominate him in the best director category, But once a film is nominated, all the Oscar voters, numbering around 6,000, will vote on all categories.

Hollywood insiders note that Argo would be the first movie to take home the statuette for Best Picture without its director winning even a nomination since Driving Miss Daisy in 1990.

Directors Tom Hooper (Les Miserables), Kathryn Bigelow (Zero Dark Thirty) and Quentin Tarantino (Django Unchained) were also left off the Oscars short-list although their movies earned nominations.

There are some who expect Ang Lee (Life of Pi) to win over Spielberg in the director's category. For one thing, he has made a thrilling version of an international bestseller which many in Hollywood thought for over a decade was unfilmable. And the movie made for about $120 million is a resounding hit!.

There are several films including Life of Pi and Les Miserables which have more Oscar nominations than Argo. And at the world box-office they have made much more than Argo's $180 million. Life of Pi is ending its run with a mighty $580 million worldwide and Les Miserables is headed to $500 million. Both films could take home Oscars for technical achievement.

For some time Silver Linings Playbook, a mesmerizing psychological comic drama, which this week reached the impressive $100 million benchmark (for a film costing about $25 million) was a front runner. But it has been overshadowed by Argo handsomely.