The narrative is faithful to the source, American Prometheus, but what makes it absolutely spell-binding is Christopher Nolan's technique, notes Shreekant Sambrani.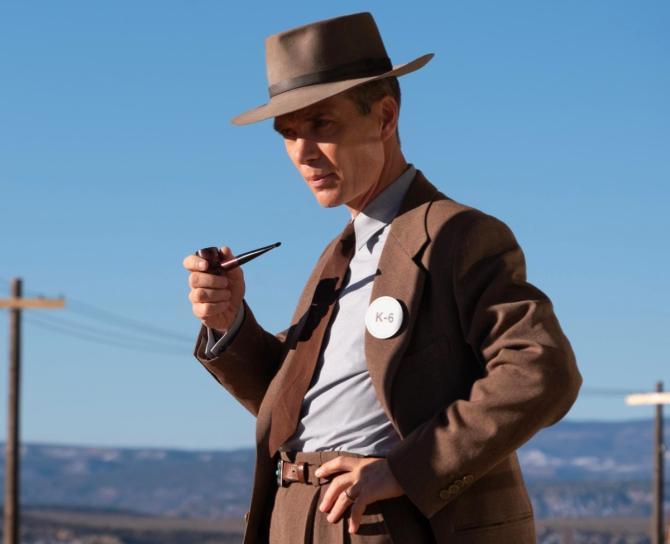 Everyone knows that the latest Christopher Nolan film, Oppenheimer, champion both at the global box office and in review columns, is based upon American Prometheus (hereafter, AP), the universally hailed Kai Bird-Martin J Sherwin biography of the single most significant individual of our times, J Robert Oppenheimer (Oppie hereafter).
I know of only one other such felicitous confluence of excellence: Lincoln, the 2012 Steven Spielberg eponymous film depicting the last phase of the Great Emancipator's life based on Doris Kearns Goodwin's Team of Rivals.
Lincoln went largely unsung in India; however, the Oppenheimer public relations campaign has worked overtime in India to ensure impressive urban audiences and a flood of media coverage.
Most of it is concentrated on the events depicted in the movie.
That is quite useful for Indian audiences, since they are not familiar with happenings in the American science and military establishment between 1925 and 1955. But merely getting the contextual framework right is not the true measure of the greatness of these works of art. This column focuses on some aspects that make the book and the film luminous.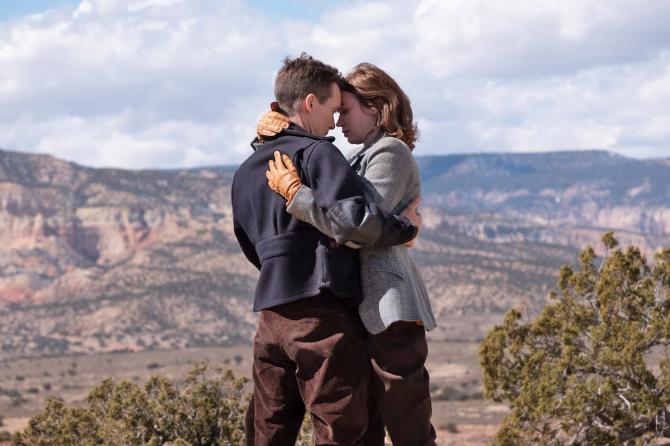 Sherwin, a distinguished professor of history in some prestigious American universities, began the book in 1980.
He expected to produce a manuscript in about five years. But he was nowhere near it in 1985 or even 2000, although he had conducted well over 100 exhaustive interviews and compiled a house full of source materials.
He invited Bird, a well-known journalist and author who specialised in military strategic matters, to join him.
That effort went on for another five years. When published in 2005, the work was hailed as a classic.
It was awarded the Pulitzer Prize and considered the very epitome of biographical writing.
The New York Review of Books said, 'American Prometheus is clear in its purpose, deeply felt, persuasively argued, disciplined in form, and written with a sustained literary power.'
Kanika Datta reviewing it for Business Standard in 2013, when it became available in India, wrote: '[It] is a door-stopper of 700-odd pages but ...an enormously enjoyable read. It avoids the twin problems of deifying or demonising Oppenheimer.'
The Oppie that emerges from the book is a brilliant polymath, possibly the brightest of his generation and then some, rather naïve and a poor judge of people, loyal to a fault to friends, a bit of a womaniser, and one who has no doubts of his own genius and abilities, the rockstar sheriff of Los Alamos.
Like Prometheus of Greek mythology, he stole fire from the gods, a sin for which he was savagely punished.
Nolan, the British-American film-maker, began working on a script based on AP in 2021.
Barely 40 and with only 11 films in his portfolio then, he was already considered an auteur because of his innovativeness and the moral dimension underlying his œuvre, which included Memento (his second film with break-out techniques such as fractured time continuity), Inception, Interstellar, Dunkirk and the most celebrated of all, the Dark Knight trilogy.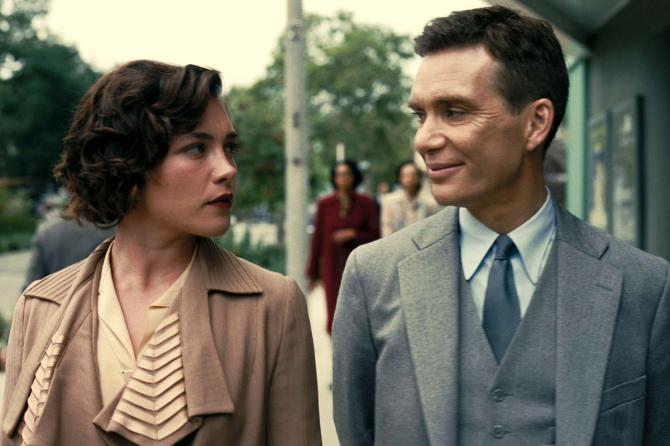 Oppenheimer covers the peak period of Oppie's life, from his student days in the 1920s until a kangaroo court hearing that denied him a security clearance in 1951.
The crowning moments are the years 1943-1945, when as the head of the Manhattan Project, he led the creation of the first atom bombs, those that were used in Hiroshima and Nagasaki in Japan to end World War II.
The narrative is faithful to the source, AP, but what makes it absolutely spell-binding is Nolan's technique.
He divides the film in two parts, calling them, appropriately, Fission and Fusion.
The former is up to the explosion (called Trinity) of the first device in July 1945 in the desert, in vivid colour, every frame rich in detail.
The latter covers the grim details of Oppie's disillusionment with the bomb, deep remorse at what he had helped devise -- he says, 'I have blood on my hands,' referring to the 200,000 or more deaths in Japan.
It also covers his persecution by his one-time mentor, Lewis Strauss, the Atomic Energy Commission chairman, who was smarting under what he took to be a slight by Oppie, abetted by his one-time protege Edward Teller who (falsely) claimed the credit for thermonuclear (hydrogen) bombs and felt betrayed by Oppie. It is in stark black and white.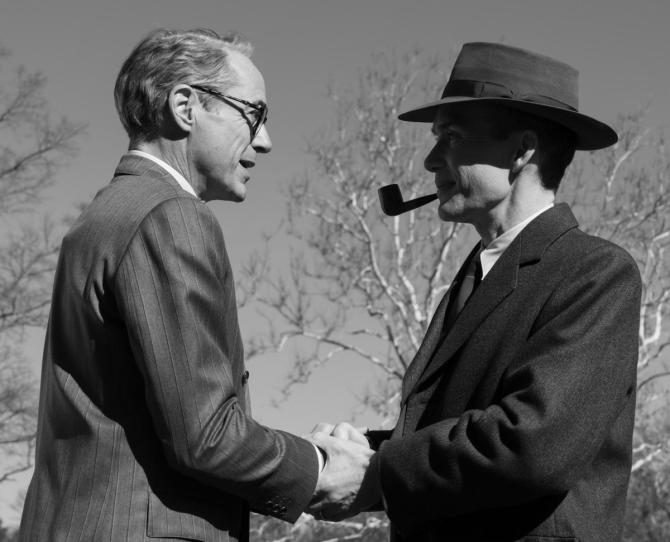 The two strands interweave, much like those of DNA, as Manohla Dargis of The New York Times put it. The movie has a sober and sombre soundtrack, matching its mood entirely.
The acting of the ensemble -- led by Cillian Murphy as Oppie, who ceases to be an actor and becomes the character (as does Daniel Day Lewis in Lincoln), Matt Damon as General Leslie Groves, the military overlord of the Project, and Robert Downey Jr as the conflicted Strauss -- is pitch-perfect.
The stellar cast perform numerous other roles with dexterity even if they appear on screen only briefly. This is film-making at its exhilarating best.
AP tells us that within a year or two of Oppie's death, his widow Kitty took up with Bob Serber, Oppie's friend and former student.
When a friend mistakenly called Serber Robert, Kitty snapped at her, 'There is only one Robert.'
That uniqueness best sums up not just Oppie, but also the book and the film.
Feature Presentation: Rajesh Alva/Rediff.com