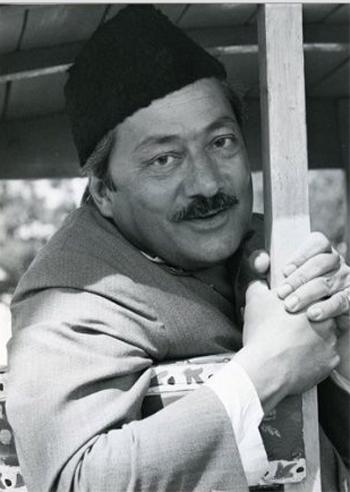 'Once Attenborough had locked the shot, Jaffrey turned to Amitabh and told him in a very controlled but stern voice that he should never talk to an actor in between takes.'
Aseem Chhabra remembers the incomparable Saeed Jaffrey.
On a cold December morning in 1980, my brother and I took a bus from Delhi's Ashoka Hotel.
The bus was packed with university students -- all extras heading to the shoot of Richard Attenborough's Gandhi.
We landed at the small abandoned railway station near Faridabad, which had been converted into Sabarmati Ashram. And as luck would have it, my brother and I -- dressed in white kurta and pajama -- were seated in a compartment with actor Saeed Jaffrey who was playing the role of Sardar Patel.
I was quite excited with this brush with a celebrity. I had seen Jaffrey in Satyajit Ray's Shatranj Ke Khilari and in Sai Paranjpye's Chashme Badoor. He was absolutely delightful in both films.
I knew about his television career in the UK and his early theatre life in the US.
Years later, I would get to know his ex-wife -- actress and cookbook writer Madhur Jaffrey -- and his three daughters in New York.
But at that moment, all I could think about was that a solid actor was sitting across from me.
Jaffrey did not speak with any of the extras even though one person in the group, who told us his name was Amitabh, tried hard to start a conversation with the actor.
One of the shots that day required Jaffrey's Sardar Patel to open the compartment door and to step down on the platform.
After several takes, Jaffrey was still not getting it right.
Then at one point, Amitabh told him the last take was very good.
Jaffrey ignored him.
Once Attenborough had locked the shot, Jaffrey turned to Amitabh and told him in a very controlled but stern voice that he should never talk to an actor in between takes. All of us froze in our seats hearing those words from the actor. There was absolute silence after that in the compartment.
I remembered that incident as I learned about his death. He was one of the finest Indian actors, although he had not acted in a film for a few years.
I never saw him again, but through the last three plus decades I followed his work in the UK and in India -- from the role of Nasser in the Hanif Kureishi scripted My Beautiful Laundrette where he played a corrupt Pakistani businessman, who is cheating on his wife, and then gives his rundown laundromat to his gay nephew; the delightful shopkeeper Lalan Mian in Chashme Badoor; and the Nawab of Mirat in the hit British mini-series The Jewel in the Crown.
There were many Hindi films including Saagar, which also featured his ex-wife Madhur.
And he got to sing Bhupinder Singh's ghazal Hazoor Is Kadar Bhi Naa Itraa Ke Chaliye in Masoom.
Jaffrey was passionate about theatre from his college days and in the 1950s he formed the Unity theatre group in Delhi before heading to New York on a Fulbright scholarship with his wife Madhur.
In New York, Jaffrey wore many hats -- once working as the public relations man for the Indian government's tourism office, and also performing in plays and narrating for documentaries.
It was during that period in the late 1950s that Jaffrey met a young Indian student, Ismail Merchant who had come to New York to pursue his MBA, but was more interested in making films.
Merchant would soon meet Jaffrey's wife and the three became close friends.
Jaffrey narrated Merchant's first short The Creation of Woman, which was nominated for an Academy Award in the live-action short film category.
He also narrated another short documentary, The Sword and the Flute, a film on Indian miniature paintings, directed by a young American filmmaker James Ivory.
The Jaffreys introduced Merchant to Ivory -- they met on the steps of India House on 64th Street, just off Fifth Avenue in Manhattan.
The building still stands there, prime real estate owned by the Indian government and home to the consulate general of India in New York.
That fortuitous meeting would lead to the formation of the highly prolific and multiple Oscar-winning team Merchant Ivory Productions.
Jaffrey acted in three Merchant-Ivory produced films -- The Guru (Satyajit Ray later told Jaffrey that he was 'by far the best thing' in that film), Hullabaloo Over Georgie and Bonnie's Pictures, which was originally made for television and The Deceivers.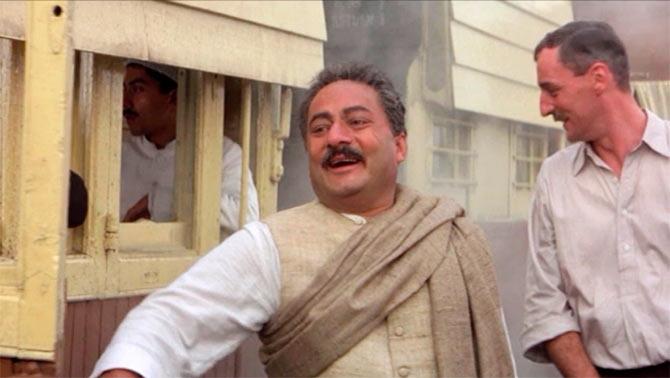 IMAGE: Saeed Jaffrey in Gandhi. In the background: Aseem Chhabra plays an extra on the train.
The Jaffreys divorced in the 1960s and Saeed Jaffrey moved to England to start his television and film career there.
Divorces are not a happy occasion, but one good thing came out of this breakup. Madhur Jaffrey started giving cooking lessons and also writing for travel magazines after Jaffrey left New York. Eventually, she became a world famous cookbook writer.
"I had to continue working, because my kids had to go to school and I had to pay for it," Madhur once told me in New York. "I was writing about culture, travel, food. But the food part of it took off and I have made a very good living with it."
Saeed Jaffrey's work in the UK included a couple of well-known films -- The Wilby Conspiracy (with Michael Caine and Sidney Poitier) and The Man Who Would Be King (with Sean Connery, Michael Caine and Christopher Plummer). Jaffrey's return to India would still have to wait, although the process had started a few years earlier.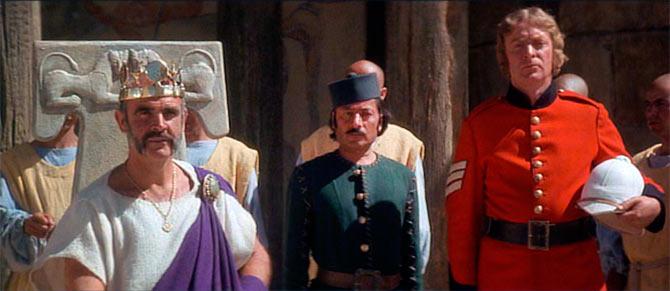 IMAGE: Sean Connery, Saeed Jaffrey and Michael Caine in The Man Who Would Be King.
In 1972, Saeed Jaffrey met Satyajit Ray at Beirut airport. The two were traveling on the same Air India flight and ended up having a conversation during the stopover.
Later, Jaffrey narrated the conversation to author Andrew Robinson for his book Satyajit Ray: The Inner Eye: The Biography of a Master Filmmaker.
'I said to him, "Is there any possibility of us working together?"' Jaffrey told Robinson. 'And he said, "You are a very patient man. I know a lot about you. You've become good at waiting for the right opportunities. So could you wait a little longer. It'll happen, but I don't know when".'
The opportunity came in the form of Shatranj Ke Khilari, Ray's masterpiece based on Premchand's story, where Jaffrey's Mir Roshan Ali is addicted to his daily chess games with Sanjeev Kumar's Mirza Sajjad Ali, while their home lives are in disarray and the British are plotting to take over the state of Oudh.
It was a brilliant performance by Jaffrey, by all counts his career best work, equally matched by the terrific Kumar.
Farida Jalal played Jaffrey's wife Nafisa, who has an affair with Farooque Sheikh's Aqueel. Shabana Azmi played Khurshid, Mirza Sajjad Ali's bored and lonely wife.
Before Ray cast Jaffrey as Mir Roshan Ali, he almost considered offering that role to Shashi Kapoor.
Years later, Kapoor told author Madhu Jain in her book The Kapoors: The First Family of Indian Cinema that Ray felt the Hindi film star was too good looking for the role. According to Ray, the audience would not have believed that the wife of a good-looking man like Kapoor would cheat on him.
And so one can say that Shashi Kapoor's good looks helped launch Saeed Jaffrey's film career in India.
Top Photograph: Shaheen Aggarwal/Facebook