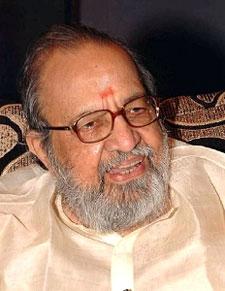 People from all walks of life and political inclinations, budding and aspiring poets and lyricists, looked at Tamil lyricist Vaali for inspiration, writes N Sathiya Moorthy, in his tribute to the legend who passed away on July 18.

It can be said with certainty that very few lyricists in Tamil cinema, or any other film industry, can break the records, or match the width, depth and longevity of 'Vaali', who passed away in the early hours of July 18.

Born T S Rangarajan, he started his film career with Azhagarmalai Kallan in 1958, but his contribution to cinema can be seen in a film as recent as Mariyaan (meaning one who would not die, or refuses to die), which hit the silver screen just hours after he became immortal in death.

The song Netru aval from Mariyaan (composed by A R Rahman) is already a chart-buster. More films in the months to come will bear his stamp, recording for posterity a career that spanned 55 years and entertained generations of film-goers.

At least two more records Vaali set should hold for a long, long time. He has penned 15,000 lyrics, possibly the most of any lyricist. And nearly 5,000 of those lyrics were set to the music composed by another living legend, Illayaraja.

The Illayaraja-Vaali combination came at a time when the competitive nature of the Dravidian political influence in Tamil filmdom had branded Vaali for no fault of his. Caught in the melee of the souring relations between the iconic Kannadasan, who rode Tamil cinema's lyricist circuit like a colossus, and the Dravidian polity that was climbing to power in 1967, Vaali got opportunities that might not have come his way otherwise.

This is not to belittle his talent that had not been exposed enough when it all happened. If he did not have God's gift, no amount of propping up would have helped. But it is a measure of our times that when Kannadasan parted company with the DMK, rather noisily, and began berating the first-line leaders, most of them identified with the Tamil film industry and looked for someone they could promote as their own answer to the one-time camp-follower of the anti-God movement.
It's an irony of the times, and particularly of the Dravidian polity, that the man they chose to fall back on as their answer to Kannadasan, who was not only moving away from them politically but also ideologically, was a staunch Vaishnavite-Brahmin from Srirangam, the citadel of the Iyengar sub-sect.
With the likes of party-founder C N Annadurai, the emerging M Karunanidhi (later to be the longest serving chief minister in the state) and the most popular face of the movement, M G Ramachandran, they made the Tamil film their political vehicle.
It contained the social messages they wanted to popularise and what better way than through the music, a mainstay of the movie industry.
The DMK leaders, individually and collectively more than as a party, had been sharpening their attacks on Hindu Gods and Brahmins, before they, ironically, settled for an alliance with Rajaji, an Iyengar (whom they would derisively refer to as Aachariyaar, stressing the caste-suffix to his name), and his Swatantra Party, which they had dubbed as bourgeois.
The more acceptable 'Pattukottai' Kalyanasundaram, a left-leaning lyricist who had penned film songs that championed the proletarian cause, had died young in 1959, and this may have left the DMK film-makers with little or no choice but to set aside their reservations about Vaali's birth and choose him as their answer to Kannadasan, in words though not deeds.
In 1965, the DMK's filmi answer to Kannadasan's Ponaal pogattum poda ('So what if it is gone...') was born, penned in 1961 for the Sivaji Ganesan starrer Paalum Pazhamum.
The DMK's long wait paid off once Vaali was adopted as the 'court poet' of the party-linked sections of the Tamil film industry. Thus was also born the immortal Vaali-penned song, Naan aanai ittal, adhu nadanthu vital, ezhaigal vedhanai pada-mattar... ('If I - pass an order, and it happens - or, is carried out -- then the poor won't suffer any more') in the MGR block-buster, Enga Veettu Pillai (1965), the original of the Dilip Kumar-starrer, Ram Aur Shyam in Hindi.
MGR's hospitalisation with a gun-shot injury ahead of the historic 1967 elections that brought the DMK to power for the first time in what was then Madras state, became the party's powerful message that would be repeated ad nauseam through the public address system at every political rally.
The simple-worded, three-paragraph, 12-line lyric that the masses could relate to, particularly by recalling the particular scene from the movie, captured the essence of the party's electoral message and conveyed it much better than the long-winded oratory of the platform speakers. The DMK won the election, and MGR himself recorded the highest victory margin from his Parangimalai assembly constituency in suburban Chennai.
Another of Vaali's lyrics found a place in the heart and mouth of every MGR fan and every sympathiser of the AIADMK, the party that MGR founded after he parted company with the DMK in 1971.
MGR, then chief minister, was hospitalised in a US hospital after suffering a stroke and was bed-ridden. Speculation ran riot about his health condition. Doordarshan must have created a record when for weeks together the Tamil station telecast the song Aandavanaye, un paadhangalai naan kanneeril neerattuvayen, intha oor uyirai nee vaazhavidu...' ('Oh God, I will wash your feet with my tears, please let this one life live...') from the 1968 MGR film Oli Villakku (The Lighthouse).
The film in which the song-sequence had been shot on a bed-ridden MGR was also MGR's 100th movie. A benevolent God answered the fans' prayers, helped no doubt by Vaali's powerful lines, which were repeated across the world wherever MGR fans lived. MGR returned home to serve as chief minister, re-elected from his sick bed for another three-plus years.
The political prophecy of Vaali, if it could be called so, did not end with MGR. MGR's political heir and incumbent Chief Minister Jayalalithaa too was the subject of Vaali's pen. His lyric Thotta idam, thulanga varum, thaai kulamaye varuga... ('Welcome, Lady, whose very touch will brighten things - or, make them work') became a crowd-puller at AIADMK rallies after she became the party's leader, and continues to be so.
A year before his Naan aanai ittal lines, Vaali had written the powerful pro-proletariat lines Tharai mael pirakka vittan, engalai thanneeril midhakka vittan ('Blessed to be born on land, cursed to be floating on water'), for MGR in the 1964 film Padagotti (Boatman or Fisherman). The song and movie affirmed the Tamil fishing community as fans of MGR, and ensured their political loyalty to his cause.
Yet another Vaali lyric from the same film, Koduthathellam koduththan- avan yarukkaha koduththan- oruvanukka koduththan-illai, oor-rukkaga koduththan (loosely translated as 'What God gave was not for just one man, it was for the whole community') is often mistaken for a 'Pattukottai' song for its pro-poor, pro-proletariat message, rendered in simple words and set to a melodious tune by T M Soundararajan, who too passed away earlier this year as did Vaali's mentor and play-back singer, P B Srinivas.
But the song resonated beyond the fishing community. The subsequent lines from the song, Mann kudisai vassal endral, thentral vara maruthiduma - Maalai nila ezhai endral, velichcham thara maruthiduma ('Because it is a mud-hut, will gentle breeze bypass it..Will the moon refuse to light up the evenings of the poor?') packaged the socialist ideology in simple yet beautiful words.
It was and is powerful poetry that went beyond being a mere film lyric. Though Vaali adapted himself to the new generation of music composers of the A R Rahman kind, it was not without criticism from his traditional, if not tradition-bound, fans.
The two play-back singers already mentioned would play a major role in Vaali's life. T S Rangarajan was trying his luck writing lyrics for the Tamil film industry but not with much success.
Vaali's first break came when an up and coming T M Soundararajan, going through a Vaali song that the latter had written on a post-card and sent to him, set it to music and included it in his audio album. The song was Karpanai endralum, karchilai endralum, Kandhanaye, unnai maravayen, about Lord Muruga or Karthikeya, son of Lord Siva.
One of his most powerful film songs of recent times was Kallai mattum kandal, kadavul theriyadhu, filmed equally powerfully on Kamal Haasan in the 2008 blockbuster Dasavatharam, with Lord Ranganathar of Srirangam, after whom he had been named, as the central piece.
P B Srinivas, the melody king of the 1960s, was instrumental in persuading a frustrated Vaali to stay back in tinsel town and Chennai, and not return home in 1962, by making him listen to, of all things, a perceived rival -- Kannadasan's Mayakkama, kalakkama, manadhilaye thayakkama, vazhivilaye kuzhappama (from Sumaithangi or 'Load-bearer'). It was as if the song reflected Vaali's own dejected and confused mind. Years later, Kannadasan would publicly anoint Vaali as his heir-apparent, much to the chagrin of those who wanted a split between them.
Vaali's Amma endru azhaikkadha uyir illaye from Rajnikanth's Mannan ('King', 1992) is the most popular of all 'mother sentiment' songs, on film and off, for the present generation of Tamils.
For Sivaji Ganesan he wrote some of his most memorable songs: Madhavi pon mayilal thogai virithaal (Iru Malargal, 1967), Porti paaradi pennaye (Thevar Magan, 1992), and possibly the greatest and the most inimitable of them all, Andha naal nyabagam vandhadhaye, nanbanayae (Uyarntha Manithan, 1968). It was a nostalgic declamation of a lost childhood in which T M Soundararajan created history by reciting the lines in the inimitably powerful voice of Sivaji Ganesan.
Valli went on to pen such long poems as Aavadhara Puruzhan (on the Ramayana), Paandavar Bhoomi (Mahabharata), Ramanuja Kaviyam, Krishna Vijayam, Krishna Bhakthan and Kalaignar Kaaviyam, apart from the autographical prose works, Naanum Indha Noorthaandum ('I and this Century') and Vaalibha Vaali ('Vaali in his Youth').
Not many will remember his brief acting stint in Kamal Haasan's Hey Ram and Sathya, and K Balachander's Poikkal Kudhirai.
Fewer still will know that Vaali had written scripts for films, the most noteworthy being for Oru Gramathin Kadhai ('Story of a Village') which won a National Award. A ban was sought on this film and its producer S Rangarajan (then publisher of The Hindu) went all the way to the Supreme Court to have it screened.
In a life dotted with awards and rewards, including a belated Padma Shri in 2007, Vaali had taken his competitor-turned-wellwisher, Kannadasan's advice to heart: "Never produce a film, and never enter politics."
Vaali was possibly the least troubled of men when time came calling. He had spent most of his 82 years putting pen to paper and producing lines that will outlive him.
Vaali was an affable and lovable man. People from all walks of life and political inclinations, budding and aspiring poets and lyricists, looked to him for inspiration. They saw him as their Dronacharya, an omnipresent and omnipotent guru, whom they will continue to look up to in the decades to come.