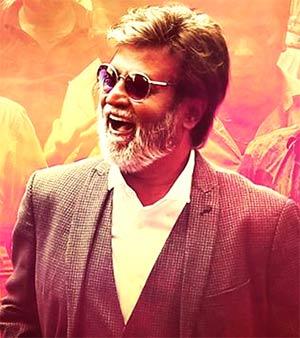 Away from his larger-than-life screen persona, Rajinikanth is grounded in reality.
T E Narasimhan and Gireesh Babu decode the superstar.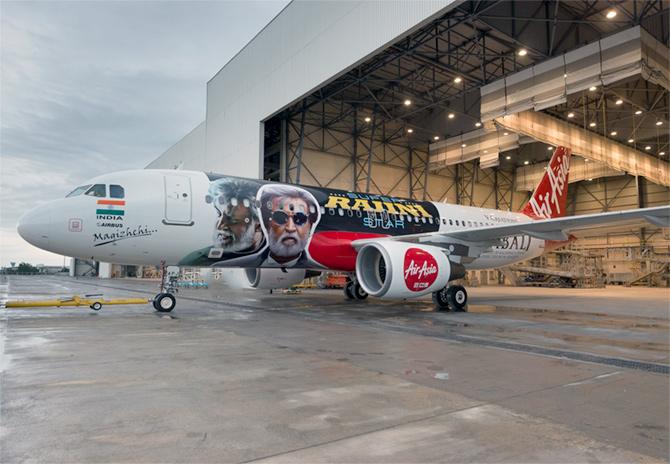 The clamour is reaching a crescendo. Brands are rushing in to be seen alongside him. One of them, Malaysian airline AirAsia, has, in fact, created a history of sorts by deciding to fly his fans to the first day, first show of his forthcoming movie, Kabali, in a special aircraft that has his face painted in giant size on it.
In a hill village of Kerala, the Dalapathi Rajinikanth Welfare Association, a 25-year-old organisation started by his admirers, is planning to run 10 buses to Thrissur for the first day of the film's release. And, an enthusiast on a visit to India from the US intends to delay his return home till he has seen his film.
The frenzy defies logic. The critics remain flummoxed. 'Nowhere in (the) world, a man who looks like this can be (a) superstar. I wonder what he did to God that God did this to him,' recently tweeted filmmaker Ram Gopal Varma. Wonder as one may, but the fact is that there is no denying the 'Rajinikanth Phenomenon.'
Behind the hype and hullabaloo is a simple 65-year-old balding man who was born Shivaji Rao Gaekwad in Bengaluru, who lost his mother at the age of five, worked as a carpenter, a coolie and a bus conductor to make a living, and finally found a calling in Tamil cinema.
Fond of acting on stage, Rajinikanth was discovered by filmmaker Kailasam Balachander and groomed by S P Muthuraman who directed him in over 25 films.
Muthuraman describes him as a natural, unaffected person who has not changed from the man he was when he did his very first film, Apoorva Raagangal (1975), in which he played a supporting role. The lead role was played by Kamal Haasan.
Actor Arvind Swamy, who made his debut in Thalapathi (1991) starring Rajinikanth, recalls that so exhausted was he after the shoot that he went off to sleep in the very first room he found empty.
It was Rajinikanth's room. As the superstar's assistant hastened to wake him up, Rajinikanth stopped him. Swamy says when he woke up, he was shocked to find Rajinikanth sleeping on the floor.
His co-stars say that is the way he is. During shoot breaks, he will not rush back into his air-conditioned makeup room. Instead, he will stay on with his fellow artistes and often sleep on the sets, even on a bench, without a pillow, his eyes covered with a wet cloth.
"He is like a child in a candy shop. I have never seen an actor more excited than him on the sets," said Deepika Padukone, his co-star in Kochadaiyaan, in an earlier interview. The film was directed by Rajinikanth's younger daughter, Soundarya Rajinikanth Ashwin.
An extremely persistent man is how Ashwin describes her father. He didn't know a word of Tamil when he started and now look at him, she says.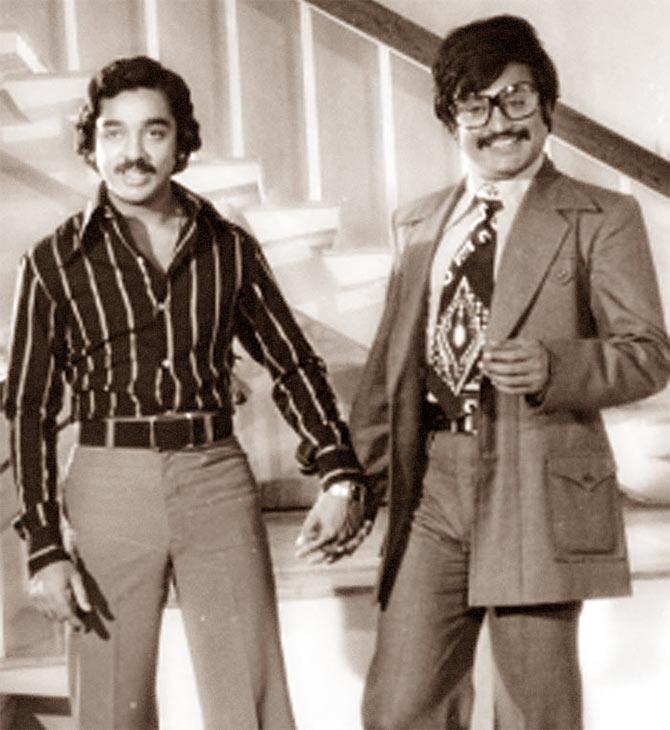 IMAGE: Kamal Haasan and Rajinikanth in K Balachander's Apporva Raagangal.
In fact, when comparisons are drawn between Rajinikanth and Kamal Haasan, with whom he started his career, language often comes up.
The Tamil Rajinikanth speaks is the Tamil of the masses, of the man on the street. And that is what instantly connects him with the audience. Haasan's is a more grammatically correct, rich Tamil and his movies too, say critics, border on the intellectual.
"There is a great level of competition (between us)," says Haasan. "We both will not let go of our position." The two have the same mentor, Balachander, "who blunted our egos very earlier in our careers," he says.
As their individual styles developed, the two actors mutually decided to go their separate ways and not do films together. Haasan, in an earlier interview, said it also made monetary sense, else the filmmakers would split their fee between them.
Ashwin, meanwhile, says she and her sister Aishwarya get to spend more time with their father now than they did when they were growing up. Back then he would be shooting seven to eight films a year. "But even then he ensured that we had the perfect childhood," she says.
She once recalled a 2002 incident when her father suddenly decided to take her and a friend out for a drive. He wore a muffler and the three went to Marina Beach where they came upon a stall that had cutouts of movie stars. One could pose with them for pictures. She gleefully posed next to a cutout of Rajinikanth. The fellow taking the picture had no clue that the actor was standing right there.
That is how he likes to be, understated in personal life. He often catches up with his friends back in Karnataka, people he bonded with before he became a superstar. The venues of these get-togethers are never luxury hotels or swanky places. They meet at roadside tea shops or food joints, where he spent his early days. Often, but for his friends, nobody knows that the man in a lungi having tea at the neighbouring table is Rajinikanth.
He is also a religious man and would often head off to the Himalayas to visit his spiritual guru who lives in a cave. Though these trips were kept a secret, people would sometime recognise him and take pictures of him, walking on the road barefoot, wearing a lungi and carrying a shoulder bag.
He is not known to come to a function with a retinue accompanying him and even prefers to drive his car himself. Over the years, he has owned a Fiat Premier Padmini, an Ambassador, a Chevrolet Tavera, a Toyota Innova and a Honda Civic. In 2011, it was reported that Shah Rukh Khan wanted to gift him a BMW 7 Series, but he politely refused, saying that he was not used to luxury cars.
He is a sensitive man who will put others before him, say those who know him. His birthday (December 12) used to be a huge occasion, with fans crowding outside his house. But ever since three of his admirers died in an accident while returning home after celebrating his birthday 25 years ago, Rajinikanth ensures that he is never in the city on that day.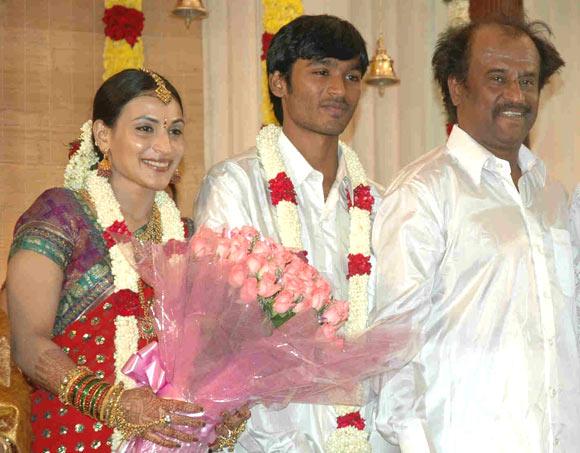 IMAGE: Rajinikanth at Aishwarya and Dhanush's wedding.
His son-in-law, actor-producer-playback singer Dhanush (who is married to his elder daughter Aishwarya), says he is a man without airs. Back in 2003, when he was 20 and his acting career was barely a year old, Dhanush recalls getting a call inviting him to Rajinikanth's farmhouse.
"My film Kaadhal Kondein had just released and he wanted to personally tell me that he had liked my work."
But being Rajinikanth's son-in-law, he says, "is a huge burden. Once I married his daughter in 2004, I lost my identity. I had to work doubly hard to earn it back."
The superstar, he says, does not interfere in his work or give unsolicited advice. "It's a relationship of respect, where he gives me my space," he says.
Unlike most big stars, Rajinikanth does not endorse any brand. "He is beyond brands," says Bengaluru-based brand consultant Harish Bijoor. A super-brand, perhaps.
He is real, adds Bijoor. "He is bald and he carries his baldness with pride -- just like he carries his humility." And the crowds love him.