What do Sruti Singh, Ajay Vir Singh, Dilip Dutta, Mahesh Tayade and Narendra Tiwari have in common? They are the self-appointed moral police of the public behaviour of celebrities and guardians of Indian culture and morals. They closely watch television and films and read several newspapers from beginning to end, waiting to pounce on violations of public decency and codes of patriotism.
The minute they see this, they head to the nearest judicial magistrate's court to file a Public Interest Litigation.
These concerned citizens of India have their personal codes to decide what is decent and what is not, or, which quiz contest is rigged in favour of celebrity participants and which is not, which famous painter is pulled up for allegedly outraging religious sentiments with his paintings...
What makes them so concerned? According to noted journalist  Balmiki Chatterjee, it brings instant fame. Their legal practice -- most of them are lawyers -- gets a boost.

If you are not a celebrity but want to become one, see your name flashed in newspaper headlines and news channels, be photographed in court in the august company of a Mallika Sherawat or a Shilpa Shetty, never mind if it is for even one day. The shortest route is to file a PIL against them on any ground, flimsy or otherwise.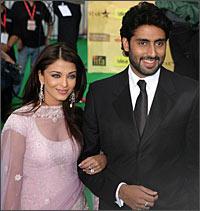 Contrary to common knowledge, a PIL does not necessarily have to be linked to a violation of the codes of 'decency' as perceived by the angry litigant. It could be as personal as Aishwarya being asked to marry a tree before marrying Abhishek to ward off some astrological mischance. Sruti Singh filed a PIL at the Patna High Court demanding a public apology from Amitabh Bachchan, Abhishek Bachchan and Aishwarya Rai. Their crime? Aishwarya, said to be a Manglik that apparently heralds bad luck to the prospective groom, had to marry a peepul tree in Benares, a plantain tree in Bangalore and some Hindu deity in Ayodhya. Singh accused the Bachchans of giving importance to and promoting superstitious practices in violation of Article 17 of the Indian Constitution.
Singh's name was published in almost every newspaper in the country and the lawyer became famous overnight.

While co-anchoring the World Cup Finals with Charu Sharma for a television channel, Mandira Bedi dared to wear a sari sporting the Indian flag. She had taken great pains with designer Puneet Nanda to turn out a sari embellished with copies of national flags of participating nations. They did not do they homework well and ended up in a soup.
The Prevention of Insults to National Honour Act, 1971, which states that using the flag as a costume or uniform of any description or embroidering or printing it on cushions, handkerchiefs, napkins or any dress material are prohibited. The minute Bedi appeared on screen, the channel's telephone lines began ringing condemning the 'insult' to India's national flag. By then, Ajay Vir Singh's watchful eyes had done the needful; he filed a petition against Bedi and Nanda.
Dilip Dutta of Kolkata also filed a PIL against Bedi at the Alipur sub divisional judicial magistrate's court. The summons asked Bedi to be physically present in court. She took the easy way out by apologising on television.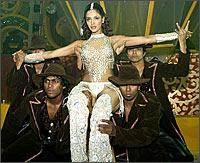 Narendra Tiwari, president of the Baroda Bar Association, filed a PIL against Mallika Sherawat and Mumbai's JW Marriott in the judicial magistrate's court under the Immoral Traffic Prevention Act. It pointed out that Mallika's costume -- when she performed at the hotel on New Year's Eve -- was almost not there while her jhatkas were gross and indecent.
Tickets sold out much in advance at astronomical prices and the serpentine queue outside the hotel was proof that Mallika's penchant to wear something skimpy was precisely the reason for the sellout.

Sherawat later said that she had worn a skin-coloured body stocking under her skimpy dress. The question is -- was Tiwari present at this function? If he was, what drew him to the programme in the first place? And if he wasn't, then how did he get to know about it? The end-result? Repeated telecast of clips on news channels closing in on Mallika's body stocking, and a sharp rise in her market rates for similar performances.

"PILs, also called postcard petitions, were instituted as a means to help ordinary people sidestep judicial delays to secure justice," says journalist A Srinivas. He adds that PILs unduly empower the judiciary over the legislature and executive, disturbing the delicate balance of institutions so essential to a democracy. "Courts are meant to interpret law, but with PILs they vest themselves with executive and legislative authority by issuing administrative fiats and creating law with a stroke of a pen. The institution of PIL stepped into a vacuum created by the declining credibility of the executive and legislature. But since the judiciary is not directly accountable to the people, such exercise of power is undesirable," he sums up.

The PIL movement began by taking up the cause of under-trials in Bihar (1979), ASIAD workers (1982) and bonded labourers (1984). Today, be it corruption, havala, fodder scam or petrol pump allotments where powerful interest groups can play a role, PILs hardly concern the dispossessed.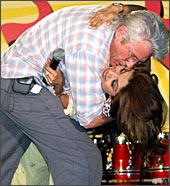 If the nature of PILs has changed, so has politics, society and the media in India. Referring to the brouhaha created over Richard Gere kissing Shilpa Shetty at a public function, actor and anchor Pooja Bedi says, "This is an issue that needs to be taken up in the court. They need to formulate laws that define clearly what is obscenity, what is vulgarity and what is affection."
Surprisingly, Bedi's weekly programme on a private television channel where she reveals a lot of cleavage and an abundance of thighs do not seem to bother our PIL-obsessed friends. 
Poor Rakhee Sawant! All she did was take a dip in a bathtub for cameras in a television show. One could discern the figure of Buddha in the background. But instead of filing a PIL against the filmmakers, the Maharashtra Police and one Mahesh Tayade filed a PIL against Rakhee!  Rakhee Sawant alone would draw media attention. One wonders how the lower judiciary which is plagued with 2,53,71,503 pending cases as of September 2006 finds time for depicting what former Attorney General and eminent jurist Soli Sorabjee called 'proliferation of the Taliban mindset among Indian lower judiciary.'

Shailendra Dwivedi of Indore filed a PIL against Hrithik Roshan, Aishwarya Rai and the producer and director of Dhoom:2 for having attacked the image of the bharatiya nari with their kissing scene in the film. The petition insisted on the physical presence of Roshan and Rai during hearing and the producer-director were given short shrift. They do not have the claim to celebrity that Roshan and Rai enjoy, right? So the media would be interested only in Roshan and Rai.

"Considering that cases of molestation, abuse, and dowry abound, lawyer Shruti should have enough grist for her mill, without having to think this hard. Most women would not consider Ash's marriage to a peepal tree a top priority or even impinging on their every-day, eve-teased lives," says Amodini, an activist.