Mirzapur 2 is not dinner-time viewing, warns N J P Tiwari.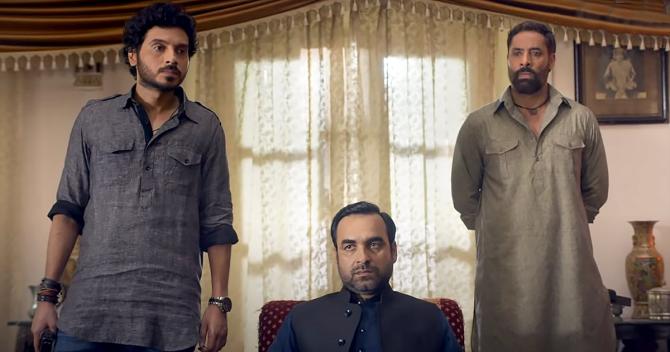 The second season of Mirzapur dropped almost two years after the show premiered on Amazon Prime Video amid relative anonymity.
Back in 2018, it was just another novelty programme to hit the OTT sphere, when the streaming platforms were figuring out what type of original content would work in India and what wouldn't.
Mirzapur released with no fanfare and it was only after it gained traction among viewers, that it was decided to pump in money for promotions.
Suddenly, there were huge hoardings of Pankaj 'Kaleen Bhaiyya' Tripathi and Ali 'Guddu Bhaiyya' Fazal looming large over rush-hour traffic in Mumbai.
The show was generally panned by critics for its excessive violence, misogyny and misguided machismo.
Cut to 2020, and it's more of the same with Season 2.
After a Red Wedding-style finale, Mirzapur returns with Guddu Bhaiyya grievously hurt and on the run with his sister Dimpy (Harshita Gaur) and sister-in-law Golu (Shweta Tripathi Sharma).
What follows is one protagonist's race towards the Mirzapur throne, while another strives to consolidate his power, everything aided by vengeance and twisted morality.
Some new characters are introduced in an already overcrowded line-up, while some from Season 1 are done away with.
Pankaj Tripathi packs a solid punch with his pitch-perfect portrayal of a mild-mannered yet ferocious ganglord Akhandanand Tripathi (also known as Kaleen Bhaiyya), while Lucknow boy Fazal seems to have hit his stride after awkward performances in some of his early films, including Fukrey.
But then again, his Guddu Bhaiyya hits bull's eye only in terms of dialogue delivery and intonation. When it comes to conveying the quiet intensity of a fallen hero, Ali somewhat falls short in the expressions department.
Shweta Tripathi, who plays Gajgamini 'Golu' Gupta, a character that is coming into its own following a tragic loss, looks more like the actress playing a character than the character herself.
Divyendu's Munna Bhaiyya is off the mark as a deplorable brat.
Notably, Rasika Dugal and Kulbhushan Kharbanda carry off their parts with some success.
The real hero in this gangster saga is the supporting cast, including Rajesh Tailang (Ramakant Pandit), Vijay Varma (as Bharat and Shatrughan Tyagi), Dibyendu Bhattacharya (Doctor) and Amit Sial (SSP Maurya).
It is a show that aims to thrill, which it does, only not as deftly as, say, a Gangs of Wasseypur, which it has frequently been accused of imitating.
Somehow, the protagonists are shown doing things that may seem heroic on paper, but it doesn't really translate well onto the screen.
There is no real sense of vindication from the triumphs of the characters.
We can't possibly talk about Mirzapur without bringing up all the blood and body count we encounter during the 45 minutes to one hour-episodes of the series.
According to Mirzapur 2, in the Hindi heartland, people kill each other more often than they sneeze, and there is blood everywhere -- trickling down rusted metal doors and trees, seeping through saris and police uniforms, tinting teeth and eyeballs.
People die in imaginative ways as well, some by being shot in the head, others by accidentally having torches stuffed into their faces.
Also, 2015 called, they want their unwarranted Hindi expletives back.
Let's just say that Mirzapur 2 is not ideal for dinner-time viewing.
The choppy writing mirrors one of the show's most meme-d punchlines, 'Niyam kabhi bhi badal sakta hai'.
The camera lingers on some frames a tad too long, while the pace falters frequently in crucial sequences.
I'd be remiss if I didn't mention the way casteism is portrayed in Mirzapur 2. It is not woke, it is not ignorant... but it doesn't really make an impact either.
The background score is forgettable (watch Hansal Mehta's Scam 1992 instead for brilliant editing and score).
I'd rather suggest watching Gangs of Wasseypur or even Pataal Lok (for a somewhat bang-on portrayal of inter-caste and inter-faith exchanges in the small towns of North India) for a refresher on the genre.
Rediff Rating: