'The night, I have to sadly admit, was a let-down and Mr Bieber, you kind of broke my heart,' says Belieber Karishma Mevawala.
Photograph: Rajesh Karkera/Rediff.com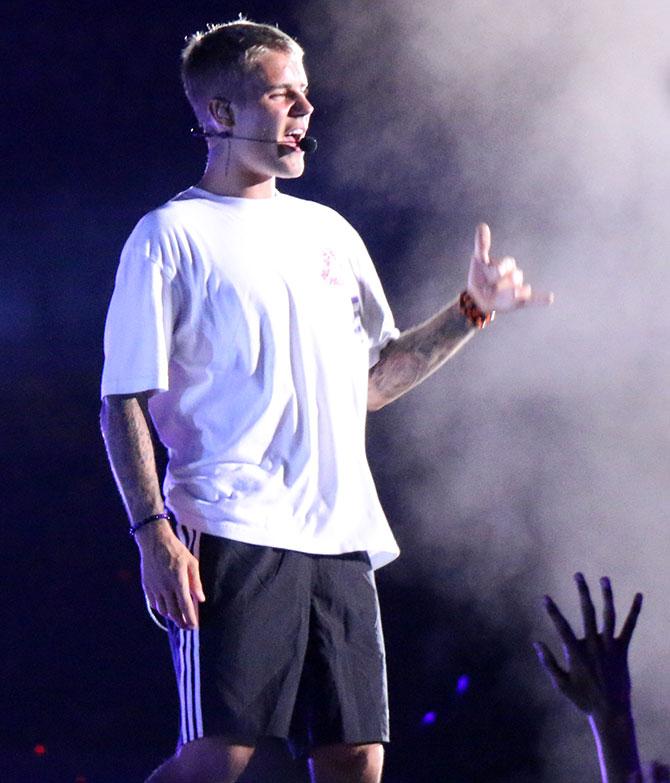 'Oh my god! Justin Bieber is coming to Mumbai. I have to go!' were the first thoughts that raced through my head when I heard the Baby singer was coming to town.
It was unbelievable, my first show (yes, I was a concert virgin before the #Purposetour) was going to be Justin Bieber -- the boy who made teen girls and their mothers swoon.
On February 21, I pre-booked my tickets, refusing to miss out as I had on the Coldplay concert as the tickets had sold out.
With tickets in hand and adrenaline coursing through every vein I made my way to the D Y Patil Stadium in Navi Mumbai on May 10, expecting and anticipating a show that was epic, and what was being billed as the best day of my life.
Unfortunately, the night, I have to sadly admit, was a let-down and Mr Bieber, you kind of broke my heart.
And before the Beliebers attack me, let me say why I feel like 'The Beebs' needs to say 'Sorry' to his fans!
First things first. It's May, it's horribly hot (so much so that Justin himself, who came on stage at 8.15 pm, wore shorts) and yet you expected people to line up in the blistering heat.
The heat was so terrible that a few people around me in the serpentine queues fainted. Thank god, for the first aid and free water.
Yes, yes, many would argue that it's not his fault that Mumbai is hot and that people were fainting, but I can surely vent my anger, can't I?
And I understand that the organisers need to make money -- but samosas for Rs 100 and wafers, which cost Rs 20, for Rs 120? C'mon, that's a bit much, don't you think?
Keeping all this aside, now let me tell you about the music -- the reason why we all went there.
The opening acts to the concert were very average.
Where was the energy, the enthusiasm, the thrill factor? They were supposed to build the momentum, but all I felt was bored.
A tragedy, wouldn't you say?
Now talking about the man himself -- Justin Bieber!
When he arrived on stage, the crowd roared for the mega pop sensation, but soon it all fizzled out when it seemed to me that he wasn't actually singing, but lip-syncing.
Mr Bieber, aren't these your songs? Shouldn't you be able to sing them for your fans?
If that was the case, I would have sat in the comfort of my home and heard his songs on a CD.
With him looking like he was lip-syncing, I felt I was in a club -- albeit a club where Justin Bieber was dancing and not at a concert where good music is the USP!
When he sang his monster smash hit Cold Water, he chose to do it acoustically. Perhaps to show off his artistic side and I smiled for a bit.
Sadly, that moment of happiness was fleeting as he intervened his own song, saying, 'It's too humid, I'll have to retune my guitar.'
Ohh, Justin, we really expected more from you!
But all was not lost... While I was disappointed about the concert, there were a few saving graces -- the amazing lighting and the super talented back-up dancers.
Bieber, you ended the concert with Sorry, and all I can say is that with the performance that you put up, you need to apologise.
I am not that sad as I await Ed Sheeran's concert in November!
Karishma Mevawala, 23, is an associate relationship manager at Tata Capital.