'Pink a movie that's assembled especially for that section of prejudice-free Indians who are all on this side of the screen.'
'Look... there's virtuousness staring at you, 24 Frames per Second.'
'Soak it in; more power to the revolution, more wax to the candlelight vigils,' says Sreehari Nair.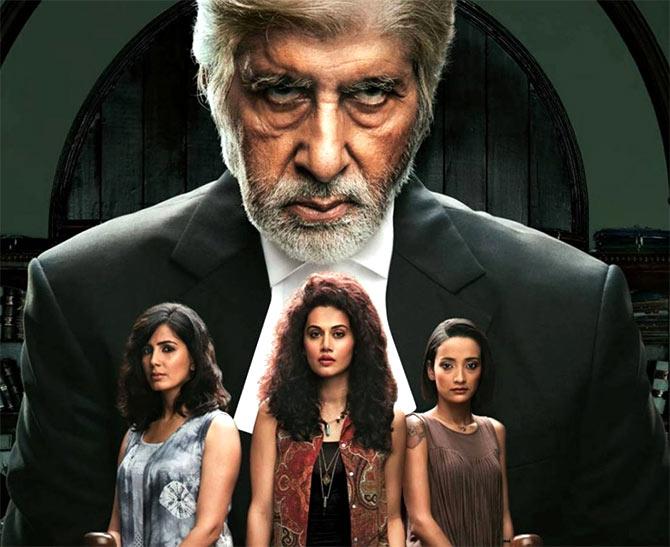 Every year, unfailingly, 'The Club of Good Taste' celebrates at least one Hindi movie that highlights the misogynistic attitudes gnawing away at Indian society.
Like it was the case with NH10 last year, and Pink this year, almost all of these movies hold up as their subject of ridicule, the uncouth brat from Delhi and thereabouts, with deep pockets and connections and SUVs, and with set theories about how good-cultured women ought to behave.
The North Indian Launda, as of today, clearly enjoys a cinematic status comparable to such famous character-templates as the evil, mole-fitted village Mukhiya of the 1960s; the amoral, horse-riding Bandit of the 1970s; and the Mad Scientist/Crime Lord of the 1980s, who would hand traitors their asses at the press of a red button.
Here is Rajeev Masand about Aniruddha Roy Chowdhary's Pink: 'You'd really have to be cold, cynical and possibly living in denial if you aren't deeply affected by Pink.'
'This powerful film is a stinging indictment of the deep-set prejudices, unmistakable misogyny, misplaced male entitlement and outright injustice that women across India must contend with daily, and particularly when protesting against unwanted sexual attention.'
While correctly predicting and royally dissing the cynicism of viewers like me who were left cold by Pink, and who found its worldview programmatic and set-to-a-soundtrack, Masand himself displays a kind of manufactured cynicism that has allowed a big section of viewers -- the movie's 'Target Audience' ie -- to be manipulated by an increasingly-observed case of hollow artistic opportunism.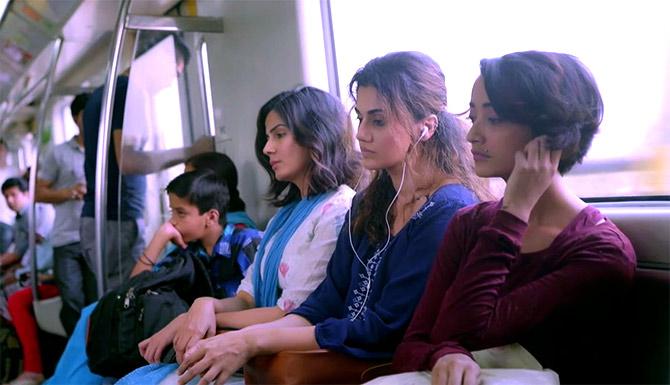 On a level of pure personal assessment, I find it easy to believe that there is a group-like quality to the cynicism we direct at the aspect of male gaze/misogyny and that it is this communal cynicism that directors like Aniruddha Roy Chowdhary are now exploiting to sell their movies.
For once, let's just assume that the contemporary Indian society is indeed widely misogynistic and feverishly anti-women -- which it is not, as can be gathered by the huge approval that Pink has received; but for positing-sake, let's assume it is.
Tell me then, wouldn't it be the easiest thing for any director (with his writer in tow) to slap together stories about such North Indian Laundas and their brethren -- all of whom are hopelessly misogynistic, vapidly in love with their own antiquated ideas of masculinity and, worst of all, totally unaware of the women's rights movement gathering steam outside?
Creating such characters is, of course, easy, because they require no development whatsoever.
These are characters, forever getting our dander up through their cheap exploits as detailed in news items.
These are characters with money coming out of their ears, and who always seem to be viewing women as food and not as real people.
These are the invisible protagonists of those one-off incidents which often result in us coming together and composing Facebook Posts with introductory sentences such as 'Where is our country headed?'
But worry not! For, in the course of our hard-working movie, these characters will be exposed -- much to the viewers' elation -- and they will have to pay heavily.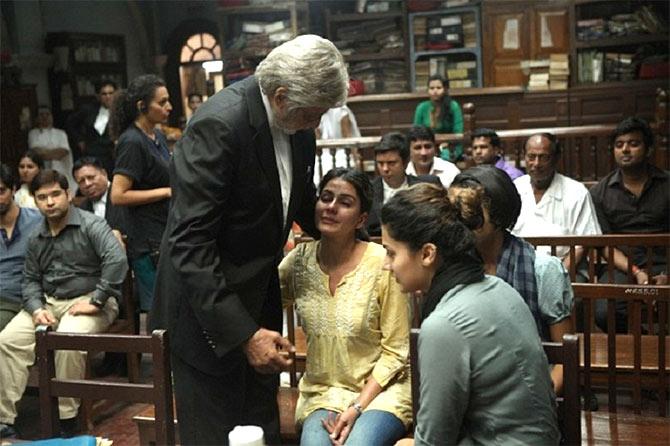 Pauline Kael probably uttered the truest line in the history of movie criticism when she said, 'If there is any test that can be applied to movies, it's that the good ones never make you feel virtuous.'
So when Masand talks about unmistakable misogyny and misplaced male entitlement, and when he acknowledges the power of Pink, it's only and only because the movie reinforced everything (the reinforcing itself an annual movie tradition now) he knew all along as being wrong with our society.
It made him feel like a winner, and assured him that with this movie, the wrong ones have been brought to light... yet again.
An interesting statistic: For all those 90 per cent viewers (like Masand) who believe that Pink is indeed a brilliant imitation of the deep-set prejudices in the current Indian society, there are hardly seven characters in the movie that represent this conscientious lot.
My guess here: To the writers of Pink, this skewed representation would have felt like Good Cinematic Sense. For (and think about it) if the true struggle of women against straight, raging misogyny is the issue being highlighted, isn't it only logical to set the story in a world where this struggle will be met with maximum opposition?
This makes Pink a movie that is assembled especially for that section of 'prejudice-free Indians' who are all on this side of the screen.
Look...there's virtuousness staring at you, 24 Frames per Second.
Soak it in; more power to the revolution, more wax to the candlelight vigils!
Pink also conveniently saddles Amitabh Bachchan with a role that he now plays best: The all-knowing, all-sensing septuagenarian who will champion our preferred social causes with a distracted demeanour and a slightly catatonic look.
And who else but Amitabh Bachchan, with his deep baritone voice and his upright spine, can we Indians count on to apprise us about everything that we already recognise as right and wrong?
Who else but Bachchan -- the same Bachchan who once fought the Mukhiyas, the Bandits, and the Mad Scientists -- can successfully wrestle with this new Generation Z-villainous figure?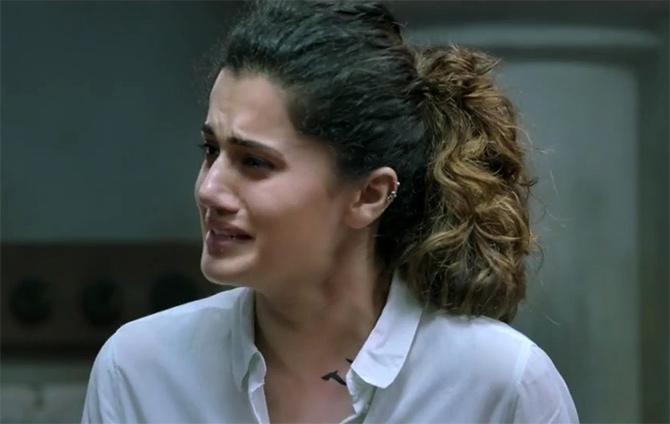 Movies like Pink and NH10 and/or some of those Zoya Akhtar instructional manuals, seem to think they are really saying something, and something impressive at that, but they don't want to even slightly alter our viewing comforts in the process of saying it.
In one of Pink's seemingly stem-winding moments, the movie tries to attack society's Conservative-to-the-point-of-Neanderthal stance concerning women and sex.
Taapsee Pannu, almost quivering, explains to Amitabh Bachchan, that she first had coitus at 19 because she was in a relationship with a guy and they both wished to go for it.
Bachchan and Pannu, then, together go onto establish to the viewer that, for the progressive Indian woman, mental involvement is the basis for sex.
However, in the midst of drawing out this charter for female-copulation-psychology, an aspect of true progressiveness seemed to have escaped the makers of Pink: That sometimes a woman may not even be looking for any involvement during sex; and that a progressive Indian woman may want to have Casual Sex once in a while.
But a term like 'Casual Sex' (as opposed to its sterile cousin 'Consensual Sex') would have obviously discomforted a lot of its well-meaning viewers -- which is clearly not the point of this movie.
We are still in the Yuvakbharati age of revolution -- no stains on the pages, please!
Another problem with this class of movies that confers saintliness on one group and heinousness on the other is that it ends up becoming a campaign for political correctness.
This also explains why many of our critics who routinely champion such programmatic movies are also the first to attach labels to movies made by our best talents such as Sriram Raghavan and Anurag Kashyap -- filmmakers who aren't interested in easy societal lessons and who instead prefer to work around the complex themes of great literature.
I wonder how scandalised these label-sticking movie critics ('Raghavan is a Misogynist; Kashyap promotes violence against women') would be if they were to read Molly Bloom's soliloquy in Ulysses ('Damn that Joyce, how can he degenerate a woman like that by putting in her mouth, vile words like those?').
I can already imagine the horror on these critics' faces, when made to laugh at Sam Pollit's hilarious acts of domestic abuse, in Christina Stead's The Man Who Loved Children.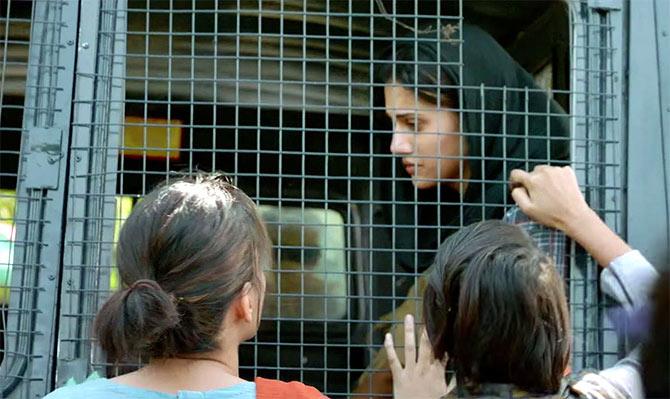 It takes some background in the art to realise that the humanity of such great works lie in their ability to lap up the worst tendencies of human beings and in their courage for asking viewers uncomfortable questions without offering them the quilt of soothing answers.
Taking real risk in art has got nothing to do with waging all-out wars against those societal issues that we have collectively declared as 'wrong' or 'antiquarian.'
The real risk is in reaching at the core of these awkward issues and giving all characters, on either side, their due dignity.
The real risk is in walking that fuzzy line between 'the stuff that our schoolmarms classified as the right stuff to do' and 'the stuff we do instinctively without much thought or deliberation.'
A genuine investigation, then, of this present topic at hand, would have revealed that the truly knuckle-dragging sort of Indian misogyny -- the kind that we have come to loathe -- is actually rooted almost entirely in fear.
Misogyny, in its purest form, has got a lot to do with the Indian man's self-definition being so very precarious; of his masculinity being customarily characterised by his fullness.
Delve deep and you will realise that the classic Indian misogyny very much has its roots not in a man's undermining of women, but in his dread of being judged by women -- judged on all counts: Sexually, existentially, humanistically.
For most men, misogyny and objectification aren't happy pastimes but mere escape routes, because the idea of being perceived by the clearly stronger female subjectivity is so incredibly horrifying.
Of course, thinking about this issue at such length is not befitting of movies like Pink, whose primary objective is to pick on a character-type and diminish its individuality and range of meaning, so that the directors of these movies can pass off as deep social thinkers.
Social thinkers in India are supposed to 'act' and not waste time thinking.
So when Wes Anderson's tagline for The Royal Tenenbaums ('Family isn't a word; it's a sentence') was re-crafted and presented in Pink as 'NO isn't a word; it's a sentence,' the re-crafted line also suggested that the educated, liberal Indian has an almost indescribable, single-perspective connection to the word 'Misogyny' -- like he has to the word 'Family.'
Someone says the word, and you instantly 'get' the associations.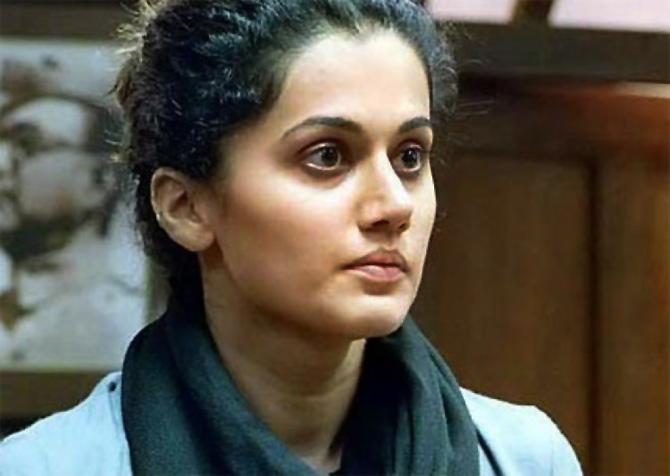 Frankly, I believe that these supposedly pro-women, North Indian Launda-deriding Hindi movies are mostly offensive to women themselves.
These movies are offensive because they promise sweeping dissections, and end up offering nothing more than a convenient tweaking of the hero-villain template from the past.
They are offensive because they class Indian women as a bunch of quasi-revolutionaries in search of easy answers.
They are offensive, yes, because they turn a genuine problem of the modern Indian woman into a cinematic offer-card which can be scratched anytime, for an assured trip to Boxofficeville.
And no, it doesn't help one bit, to have Amitabh Bachchan curl up his eyebrows, take off his elevation training mask and speak to us in, what it is apparently, the baritone of the new-age conscience.