'A friend said there was a new phenomenon occurring during every screening. Audience members were mouthing the dialogues with the characters on screen.'
'It was a truly amazing experience. It was impossible to hear what was being said on the screen. There was so much noise, laughter and celebration in the theatre. And the film was not even a month old.'
Aseem Chhabra remembers seeing Sholay twice in the couple of weeks after it opened.
A few days after Ramesh Sippy's Sholay opened in August 1975, I went with a couple of college friends to the Plaza Cinema at Delhi's Connaught Place. The only way we could see the film was to fight the crazy rush of the masses and buy advanced tickets.
There in the midst of total disorder, with people pushing, breaking lines trying to reach the tiny little ticket window, I felt someone touching my wallet in the back-pocket of my jeans. I tried to turn back, but it was impossible to move. I somehow managed to grab hold of my wallet.
I had nearly become a victim of crime while buying tickets for a film that celebrated charming criminals, a vicious villain and his merry band of dacoits.
I enjoyed Sholay, and saw it twice in the couple of weeks after it opened.
The second viewing happened because a friend said there was a new phenomenon occurring during every screening. Audience members were mouthing the dialogues with the characters on screen.
It was a truly amazing experience. It was impossible to hear what was being said on the screen. There was so much noise, laughter and celebration in the theatre. And the film was not even a month old.
Forty years have passed and I finally revisited Sholay earlier this week. I saw the entire 3.5 hours of the film on YouTube. And it was like I had just watched the film recently. Everything was fresh in my mind, and not because I am a huge Sholay-nut.
Sholay is just a vital part of our existence and ethos. For fans of Mumbai's popular Hindi cinema -- and I consider myself to be one -- there has been no cinematic phenomenon like Sholay. Even after Aditya Chopra's Dilwale Dulhaniya Le Jayenge broke all time records, Ramesh Sippy's Sholay is the ultimate iconic film in the history of Hindi cinema.
Filmmaker Shekhar Kapur referred to Sholay as the most 'defining film on the Indian screen.'
'Indian film history can be divided into Sholay BC and Sholay AD,' Kapur was quoted as saying in film journalist Anupama Chopra's book, Sholay: The Making of a Classic (Read an excerpt HERE).
Even a great master like Satyajit Ray, who was usually dismissive of popular Hindi cinema, was impressed by Sholay. In the book Talking Films: Conversations on Hindi Cinema with Javed Akhtar (one-half of the Sholay's Salim-Javed script-writing team) the scriptwriter and lyricist says the following to film writer Nasreen Munni Kabir: 'He (Ray) said wonderful things abut Sholay. He liked the film very much.'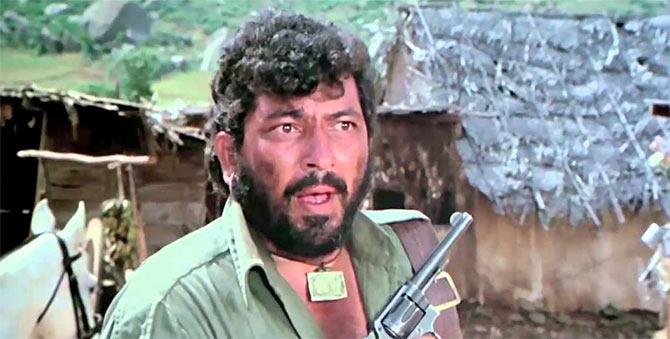 As I watched the film earlier this week, I was quite taken aback, for I too know most of Sholay's dialogues -- especially the classic 'Kitne Admi The?' monologue that introduces us to the villain of villains Gabbar Singh (the superb Amjad Khan). How did I know this dialogue so well? Because I have heard it being mouthed in films and elsewhere so many times.
Towards the beginning of Zoya Akhtar's first feature Luck By Chance, a group of wannabe actors are attending a session addressed by Bollywood actor MacMohan, who is playing himself in this brief appearance. MacMohan is asked to say a few words to the students. Before he can say anything, one student yells out a request asking the actor to repeat his famous line from Sholay.
'Sholay?' MacMohan asks.
He then looks down and repeats the famous three words written for him by Salim-Javed: 'Poorey Pachas Hazaar! (spoken part of the Kitne Aadmi The? monologue)
The students start to laugh and break into applause. And that is the end of MacMohan's guest appearance in Luck By Chance. He only speaks four words in the film -- words of no apparent consequence, and yet those are some of the most famous words in the history of Hindi language cinema.
And that is how Sholay has played out in our lives again and again.
Forty years later ,Sholay still holds, even though at 3.5 hours, the film is too long.
In between the action and all of the Gabbar Singh inspired violence, Sholay is stuffed with a lot of comedy, some not so funny moments, long flashback sequences and many scenes when the film's protagonists Veeru (Dharmendra) and Jai (Amitabh Bachchan) just lie around, wasting time, as if they are in no rush to get to the real purpose of the film -- the hunt for Gabbar Singh.
But as Bollywood fans we are trained to overlook all of that. Many will maintain those ingredients (including the Veeru-Basanti and Jai-Radha romance) are essential elements of the total film masala.
The magic and power of Sholay lies in its vast sweeping landscape that plays like a character in the battle between good and evil. Terrifically shot and edited, with a smart eerie sound design, very sharp writing, dialogues and powerful performances, Sholay is a testament to all that can go right with a film.
So 40 years later, Sholay does not look dated.
There have been attempts to upgrade Sholay -- from the awful Ram Gopal Varma Ki Aag to the add-on 3D component to the original film. Those plans mostly failed.
What we have with us, and for decades into the future, is that epic that Ramesh Sippy mounted and the gift he gave to generations of Hindi movie fans.
OUR SHOLAY SERIES