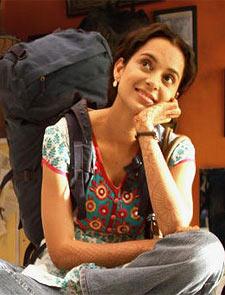 The fact that a woman-centric film can challenge those increasingly inane hero-vehicles is certainly cause for celebration, raves Raja Sen.

I retweeted a Bollywood trade publication last week, and haven't been able to stop thinking about it since.

It's not that I suddenly trust one publication over the other -- and heaven knows India could do with some properly audited box office figures, not a bunch of experts claiming to know better and yelling loud enough to drown each other out -- but this one made a tall claim that, if true, was genuinely worth celebrating.

It said: 'By collecting 21.20 crores in its second week, Queen has become the first movie since Gadar to have a better second week than its first.'

Assuming, again, that this is true -- or, at least, even close to true -- this is massive.
Because Gadar: Ek Prem Katha, that thickheaded Pakistan-bashing blockbuster, hit our theatres more than a dozen years ago, back in 2001.

It was an alarmingly huge success, with movie theatres across Punjab starting unprecedented 7am shows to accommodate the teeming crowds. Nobody could get enough of Sunny Deol, water-pumps or fists, and the very fact that a movie so jingoistic would grow as a success wasn't, at all, surprising.

What is surprising is that in the intervening 13 years, no rousing success has quite been rousing enough.

That Bollywood's dependence on the all-important opening weekend hasn't been challenged by any of the word-of-mouth successes we all thought must have gathered steam as they continued to stay in theatres.

Thirteen years, which include the Munna Bhai movies, the Dhooms, the Dabanggs and even Lagaan that released right alongside Gadar. There were films we championed, films that deserved multiple viewings, films that made far more money than they should... and yet nothing other than Gadar had a bigger second week than its first?

Until now.

Until now when a film -- starring a girl who was 14 when Gadar released -- is giving us hope.
The first reason to celebrate is how this oddly exhilarating statistic allows two movies so diametrically opposed in content to rub shoulders. Queen is nuanced, subtle, clever, tolerant and says good things about people from other nationalities. Gadar is... well, Gadar.
Equally smashing is the fact that a relatively small film like Queen -- a film without what the trade would refer to as 'a marketable hero', and instead a heroine with a very mixed box office record, a film that didn't spend as many crores on marketing -- could take on glossier films from bigger studios and more than hold its own.
Kangna Ranaut has been a revelation, to critics and country, and everyone seems to enjoy reveling in her moment of well-earned triumph.
And while the fact that a woman-centric film can challenge those increasingly inane hero-vehicles is certainly cause for celebration, it must be remembered that we've seen it happen not too long ago with Vidya Balan delivering Kahaani and The Dirty Picture back-to-back, films in which she was the hero. (It may even be argued that Deepika Padukone has been the hero in her recent successes, but that is a discussion for another time.)
It's also something that is, tragically enough, more flash-in-the-pan than it is a trend.
The more critical part of Queen's success is the fact that it's doing better than it did when it opened.
This, I repeat, is absolutely massive.
Because, like with the Hollywood summer blockbuster, we've become an industry focused squarely on the opening weekend.
A film releases on Friday, the audiences queue up (or don't), and regardless of results, there is a PR-blitz and a 'success party' thrown on Monday. And while carpetbombing theatres is invariably the order of the day, what we don't learn from the West is the way they give smaller films strategic, limited releases, breathing room, and allow them to expand instead of piling them up next to a standee of a superstar actor -- an actor who may as well be a standee -- and watching them die an unwatched death.
It's happening, every now and then.
Ship Of Theseus was marketed excellently, as was The Lunchbox, released slow and with much critical acclaim, and allowed to expand their footprint in theatres.
Very recently Rajat Kapoor's Aankhon Dekhi has -- owing to a great response from critics all around -- spread its legs and emerged with more shows a few days after its release.
Once upon a time -- long before I became a movie critic, a time of yore before front-page movie news and before reality-shows became more important to movie promotions than Chitrahaar -- the success of a movie would be gauged by how many weeks, even months, it would dominate theatres.
It's clear that the golden-jubilee era is a thing of the past, certainly, but when we look back, don't the films with longevity stand out over the ones with weekend-long shelf life?
They might not necessarily be better films -- Dabangg, for example, was a nearly-unstoppable juggernaut -- but they are indeed milestones. Because -- unlike carnival-fare they are coerced into gobbling up as soon as it is served -- they are films the audience has watched and chosen to watch again, or recommend, films they have kept around in theatres by making up their own mind.
Films like the delightful Kangna-starrer by Vikas Bahl, a film which genuinely deserves many a sequel.
God save the Queens.