'The vitriol against Deepika Padukone, who is a hugely popular star, will fade over time. But let's not forget what caused it,' says Shuma Raha.
Chhapaak, starring Deepika Padukone as an acid attack survivor, is a story of triumph.
It's an enabling story about overcoming horrific odds that may suddenly be flung at you, searing you, maiming you, and seemingly condemning you to death in life.
It's a story of hope over hate. For every acid attack against a woman springs from hate -- a retaliatory hate that insists on teaching her a murderous 'lesson'.
In the film, Padukone plays Malti, a young girl who goes through multiple surgeries to reconstruct her acid-ravaged face, fights a long and arduous legal battle to bring to justice those who had attacked her, becomes an acid attack activist herself, and ultimately, finds both love and a career.
But despite its almost fairy tale ending, Chhapaak, which is based on the real-life story of acid attack survivor Laxmi Agarwal, keeps its focus on the sulphurous hate, the vicious misogyny, that lies at the heart of this awful crime.
"So you want to achieve great things?" Malti's spurned lover and soon-to-be assailant whispers menacingly to her over the phone.
His voice is thick with hatred -- hatred for a woman who refuses to comply and wants to exercise her own choice.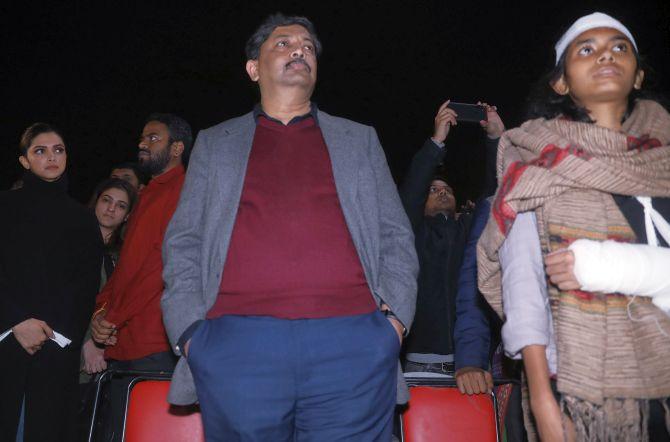 Ironically, the hatred that has enveloped Deepika Padukone ever since she turned up at the beleaguered precincts of Jawaharlal Nehru University may be seen as a variation on the same theme.
Padukone had stood with the protesting students of JNU, and though she did not utter a single word, the cameras captured her sombre face and showed her greeting JNU students union President Aishe Ghosh, who had been been grievously assaulted when a group of masked goons went on a rampage inside the campus on January 5.
And at once, the actress was pitchforked into an almighty controversy.
While some lauded her for lending her starry heft to the cause of the protesting students, others said that it was no more than a publicity stunt, a calculated strategem to ride the headlines and trend on social media ahead of the release of her film, Chhapaak.
And still others began to badmouth her because they felt she was rooting for JNU's left-leaning students who are routinely damned as anti-national by the powers that be.
WATCH: Deepika greets JNUSU President Aishe Ghosh
It is this latter group that immediately called for a boycott of Chhapaak, and the film was slammed with one-star ratings the moment it released.
Clearly, the idea was to hit Padukone where it hurt, for she is not only the lead actress of the film, she is also its producer.
When so many other megawatt stars of Bollywood had remained silent and not taken sides over the protests against the CAA-NRC taking place across the country, Padukone's gesture of solidarity with disaffected students could not go unchallenged or unpunished.
Publicity gimmick or not, she had been seen to take a stand that was contrary to what was expected of A-list celebrities like herself. She had not been compliant -- and the blowback was swift and hard.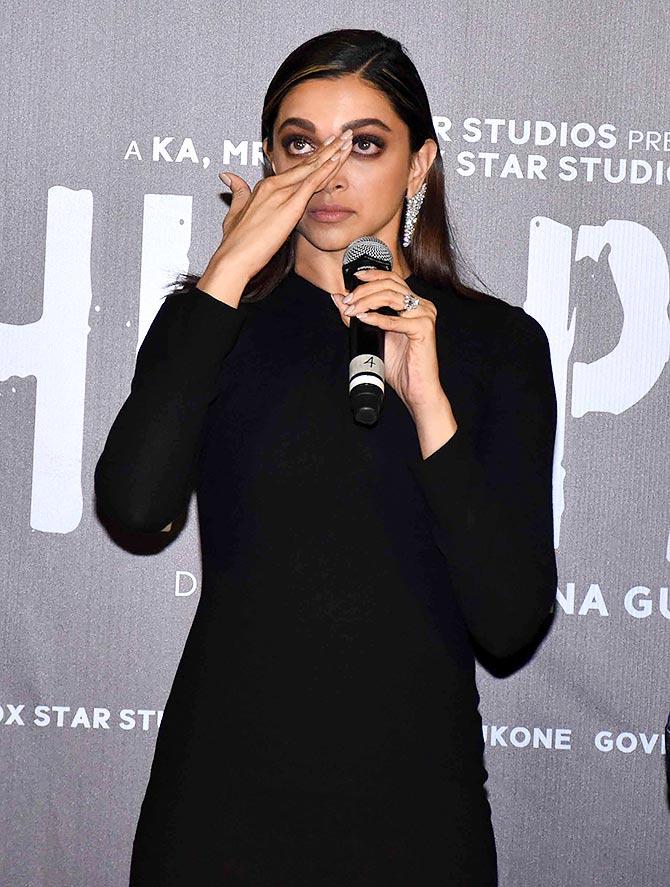 Padukone is no stranger to hatred. In 2017, the Karni Sena, a group in Rajasthan agitated over alleged distortions in Sanjay Leela Bhansali's film Padmaavat (where she played the role of the mythical queen), had threatened to cut off her nose.
But though scary, that threat could be dismissed as the ravings of the lunatic fringe. This time, the animus has been mainstreamed.
BJP leader Tajinder Singh Bagga tweeted the call to boycott Chhapaak; Union minister Smriti Irani said she had sided with 'those who celebrate every time a CRPF jawan is killed'.
These are voices from the government, and they were making it clear that there's a cost to supporting those they view as the 'other'.
In 2016, another Bollywood bigwig, Aamir Khan, lost a lucrative contract as brand ambassador of Snapdeal after he was roundly vilified for having expressed his concern over the perceived lack of intolerance in the country. Khan has not spoken this time.
The vitriol against Padukone, who is a hugely popular star, will fade over time. But let's not forget what caused it.
Just as Chhapaak's happy ending must not make us forget the casual brutality with which some women's lives are destroyed simply because they refuse to fall in line.