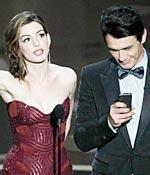 For a while there, we almost believed it. With dozens of first-time nominees -- several not old enough to drink -- and truly edgy films competing for the top prizes, not to mention two very pretty and zeitgeist-ruling people hosting the ceremony, we bought into the line the Academy masterfully fed us: that this was going to be, indeed, the young Oscars.
So, setting aside the fact that we whine about the awards every single year we thought there was hope. We thought that surely the Academy would unstuff its collective shirt and make up for some past injustice.
The nominations included Mark Ruffalo, Michelle Williams, Jesse Eisenberg -- understated, lovely, anything but showy. Surely, then, the Academy was beginning to choose smart over obvious. Surely even they would have to bow before the unquestioned magnificence of The Social Network.
Alas, it was all a tease.
The sparkling Anne Hathaway and the sensational James Franco appeared to have come on stage after several bottles of bubbly: he nodded and smirked and looked unbelievably bored, while she, to make up for it all, giggled her pretty little head off. It was a painful display, a tragic show of amateurish incompetence that allowed the Academy to crow over how the old guard was better than these new fellows.
And better it was. Kirk Douglas, unable to complete a sentence, brought charm and humour to the ceremony. Twenty-time nominee Randy Newman had the best acceptance speech around. And the funniest man all night was Bob Hope, his bit from six decades ago still gathering more laughs than anything else all night: not least Franco's unfortunate decision to dress up as Marilyn Monroe.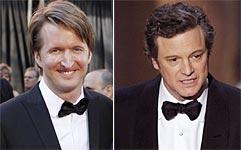 The Awards themselves gave us very little to cheer about. I quite enjoyed The King's Speech, but it is a safe British period film that faithfully follows a sports-movie template. It's very watchable -- and Colin Firth deserves his Best Actor prize, even though I was really, really rooting for Eisenberg -- but utterly unremarkable.
Tom Hooper getting the Best Director trophy was the most atrocious decision of the night, considering that all of the other nominees did a far better job than he did -- especially David Fincher.
Fincher's The Social Network won the two awards it couldn't have possibly lost -- Best Original Score for Trent Reznor and Atticus Finch, and Best Adapted Screenplay for Aaron 'mywordsareawesomerthanyours' Sorkin -- and these were a given. It would have been ridiculous if the film hadn't won these, and the Best Editing Oscar was a good sign, but yet more of a tease.
As Hooper's overrated, predictable film began to politely sweep the Awards, smiling even as it knew how unwanted it was.
We'd seen it coming, really. All of it. But from a list of winners so predictable to a bland ceremony -- not to mention the utter heartbreak for all of us vainly hoping that the Oscars start recognising true genius instead of popular soft-focus piano-tinkling pap -- the Academy bamboozled us and led us on, playing the young card while demonstrating that young isn't always better.
My remedy was simple. The Social Network on DVD.