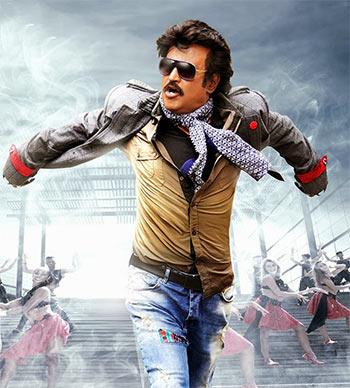 Two successive Rajni flops could well mean that Tamil cinema might come to a grinding halt, affecting the careers of other big-ticket actors, banners and filmmakers, says N Sathiya Moorthy.
Two Rajnikanth flop-shows in a row, and not just the actor's career but the very idea of superstardom in Tamil cinema may be under threat.
Rajni's Kochchadaiyan and Lingaa both released in 2014 and both bombed at the box office.
This sent distributors and exhibitors into a tail-spin and they demanded that he compensate them for the huge losses they suffered in the latter.
They went to court, threatened to launch a 'beggar-campaign' outside his residence and even threatened to commit suicide if Rajnikanth did not compensate them for their losses.
In fact, true to the practice prevalent in the Tamil film world (and practised by the late M G Ramachandran and Sivaji Ganesan in their time), Rajnikant made Lingaa only to compensate the industrywallahs, who had suffered huge losses over Kochchadaiyan.
Kochchadaiyan was the first full-length Indian animation movie, made by Rajni's youngest daughter Soundarya Ashwin, at great cost and amidst unending controversies.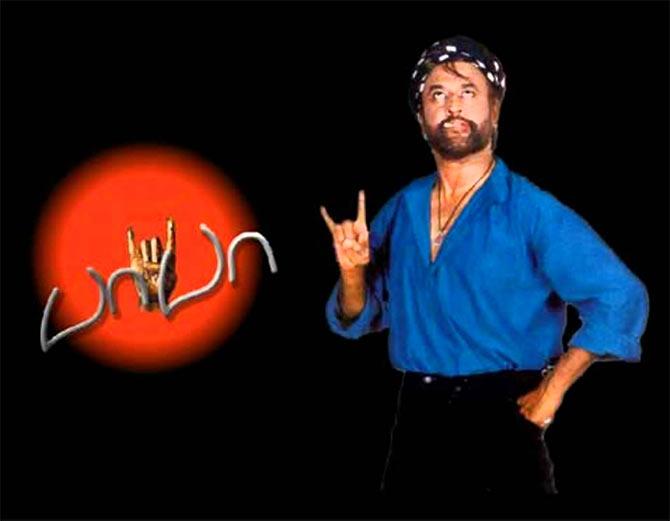 Image: Rajnikanth in the Baba poster
Rajnikanth, according to reports, has agreed to compensate the industrywallahs up to a total sum of Rs 10 crore, though they claim they have lost Rs 32 crore in Tamil Nadu alone.
Rajni has only himself to blame for his present predicament.
After his film Baba bombed in 2002, he offered compensation to the distributors and exhibitors.
He felt he was to blame for mixing spirituality and contemporary commercial cinema and making a mess of it.
But Rajnikanth was reportedly under pressure from fellow actors, particularly in Tamil cinema, who were apprehensive that he was setting a bad precedent.
But according to the distributor-exhibitor combine, they bet not on the production house or on the filmmaker, but only on the mass-appeal and saleability of the man called Shivaji Rao Gaekwad, popularly known as Rajnikanth.
This is a hollow argument, say producers and actors.
The distributors and exhibitors never share the huge profits that they make on some movies, either with the producer or the filmmaker or the actor. So why should they want to share the losses that they have suffered due to their greed and poor judgement?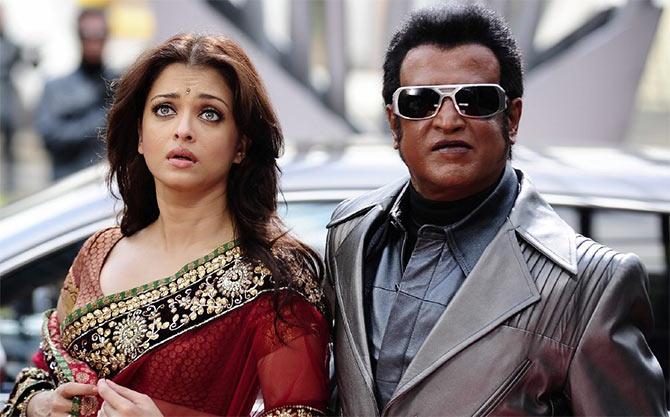 Image: Aishwarya Rai Bachchan and Rajinkanth in Robot
Therein lies the catch.
Two successive Rajni flops could well mean that Tamil cinema might come to a grinding halt, affecting the careers of other big-ticket actors, banners and filmmakers.
But independent of Rajni's flops and the flops of other 'big' actors, a lot of young talent in film-making and acting departments has been throwing up massively different scripts and screen-plays that have made huge profits at the box office.
The Tamil film-goer is getting used to seeing movies without big names in the credits.
Rather, they seem to be happy to skip 'formula films', where stunts, songs and dances are imposed on a hugely predictable script.
Rajnikanth and contemporary star Kamal Haasan themselves were products of such a changeover from the competitive days of the late MGR and Sivaji Ganesan.
They bided their time before becoming 'superstars' of Tamil cinema. But before them, the careers of many a talented actor was caught in the competitive cross-fire between the hugely successful MGR and Sivaji Ganesan.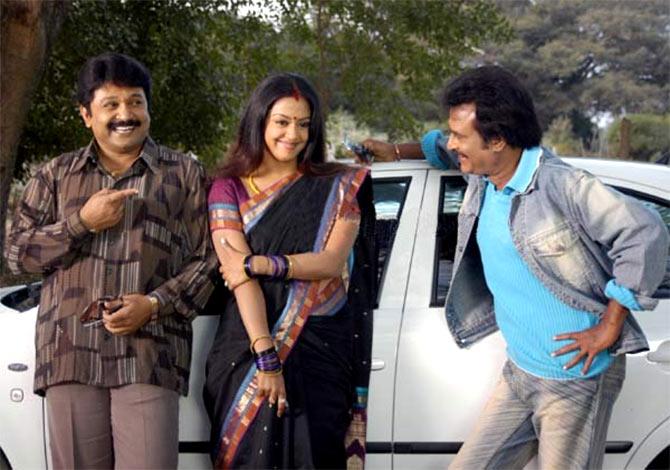 Image: Prabhu, Jyothika and Rajnikanth in Chandramukhi
Rajnikanth was a sure-fire success for so long that three years after Baba (2002) flopped, he was still the 'superstar' of Tamil cinema.
Chandramukhi released in 2005 and was marketed as a 'superstar movie' -- and made it big.
It's another matter that the 'superstar' shared the credit in the film with actors of yesteryear Prabhu and Jothika, whose stellar performances in the climax scene possibly carried the day.
Some industrywallahs feel that Rajnikanth should have called it a day after his massively successful, big-budget, multi-lingual project, Robot.
The SMS jokes on his superstardom that went viral after the film's release -- and that pop up even today -- reflected the mood of the present-day film-goer.
Not every film-maker or banner has been able to repeat the successful production values and marketing technique of Robot. But the high production and ticketing costs means there are fewer repeat viewers, who form the base of a superstar's popularity.
Fans cheer their star, but cannot afford to view his movies in the cinema halls more than a few times. This means that the 'silver jubilee' (or 175 days of continuous run) of the 1960s, 1970s and 1980s is a thing of the past
With high-charging multiplexes with fewer seats replacing the traditionally low-ticket, high-capacity cinema halls, the first weekend box office collection alone seems to decide the collection prospects of any film and/or actor.
After a series of flops from its top actors, including two from Rajnikanth, over the past couple of years, the Tamil film industry is pinning its hopes on Kamal Haasan's Uthama Villian, due for release on April 10.
Two other Kamal movies are also due for release -- Vishwaroopam Part II, in June, and Papanasam in July.
N Sathiya Moorthy, veteran journalist and political analyst, is Director, Observer Research Foundation, Chennai Chapter.