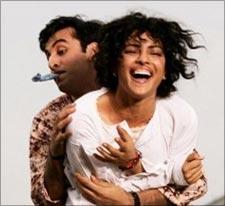 So Barfi! is India's entry for the Oscars next year.

What did columnist Dilip D'Souza, who saw the movie last week, think of it? We asked him to tell us:

So we've got a love story.

Young man imaginatively, passionately and endearingly woos young woman, winning not just her heart but all of ours too, watching. I mean, whose heart would not go out to a man who mimes plucking out his own heart and placing it at his lady's feet?

The tender way it develops, the sparkle in their faces as they realise their feelings, that beautifully rendered first kiss that must have set romantics' memories abuzz all over this land... and then the girl marries someone else! The heartbreak, the bitterness! Yes, it's a love story.

No, but we've got a love triangle. Not with the husband, who's really just one-dimensional collateral damage in this extravaganza. With another young woman instead, Jhilmil, childhood friend of Barfi's.
Jhilmil's condition naturally evokes sympathy from Barfi, and almost by accident they end up spending months together. The result: The sympathy is mistaken for/morphs into love. Not the most believable result, but there you are. So yes, it's a love triangle.

No, but we've got a kidnapping mystery. So you see, and pay close attention: Because of her condition Jhilmil lives in a home for kids like her. But then her wealthy grandfather is dying. Her father takes her to see him. But the grandfather hasn't left any money to her father. Or it's in trust for her. Or something.
Then somebody decides to kidnap her. That plan turns upside down and somebody else kidnaps her. There are two ransom notes, and her father goes to a tea garden and then a railway station to pay the ransoms.
But the car she's in falls in the river. Her kidnapper blows large bubbles in which he catches fireflies, the bubble-blowing device later a clue for the cops. Sometime later, or earlier, I don't know, she is lost in Calcutta and calls the home she was in to come rescue her.
Barfi is a suspect and Jhilmil's father assaults him mercilessly, and for no reason I can fathom one cop whacks another and Shruti watches from the back of the room, batting her comely long eyelashes in distress.
Somewhere in the middle of all this, or maybe not, the whacking cop chases Barfi through the streets of Calcutta, allowing for the earliest of several scenes copied wholesale from other films, this involving a ladder. Got all that straight?
It's all so incredibly involved and baffling that yes, you think, it certainly is a kidnapping mystery. It certainly is mysterious, I'll say that.

But no, Barfi! is a nostalgia piece about Darjeeling and Calcutta in the 1970s. No, it's about living with disabilities. No, it's a vehicle for a director to explore his story-telling skills in non-chronological order -- kind of like Memento in that sense -- to see how many times he can jump between three (yes, three) different timeframes and still tell a coherent story. (Answer: None). No, it's something else altogether, take your pick.

You see the trouble with Barfi!? It cannot decide what it wants to be. So it tries to be all those things. So it falls on its face.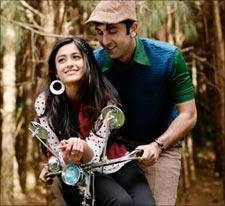 But you want positives, right? This is a box office success, right? And it's been called beautiful and sensitive and well-acted heart-warming and all that stuff, and all that stuff must be in there, on the screen.

Yes, it is there.
For one thing, the photography is wonderful. Some of the framing of scenes is just beautiful: One scene of Kapoor in the left bottom corner of the shot with Calcutta splaying behind and away from him is emblematic. And with that, the colours: Of doors, walls, clothes and more.

Ranbir Kapoor is like a livewire rolled up with a breath of fresh air: Barfi's face, his antics, his winsomeness light up every frame he's in. So much so that in the few scenes where he's baffled and hurt, Kapoor makes you feel that hurt viscerally, almost more than he makes you feel Barfi's sunny side.
Priyanka Chopra is reminiscent of Leonardo diCaprio in What's Eating Gilbert Grape. That's high praise, but she's that good as a autistic (or is it mentally-challenged?) young girl. She gets the hand and face movements so achingly just-so. She gets the child-caught-in-a-grown-up-body moments so spot on.

In one scene Jhilmil lies in wait for Barfi returning from the market; for his part he's playing a burglar with a radish for a gun. There's a split second between her leap out to frighten him -- he doesn't hear her -- and him turning the radish on her to frighten her. That one tiny moment captures something of the spirit of this movie -- of well, the movie if it's about living with disabilities.

But sadly, that one tiny moment really captures what this movie could have been. For example, it could have stuck to the disabilities theme, and with these clearly two talented actors (Chopra and Kapoor) it would have been a fine film.

Instead, we have Ileana D'Cruz playing Shruti and you know what? Here's one more slender, doe-eyed pretty girl who believes acting is the sum total of dressing up in pretty saris, wearing a large bindi, crinkling those eyes and crumpling those lips from time to time. (Swades and Rab Ne Bana Di Jodi come to mind, possibly Lagaan too).
No, before you ask or suggest it meaningfully, I have no idea about acting. But Bollywood watchers' standards must be low indeed if we hail D'Cruz for her 'quiet grace' in this film, as I remember reading somewhere.
When will Bollywood demand more from aspirants like D'Cruz?

Instead of a fine film, too, and damningly, we have a whole catalog of copied scenes and music. The ladder scene. The door scene (copied from a 95-year-old film!). The sleeping under a covered memorial scene. The mother showing her daughter the love of her life scene. I mean, please look at this page for a list of what's copied, with all the relevant clips.

Barfi! copies from Chaplin, Keaton, The Notebook, Koshish, Singin' in the Rain, Amelie...... I mean, I loved one of Barfi!'s songs, Ashiana. Really a magnificent tune, and again beautifully shot. And yet with all the copying that's in the film, I couldn't help thinking: How similar is even this song to that earlier masterpiece, Gore Gore (O Banke Chhore) from the 1950 film Samadhi?

Is it so damned hard to be original? Does it say something about us that plenty of people prefer to call it 'inspiration,' rather than copying?

You see, I write for a living. If I wrote a book that lifted this much from other books by other people, my book would be scrapped and I'd be in disgrace.

But Barfi!? It's our Oscar entry. Figures.