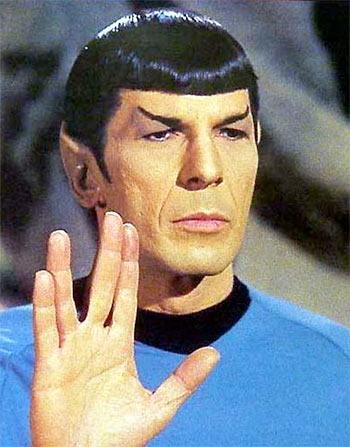 Leonard Nimoy let us all experience how sexy thinking could truly be, says Raja Sen.
I doubt anybody really remembers the first time they watched Star Trek. How old they were, what episode it was, what was the point at which Scotty beamed the gang back up onto the USS Enterprise... All of those seem irrelevant particulars.
What everyone does remember is a moment, or a glimpse: the bridge of the USS enterprise, the urgency, the ray-guns, the way the doors swooshed open automatically, the unforgettable silhouette of Lieutenant Uhura...
What I remember -- and here I speak naturally for the majority -- is a man so certain of his position that he didn't have to be called Captain or Doctor or Lieutenant.
He was a pointy-eared man with eyebrows as sharp as his intellect, a man who made the heretofore banal word 'Mister' sound thrilling and exciting and, well, just plain cool.
The way Leonard Nimoy played Mr Spock was beautiful, minimal, restrained -- even as most performers around him hammed it up to the nines, especially William Shatner as Captain Kirk, punctuating his star-logs with perplexing pauses.
Spock was icy and in-control and a man from another planet -- a Vulcan -- who had a special (but nimble, easily executed ) finishing move called The Vulcan Death Grip. And that's not the only way he used his fingers iconically: his 'Live Long And Prosper' salute -- flat palm, thumb stuck out, fingers separated so two pairs form a big V -- will outlive us all. (Here's how I see it, in keyboard terms: \\// )
It's not hard to see why this man earned himself an instantly special place in the hearts of children.
But it wasn't just the television epic.
We grew up, and Nimoy stayed around, watching over us: he hosted shows about unsolved mysteries, looking all knowledgable and making things appear eerier than they were; he popped up gamely on The Simpsons and Futurama; he directed Three Men And A Baby; and he was the narrator of one of the most ambitious games of all time, Civilization IV.
Despite a full and interesting career, however, Nimoy was invariably known for his Star Trek character -- a fact he winked at in his two autobiographies, the first called I Am Not Spock and the second called I Am Spock -- but that can't at all be a bad thing.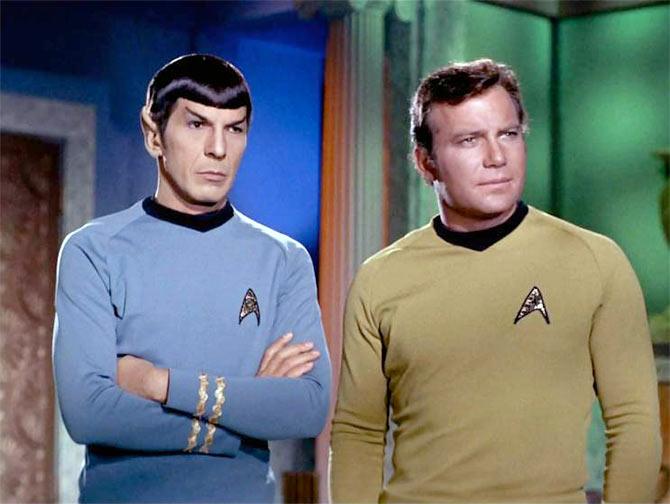 Image: Leonard Nimoy and William Shatner in Star Trek
As Spock, Nimoy showed us the brilliance of levelheadedness, the power of precision, the supremacy of silence, the regality of restraint. He made us treasure the very idea of 'logic.' He knew better.
Many years before a certain Cumberbatch played a certain Holmes, Nimoy let us all experience how sexy thinking could truly be.
He's gone now, and, more than merely prospering, he lived long and proper.
Through what he said and the projects he chose, the one and only Leonard Nimoy left us all wiser, cleverer, curiouser -- with our ears perked up.