Interviewing Anil Kapoor, Syed Firdaus Ashraf discovered early, is a real pleasure.
Illustration: Uttam Ghosh/Rediff.com
"Why don't you interview Anil Kapoor?" the editor asked one afternoon.
I was a fan of Anil Kapoor's, maybe just a tad less than my then favourite Govinda.
Kapoor's career, which had been soaring high through the 1980s, had commenced its downward descent by the mid-1990s when the Khans began their ascent to the pinnacle of Bollywood.
The ed wanted to know how Kapoor, whose effervescence can give ten crates of soda a run for their brio, was dealing with this reversal of fortune.
He gave me Kapoor's office number. I wanted to speak to Mr Anil Kapoor, I told the person at the other end, and added that I was calling on the editor's behalf.
In five seconds or thereabouts, Kapoor was on the line, bellowing a cheery Hi!
It took me a minute or so to recover and correct Kapoor's impression that he was speaking to the editor, someone who had interviewed him a decade or so earlier.
After the star and editor exchanged pleasantries, the ed mentioned I wanted to interview Kapoor and passed the phone back to me.
Kapoor told me he was flying to Hyderabad (he was shooting for Judaai in 1996).
I asked for his contact number in Hyderabad (this was in the pre-mobile era), so that our correspondent there could interview him.
Anil Kapoor was adamant that I interview him. He asked me to speak to a gentleman who, he said, would arrange a ticket for me to travel to Hyderabad.
I had been in journalism for less than two years, so I wondered why Anil Kapoor would spend so much money just for one interview.
It also occurred to me that maybe the editor was playing a prank and the person at the other side of the phone was not Anil Kapoor.
For some inexplicable reason -- all these years later I still wonder why -- I packed a lungi in a plastic bag and headed to Mumbai's Santa Cruz airport.
I didn't even wear shoes -- I wore a pair of sandals, jeans and a cotton shirt.
If it was indeed a prank, I reasoned, I would not feel bad because I would have no luggage.
I had just Rs 100 in my wallet, and no credit cards (it would take me more than a decade to get my first credit card, but that's for another column :)).
As I waited at the airport, I wondered again if it was a prank.
I was about to leave for home when a man approached me.
He handed me a boarding pass and asked me to board the flight to Hyderabad quickly, it would leave soon, he added.
So with a lungi in a plastic bag, no extra pair of clothes and just Rs 100 in my pocket, I set off for Hyderabad.
***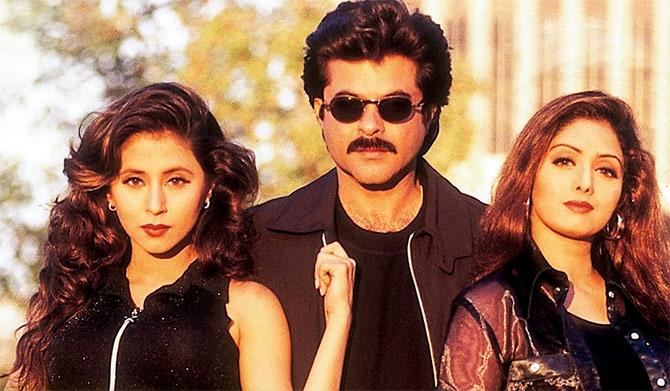 IMAGE: Anil Kapoor with his Judaai heroines, Urmila Matondkar and Sridevi.
When I boarded the flight, I discovered Anil Kapoor's magnanimity. He had arranged a business class ticket for me.
A chauffeur with a placard bearing my name waited at Hyderabad airport.
Embarrassed at my crumpled cotton shirt, I revealed my identity and boarded the car.
Further embarrassment awaited me.
The car pulled into a five-star hotel. I had no money to tip the driver or doorman. All I had was one 100 rupee note.
At the hotel, I met Anil Kapoor's manager who asked me to get ready in an hour. The star was waiting for me at Ramoji studio, he said.
He also asked where my luggage was.
With much embarrassment, I pointed to my plastic bag.
***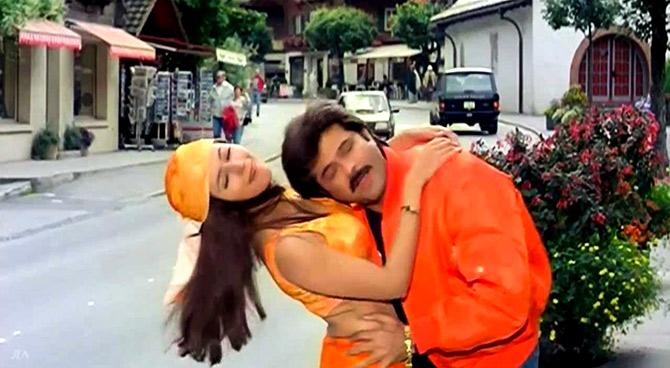 IMAGE: Urmila and Anil Kapoor in the Mujhe Pyaar Hua Allah Miyan song from Judaai.
When I arrived on the sets at Ramoji studio, Anil Kapoor welcomed me and introduced me to the entire unit, including Urmila Matondkar. Sridevi was not present on the sets that day.
The song Mujhe Pyaar Hua Allah Miyan was being picturised.
Anil Kapoor told everyone that I was the "man from the Internet."
The Internet had just arrived in India and Rediff On The Net (later Rediff.com) was the country's first Internet Portal.
"Do you know the full form of HTML?" Anil Kapoor asked me.
"Hypertext Markup Language," I answered.
He quizzed me some more, and I replied diligently.
He then took me to dinner where the entire Judaai unit was present. Sridevi made an entry as well.
***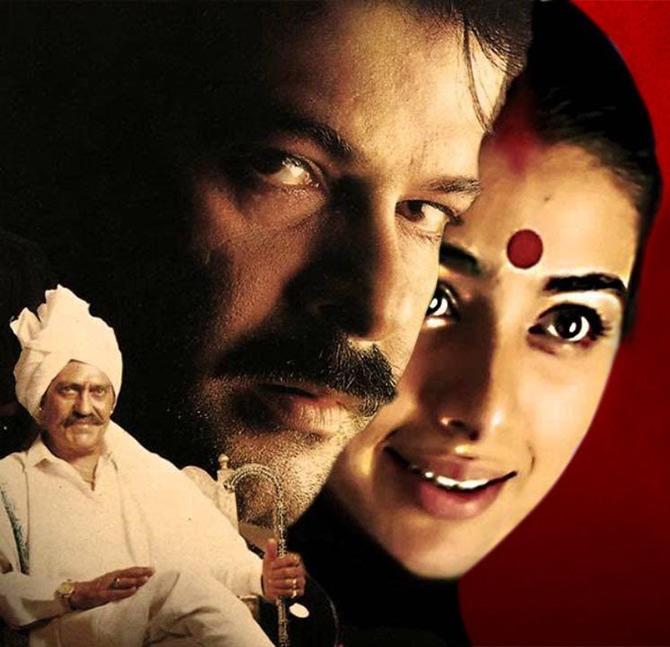 IMAGE: Anil Kapoor packs in an intense performance in Virasat, co-starring Tabu and Amrish Puri.
The interview took place the next morning.
After the interview, I told Anil Kapoor that I was a huge fan and that I would stand in long queues to watch his films like Ram Lakhan, Tezaab and even the surprise hit Eshwar.
"Where is Lakhan?" I asked, "Where is Munna of Tezaab?"
I asked why he didn't do roles like those career boosting performances to take on the Khans.
"I will make a big comeback soon," he promised.
And he did just that.
Judaai became a hit, followed by Virasat.
Though Anil Kapoor didn't regain his numero uno position of the mid and late 1980s, he proved he was not someone who could ever be written off.
Slumdog Millionaire and 24 brought him unexpected fame in the West.
In Dil Dhadakne Do, he revealed that he is like a bottle of good French wine, getting better and better with age.
At 60, Mubarakan is yet another milestone in Anil Kapoor's astounding journey.