The father-son duo featured on a magazine cover and we can't decide who is more bindass.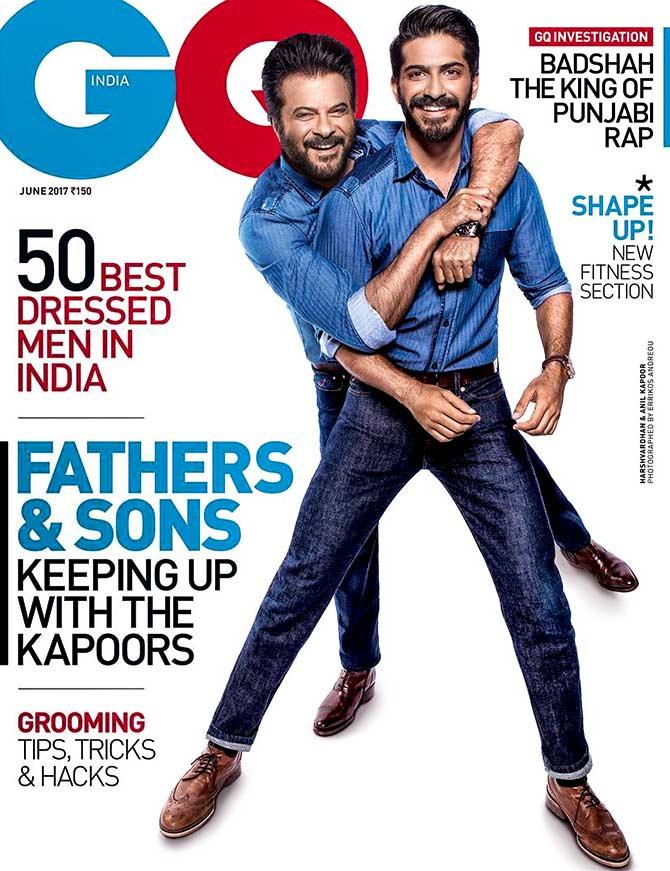 IMAGE: Anil and Harshvardhan Kapoor pose on GQ's June cover.
Photograph: GQ India magazine cover
Anil Kapoor and his son Harshvardhan featured on the latest GQ India cover, dressed in identical clothes, looking like a mirror image of each other.
Like old wine, Anil Kapoor seems to be getting better with age, and Harshvardhan left no stone unturned to match up with his dad's energy and enthusiasm.
There's no denying that the handsome and fit father-son duo looked playful and stylish on the cover -- clearly they looked like they had too much fun shooting the cover!
Twinning in a denim look, their amazing chemistry was clearly visible.
The entire Kapoor clan seemed excited to share this cover with their social media fans.
Sonam Kapoor uploaded the cover on her Instagram page and wrote: 'Feel like photo-bombing this shot and taking over!'
She was joined by sister Rhea who added, 'Some of my favourite young men right here!'
'Couldn't be more proud to share the cover of @gqindia with @harshvardhankapoor! The future is here & I'm thrilled to be a part of it !!#KeepingUpWithTheKapoors,' Anil Kapoor wrote on his Instagram page along with the photo.
'It was 'bring your parents to work day' and now apparently we are on the cover of @GQindia. Looking dapper with the one and only @anilskapoor #LikeFatherLikeSon,' Harshvardhan captioned the pic on his page.
Readers who do you think is the cooler Kapoor?
Is it dad Anil Kapoor with his jhakaas attitude?
Or did Harshvardhan impress with his cool and composed demeanour?
Take the poll and let us know.