Marathi cinema is undergoing a dramatic metamorphosis.
In recent years, it is not only the number of films produced that have seen a rise. Many of these films are being appreciated for their original plots and nuanced interpretations.
The latest film in this list has both an unusual lead actor and a 'hatke' storyline.
Katyar Kaljat Ghusali, starring singer-composer Shankar Mahadeven in the lead role, is revelling in both commercial and critical success.
It is through this prism that Sumedha Raikar-Mhatre examines the state of the Marathi film industry, which annually produces around 190 dissimilar films requiring an investment of Rs 400 crores.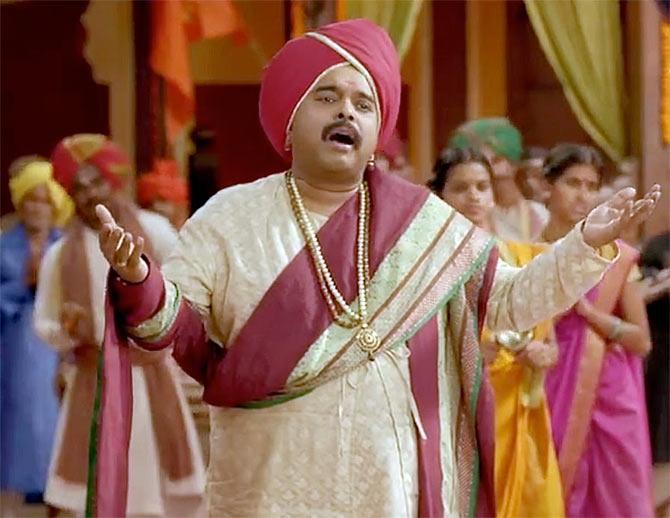 Shankar Mahadevan makes his acting debut in Katyar Kaljat Ghusali.
Actor-director Subhodh Bhave is in a triumphant mood. Back from Qatar, where his wildly popular Marathi film, the Shankar Mahadevan starrer, Katyar Kaljat Ghusali (A Dagger Pierced The Heart), was premiered, he is catching up on some much-needed sleep before he flies off to Singapore, Dubai and other distant lands where a Marathi-speaking diaspora eagerly awaits his formulaic entertainer based on a 1962 Marathi musical.
Bhave's runway success has the multiple ingredients -- the backdrop of a feudal pre-Independence princely state, plenty of petty intrigue of the courtly kind with the good and bad guys clearly demarcated, 56 minutes devoted to popular natyasangeet recreated by the musician trio Shankar-Ehsaan-Loy.
He is probably ready for a masterclass on feature film marketing, where a chapter will be devoted to his casting of a non-actor (composer-singer Shankar Mahadevan) as the lead. He can elaborate on how a clever mix of royalty, drama, spectacle and theatre music (close to the Marathi self-image) can be sold in select pockets in the US (pre-booked weekend viewings on 25 screens), Netherlands, Australia and the Middle East.
The film's producers are forging networks with overseas Maharashtra mandals that are keen on screening Katyar, which is among the four shortlisted Indian films for UNESCO'S Fellini medal.
Bhave likens Katyar's commercial success -- the film is in its third week and has grossed over Rs 12 crore -- to an extraordinary, other-worldly experience.
"I hadn't aimed for a blitzkrieg of this scale. Mine was a first-timer's effort to base a film on a play I had adored and also mounted. I was so possessed by the numbers. It became my mission to take the legacy to a generation that was unaware of the magic," gushes Bhave, adding, "The film is no longer mine. It has become a property of the audience spread out before 750 screens across India, which includes seemingly unlikely auditoriums in Hyderabad, Baroda, Belgaum and Gurgaon."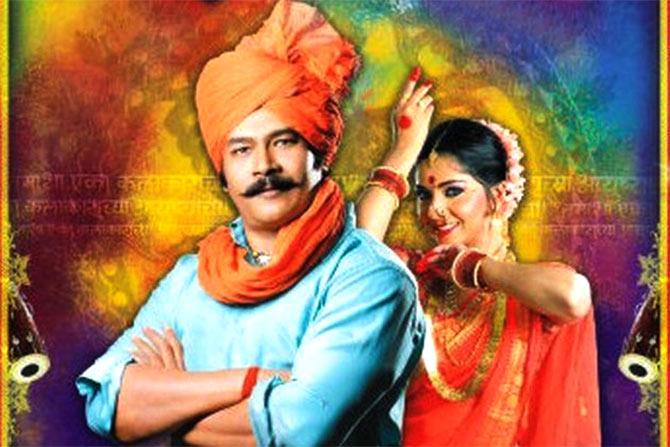 Image: Natarang dealt with the sexual identity crisis a male artiste faces in the world of tamasha entertainment.
But it is Katyar's cast that has grabbed the most newsprint.
Popular singer-composer Shankar Mahadevan plays the lead role of classical singer Pandit Bhanu Shankar Shastri. He is pitted against yesteryear Hindi actor and popular Marathi filmmaker and actor Sachin Pilgaonkar, who plays a rival vocalist.
The casting coup has been successfully marketed by Zee Studio (Essel Vision) as a face-to-face musical jugalbandi between two singers, which leads to souring of relations when one of them allows narrow ambition to overtake his sense of right and wrong.
A stoic disciple (played by Bhave) brings the two together and establishes the supremacy of music over human ego. The film uses various padas from the original play, of which Mahadevan sings six of the total 17 tracks, while his son Shivam has rendered two.
In the words of actor-filmmaker Mahesh Manjrekar (Vaastav, Astitva and the upcoming Marathi film, Natasamrat), "Music is the hero of Katyar. There are many people like me who have not heard the originals sung by Hindustani classical vocalist Vasantrao Deshpande."
Filmmaker Sachin Kundalkar (Rani Mukerji's Aiyyaa and the Marathi film Happy Journey), who has come down heavily on the use of nostalgia as a key moviemaking tool, has also appreciated Katyar. "I am not the 'old-is-gold' advocate or someone who appreciates Marathi theatre and films that revere the past. But Katyar touched me and that's because it is the watershed play which saved Marathi theatre from the clutches of mythological extravaganzas, which were quite fraudulent."
Katyar's nostalgia trip has lured the box office. But the mathematics of commercial cinema brings with it a stereotypical template. Even the music or the casting, the supposedly sublimating factors, cannot elevate film when a director opts for a risk-averse presentation.
Had Bhave used the play to create a contemporary cosmos of flesh-and blood characters, with tensions that speak of universal concerns, he might have opened a door of creative possibilities.
Instead, he equates mainstream cinema with over-the-top, loud portrayal of many of his characters. He avoids the faintest touch of grey (particularly in Khansaheb Sachin) because he is convinced that overt 'filminess' and 'bling' draw crowds.
Undoubtedly, the histrionic delivery style of the Hindi dialogues, coupled with Sachin's gaudy-garish costumes, has a market of its own.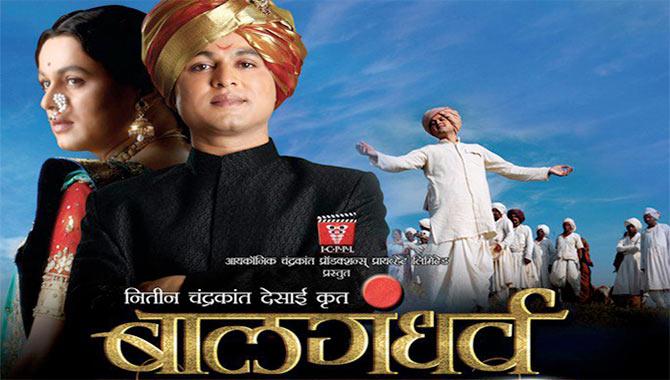 Subodh Bhave in Bal Gandharva.
But Bhave (who is himself a talented performer, most remembered for his nuanced lead role in the 2011 Marathi biopic Bal Gandharva) need not have banked on such preposterously high-pitch maudlin stuff.
His compromise places Katyar in the company of recent Marathi box office successes such as Duniyadari (2013), Timepass 2 (2015) and Lai Bhaari (2014) (the Ritesh Deshmukh-starrer, with Rs 35 crores, is highest-grosser in Marathi film history) that rested on formulaic ingredients to ensure entertainment at any cost.
Apart from the flat characters in Katyar, there is one aspect of the film that is outright regressive. The Muslims in the film come across as caricatures.
Interestingly, director Bhave took the creative liberty to enlarge the Hindu Pandit's role (as compared to the original play) but did not take the same liberty to humanise the role of his Muslim rival. The Muslim singer is projected as hugely egoistical, crafty, go-getting and ungrateful. His wife (played by popular television actress Sakshi Tanwar) is shown as the Machiavellian character who poisons the Hindu singer.
The portrayals, unfortunately, match Muslim stereotypes enforced by popular discourse, more because there are token 'good' Muslims who strengthen the mainstream cinema edifice.
Music director and poet Sambhaji Bhagat (whose life has inspired the award-winning Marathi film, Court) says, "Beneath the super-perfect cinematography and production design lies a script that promotes factionalism and majoritarian nationalism of the worst kind. At the outset, the divisive ideology is not obvious but, on a closer reading, the sub-text gets clearer. You get to meet the same back-stabbing authoritarian rigid Muslim that is projected in Marathi historical plays for years. In that context, Katyar does more harm than a 'timepass' mindless entertainer, because it has an inbuilt capacity to gloss over the melodrama."
Katyar's producer Nikhil Sane (among Marathi cinema's top 10 producers, with films like Natarang (2011) and De Dhakka (2008) under his belt) justifies the film's black-and-white view. "The industry, and particularly the Zee group, has financed nuanced portrayals in the past that were risky propositions. Natarang was about the sexual identity crisis a male artiste faced in the world of tamasha entertainment. Elizabeth Ekadashi (2014) was a sociological comment on the pilgrim town of Pandharpur. But each production need not take on the risk of changing the audience's taste."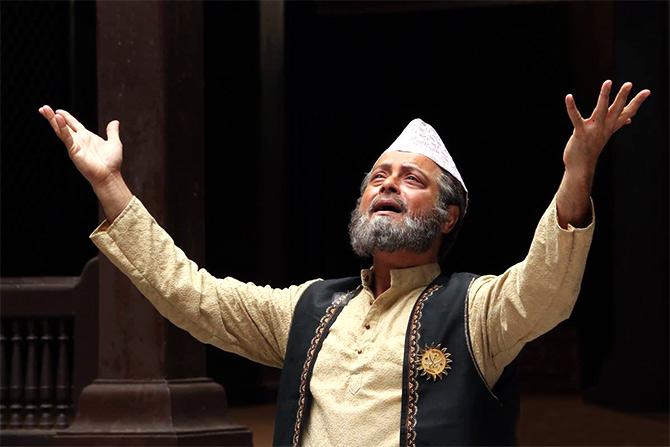 Sachin Pilgaonkar plays Khansaheb in Katyar Kaljat Ghusali.
He says he appreciated Katyar because Bhave has made it into an unabashedly masala movie without any pretence. "Katyar is a Marathi thali that caters all individual tastes and preferences. What can be said if someone doesn't agree with the thali construct?"
Marathi film producer Vivek Kajaria, who is currently making Rakshas (last year he financed Fandry, an untouchable teenager's love for his higher caste classmate), also feels the industry must celebrate Katyar's success.
"The Marathi industry is trying out several intelligent ways of making people come to the theatres. Nostalgia is one of the preferred marketing tools. But there are no guarantees that the youth will be lured by nostalgia. Each Friday release is a fresh battle. I feel the Marathi film industry accommodates a distinct subject variety, which very few regional film industries can be credited with at this point."
JAR Pictures' Alan McAlex (producer, Killa (2014), which highlights the agonising time faced by an adolescent after his father's death; it was selected for the 64th Berlin International Film Festival) feels it is more satisfying to work in the regional language ethos where the chances of finding original and nuanced stories are higher. "I have done Hindi, Marathi and Malayalam cinema and each has a distinct ethos, work culture and value system."
While McAlex sees the promise of nuance in regional cinema, Katyar sets the tone for box office worship.
Does the success of commercial movies then lower the bar for entertainers who make the effort to go beyond the box-office?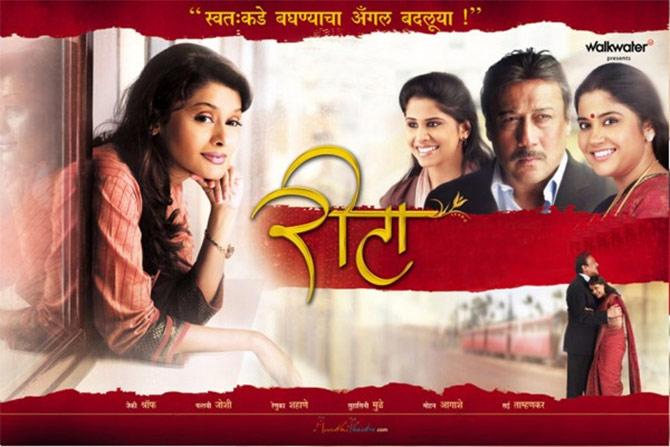 Jackie Shroff with Pallavi Joshi, Sonali Kulkarni and Renuka Shahane in Rita.
Actor Jackie Shroff (who did the lead role in the Marathi film Rita) feels the bar is pretty high for Marathi movies. "This is the only regional industry that has given three official entries for the Best Foreign Language category of the Academy Awards. That speaks a lot about the energy level of the creators. Naturally, it is an environment where each filmmaker overestimates his or her product. But, with the passage of time, the real stuff will shine."
Overestimation is a problem that many acknowledge, and not just in the case of Katyar. In recent years, Marathi filmmakers are overly eager to declare a 'golden age' or a 'revival of Marathi cinema', particularly as more and more films enter the international film festivals circuit.
But even as there is an annual increase in the quantum of films, it is time to pause and think about the general quality of the 190-odd Marathi films (requiring an investment of approximately Rs 400 crores) made every year.
Paresh Mokashi, director-producer of Harishchandrachi Factory (a film centred around Dadasaheb Phalke's struggle to make Raja Harishchandra in 1913), sums it up: "To acknowledge the expansion of the filmmakers' universe is welcome. We are indeed making more movies and some of them are notable experiments. But notable is not ground-breaking work."
We need to give time for the dagger to pierce!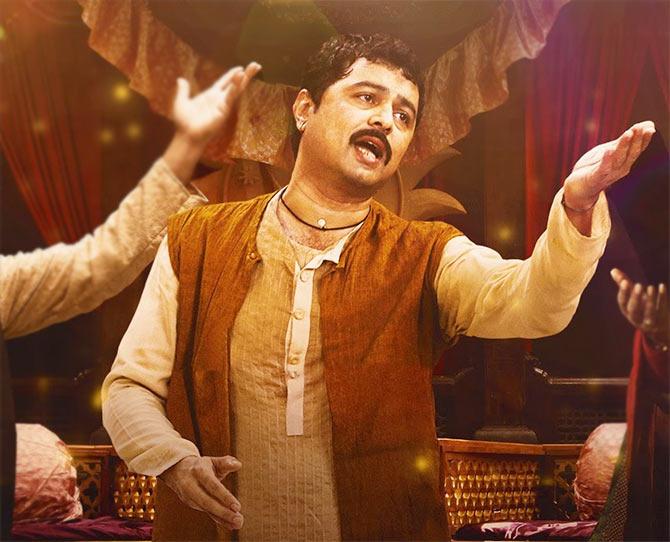 Subodh Bhave in his box office hit, Katyar Kaljat Ghusali.
Spotlight: Subodh Bhave
As a young filmmaker with the wherewithal to gain access to nuanced cinema of the world, why were you attracted to a 1962 play? Why didn't you feel the need to adapt or reinvent the original?
I love classical music and also the music in our old plays, which is why I mounted Katyar… It was so divine that I started visualising the 162 minutes on celluloid.
My confidence got a boost when I realised that the music composer (Mahadevan) I was working with was my Panditji.. That was a moment of pure joy.
People have lapped it up and they are loving Mahadevan, which means it was their need, too.
But do you agree with the flat characters that populate the film?
This is a commercial movie and I wanted to make a movie without any experimentation. I never felt the need to put in the grey areas.
Do you mean to say mainstream cinema only allows broad brush strokes, and that some shade and texture would have harmed Katyar? Or were you trying to make too many 'safe bets'?
My focus was the music. I did not intend to do anything but showcase the music of that era.
About safe bets, one can only say that some of my assumptions (about what will work) have been proven true.
Playwright Vijay Tendulkar had written a piece, Muslim And I, which was a first person account of how anti-Muslim prejudice penetrated the Hindu psyche early on in life. Khansaheb in Katyar reminds one of that Muslim stereotype.
The character represents an egocentric singer. That he is a Muslim is incidental…