In The Curious Case of Benjamin Button Brad Pitt [Images] teams up with his Fight Club [Images] director for the third time. Each of their previous creative collaborations (the other one was the serial killer drama Seven) has been a technical landmark in cinematic achievement. Button is no different.
There are surely many people around the world who believe that Mr Pitt is a living, breathing special effect. He is widely considered a very good looking man, his mate Angelina Jolie [Images] is considered some sort of gold standard for cinematic hotness and he has famous friends and untold millions with which to feed, clothe and facilitate the travel of his United Colours family.
He does charity work, is interested in architecture and the well being of the planet and he is reputed to be an easygoing, nice guy. Does that sound like a real person to you?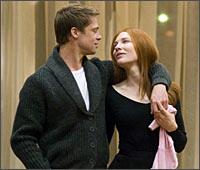 So it makes sense that he would be cast to play a character who ages in reverse, thereby rendering the majority of the character's time on screen a special effect of some sort or the other.
The story is told through notes in a diary that a dying woman named Daisy (Cate Blanchett [Images]), asks her daughter Caroline (Julia Ormond) to read to her while she lies in a New Orleans hospital. As storm clouds gather outside the hospital window we are eased into the life and times of Benjamin Button.
Once you wrap your head around the ageing in reverse concept, this is a simple enough story about a boy who begins life by being abandoned by his father at the steps of an old age home. He is taken in and raised by a big-hearted black woman named Queenie (Taraji P Henson [Images]) in a home full of senior citizens.
Benjamin grows up (or is it down?), has little boy adventures in an old man's body, and meets the girl he will love for the rest of his life. He travels, he meets other women, reconnects with his father and at various points his life intersects with that of Daisy. The film is constructed around the core of a relationship forever unsettled by physical disparities and it is a difficult conceit to always have a firm grasp on.
Button's greatest achievements are technical ones. It isn't just Brad Pitt that gets the ageing down (and up) treatment. There are portions of the film where Ms Blanchett is made to look a lot younger than she is. And in the poise she exhibits as a young ballet dancer she manages a feat of physical acting that begs the question, "how much is real and how much a product of computerized effects and clever editing?"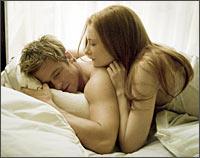 Even the performances prove secondary to the technical achievements. Ms Blanchett is as good as ever and Ms Henson's performance should have easily won her the Supporting Actor Oscar (perhaps the Academy voters just didn't notice). As the unwittingly special lead character, Mr Pitt exhibits the quiet cool he has come to be recognised for on the big screen. Nothing fazes him and he seems to have little trouble inhabiting the skin of a genteel Southern gentleman from the last century. All told though, this is a director's film.
David Fincher [Images] has employed technology as a tool in his filmmaking even in movies set entirely in the real world (like his previous directorial outing Zodiac). In the recreation of period details and in the tweaking of simple moments to fit the experience of a man whose looks will always go in a contrary direction to everyone else's, the director and his team get it very right. But the technical achievement sometimes crushes the thought-provoking story about finding grace in ageing, under an avalanche of 'how did they do that' moments. This is one of those cases where a film's biggest strength is also its biggest weakness.
The Curious Case of Benjamin Button is a movie you have to watch at least once, if only to see what all the fuss is about. It is impressive what the filmmakers have managed to commit to celluloid in the name of realizing the fantasy that was first committed to paper as a short story by F Scott Fitzgerald in the 1920s.
Watch this one to see how filmmakers can use technology to build far more fantastical worlds than we are used to imagining. Then discuss with your friends how you would have done it differently.
Rediff Rating: