February 24, 2009 15:58 IST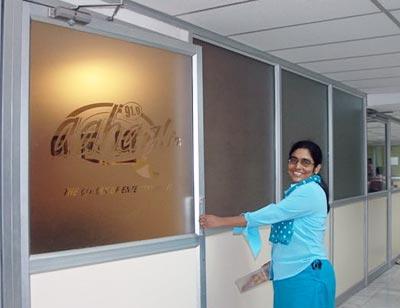 As A R Rahman received his Oscars at the 81st Annual Academy Awards, everyone back home was cheering -- including his older sister Raihanah, who is the mother of budding music composer G V Prakash. She talks to Shobha Warrier about the excitement at home:

We were watching the Oscar ceremony live on television. When Resul Pookutty got the award, I knew Rahman would definitely win. I felt that if they were giving a technical award, they would definitely give one to music as well.
More than that, Rahman had won all the other awards like BAFTAs and Golden Globes for this film. It is only logical that he would win at the Oscars too.

So the first Oscar was not a surprise for me. We were all very happy. The second one was a surprise even though we expected him to win for the songs. Two Oscars is unimaginable.

I felt very happy with his acceptance speech. The most touching moment for me was what he said in Tamil. I really wanted him to say something in Tamil, and he did.

I was not surprised when he spoke about our mother; he always does that. He is very close to her. That is but natural, as they have been together all their lives.
 
All of us sang with Rahman when he performed, and we were all dancing too. We cut a cake, burst crackers and ate a lot of sweets!

Later, I called him, and congratulated him. He thanked me for my prayers.

I still remember him playing the keyboard as a small boy, that is, when our father was alive. My father recognised the musician in him very early. Even after our father died, he continued with his piano classes. My mother used to hire keyboards for him to practice, and he would complain that the instrument was not good. He would ask for better keyboards.

I want to gift him something but my gift will be too small for a person like him. I plan to give him a kurta. If I give him anything else, he will give it away. If it's a kurta, he will wear it.

Anybody, who is involved in music, will be serene. You can't find any musician who is not serene. Music is his meditation, and his prayers. Rahman has always been very quiet.
 
I tell my son, Prakash, to be very careful with words like Rahman.

Text: Shobha Warrier | Photograph: Ashanti Omkar