| | |
| --- | --- |
| The Golmaal Returns poster | |
| | |
| | |
| | |
| | |
| | |
| | |
Advertisement
October 29, 2008 21:13 IST


There is a sequence in Rohit Shetty's Golmaal Returns where Ajay Devgan [Images] launches into a self-righteous diatribe against wife Kareena Kapoor [Images]. In doing so, he invokes one of Hindi farce's most hackneyed gags -- one where he uses film titles to construct sentences. It is a bit we've seen a million times before, but the difference here is that Devgan sticks exclusively to movies starring himself, going from Dilwale to Diljale to Hum Dil De Chuke Sanam. As he winds on, an ever helpful Shreyas Talpade [Images] prompts him with a few more: 'Cash, Raju Chacha, Ramu Ki Aag,' he says, only for Devgan to snarl, asking him to leave the salt out of the wounds.

It is refreshing, this long-overdue ability shown by our stars to mock themselves. Instead of shying away from three of his biggest clunkers -- one of which he produced himself -- Devgan is instead taking the punch front and centre, and knowing that the joke is on him makes it that much funnier. There is much of this tomfoolery in the decidedly scriptless Golmaal Returns, with jokes made at everyone's expense: from Kareena's boyfriend's tattoo (the same jibe in two films released within four days of each other, really?) to Tusshar Kapoor's sister's serials.

Also impressive is the fact that the film, clearly not taking itself seriously, works in constant mock-movie mode. Every few scenes, one or more of the characters steps out of, well, character and break the fourth wall to make a reference to the first film, a possible Golmaal 3, or -- like in the aforementioned Devgan scene -- to each other as actors, not their fictional personas. It is a manner of loopy filmmaking in the key of Steven Soderbergh's delightfully self-referential (and completely plotless) Ocean's Twelve, and so there is definite potential to shine.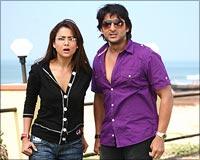 Except, these moments of zing, while pretty darned good -- sometimes even quotable -- are too few and far between. The film is longdrawn, weighed down by several scenes that just aren't funny besides trying too hard. The basic problem for Golmaal Returns is that -- and here I urge you to scroll back to the first paragraph, to reemphasise the point -- by the time the really awesome laughs come around, you're already tired by the been-there-seen-that banality of it all.
It's a shame, because Shetty clearly is an intelligent guy. There is concept behind his caricaturing and some quite innovative -- and even alarmingly wicked -- broadsiding, but he settles for dumbing this film down into something painfully puerile, diluting the best of his gags by setting them among a pile of Priyadarshanesque pap. Sigh.
Tusshar Kapoor leads the pack in terms of performances, his mute act only having gotten better with time. Often the only reason for a lot of scenes being watchable, Tusshar shows off extreme mime skills in a scene where he chastises Kareena and Amrita Arora [Images] for wailing before hearing him out.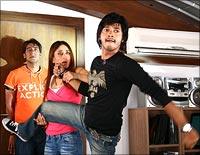 The only other good acting job in the film comes unsurprisingly from Kareena, the heroine frequently shooting her Jab We Met [Images] glare while hilariously playing a soap-obsessed housewife -- and all this while looking like a million bucks.
Shreyas Talpade is all over the place, while Ajay Devgan and Arshad Warsi [Images] are essentially faffing through the proceedings -- which isn't necessarily a bad thing in a movie of this nature, but some restraint would have truly helped the overall picture. Significant restraint would also be required of the director for the appalling insensitivity on display with the mute jokes -- the Tusshar track is all about how he refuses to tell a girl who makes eyes at him that he's a mute, for fear that she rejects him, a horrid idea the other two guys only encourage -- and it's okay to laugh at a character being dumb, but plain sick to do it just because he can't speak.
Another word to the wisecracker, Rohit: enough with the Sanjay Leela Bhansali [Images] digs. Clearly you aren't enamoured with the director, but the only reason we laughed our heads off with all the Black references in Golmaal was because some people actually liked that film; heck, some utterly worshipped it. This time, when you harp on and on about Saawariya [Images], the jokes fall truly and utterly flat -- because a good spoof always takes on something significant, iconic, memorable. Not a movie nobody wants to remember.
The last five minutes of Golmaal Returns are the funniest I've seen in a movie theatre in a very long time. If only the film preceding it was even half as good.
Rediff Rating: