Home > India > Movies > Reviews


Discuss |
Email |
Print | Get latest news on your desktop

New dog, old tricks

Raja Sen | October 24, 2008 16:29 IST


| | |
| --- | --- |
| A still from Roadside Romeo | |
| | |
| | |
| | |
| | |
| | |
| | |
First things first, the animation is pretty impressive. Alright, granted that the mouths merely flap generically most of the time instead of approximating lip movement, but then it would be wrong to expect a Pixar-level animation anyway.
This is a well-animated movie with finely detailed backgrounds, and despite a lack of overall consistency, Roadside Romeo looks nice, bright and shiny enough to ensure kids are drawn to it. So well done, animators and debutant director Jugal Hansraj -- the look works.
As for the script, well, it is as you'd expect from a collaboration between Walt Disney [Images] Pictures and Yash Raj Films. The animation is spiffy, the sidekicks are more endearing than the protagonists, and absolutely everything is looked at through Bollywood-tinted sunglasses. Roadside Romeo is an innocuous, extremely basic kids film -- with a plot so predictable it'll make grown-ups sleepy -- and while it might well strike a chord with reality-show lovin' bachchas who dig all things filmi, the entire project smacks of wasted potential.
The scale, the animation and even the actors are all there, but they're all working from a script that could well have been adlibbed on an episode of the Great Indian Laughter Challenge. Thus is the simple plot embellished with a character who only speaks mimicking actors like Shah Rukh Khan [Images] or Sunny Deol, and a dog-eat-dog underworld setting, which means yet another dose of Bollywoodised bhaigiri.
The problem is that these flimsy film gags -- spoofing Dilwale Dulhaniya Le Jaayenge, among other things -- have been done to death, as has that world of street slang. As mentioned earlier, it's perhaps unfair to expect the levels of subtext and complexity Pixar shows in its films, but some quirks would be nice -- and we're not talking the occasional side-gag.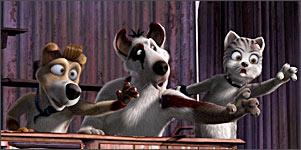 Still, just by dint of being the first full-length three-dimensional animated film in the country, there is an immense novelty value to the enterprise, making even the formulaic plotline seem somewhat different. We haven't seen well-animated dogs imitating Shatrughan Sinha before, basically speaking. And one must concede that there is a naive earnestness to the overall proceedings, making the film seem relatively watchable.
The voice talents aren't bad, to be honest. Jaaved Jafferi is obviously in fine fettle, one of the finest mimics in the country rising to the occasion as the bad guy, Charlie Anna.
It's Sanjay Mishra -- voicing scruffy sidekick Chhainu -- who really steals the show, however, pulling off a raspy accent and hackneyed lines with all the aplomb of a true performer. Kareena Kapoor [Images] plays the heroine Laila, but her voice doesn't come across as distinctive enough, and it could well have been anyone.
As for Saif Ali Khan [Images], this is his riskiest role yet. Yeah, far more than shaving his head and trading glam for dirt in Omkara [Images]. Because, as Romeo, the star faces up to his biggest handicap -- that voice -- and does relatively well, managing to at least create a character we somewhat warm up to, despite his constant emphasis on being 'kewl.'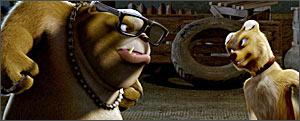 Which brings us to the main problem. While it's easy to look at Roadside Romeo as a harmless entertainer -- and there is a chance the film will indeed score very well with young audiences -- there is an inherent danger in the way it shoves even more Bollywood down the throats of its target audience. Recently, I expressed concerns at just how increasingly obsessed children are getting with films and stars and banners, and this is the kind of film that just worsens the situation: can't a children's film stand on its own charm without having to go Bollywood all the time?
At one point during the film's inevitably happy ending, Saif's Romeo proudly shows off his arm, which has the word Laila tattooed on it in Hindi. This is at once the film's funniest -- and scariest, depending on which way you look at it -- moment, and says more than any review can, really.
Rediff Rating:

Want to see this movie? Check out Rediff Movie Tickets!

Email |
Print | Get latest news on your desktop