It's just that when the grapevine has it that a film is a remake of a Korean horror film, we as an audience wishfully hope that our fool-proof decision to watch this in a cinema hall becomes a frightful and entertaining cola- guzzling experience that most Asian horror films apparently have a patent on. And this is not exactly where Mirrors appallingly fails; rather it pulverizes on several levels.
Ben Carson (Keifer Sutherland) plays a troubled ex-detective who is forced to take a job as a night watchman at a burned-out department store that was gutted by a deadly fire five years ago and remains empty because of an ongoing legal battle with the insurance company. Everything in the store is horrifically charred except for the mirrors. At this point, we are informed that the mirrors in the store remain immaculately clean because the previous night-guard was obsessed with cleaning them. At the drop of a hat, Carson begins to see mysterious visions in the mirrors which alone would scare any real person off the pay-roll. Nevertheless our hero, who is doused in marital woes, continues to work at the store until he finds out why the mirrors are alive and what they want.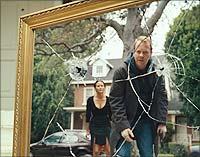 A hell of a nifty theme for a horror film but Aja makes no bones about turning it into a bleak mess. Trying his hand at yet another remake, this time a Korean film Into the Mirrors, Alexandre Aja handles Mirrors with a pen that lacks the intriguing themes and outrageous shocks of his recent best, The Hills Have Eyes. Sure, Mirrors has a financially large canvas and is technically ahead of some of its predecessors. However, it offers no shivers and completely neglects the cinematic promise that comes with the label -- Horror. A brief appraisal:
The Good
Alexandre Aja has done a terrific enough job in bringing about the ambience and gloominess of this Victorian department store Mayflower rendered with a tormented past. And the least we can do is to compliment this film as "creative" for the few rare thuds that it progressively manages during the suspense-invoking first half (thanks to the pigeons). The gruesome bathtub scene is worth a hoot too. Let us also not forget to accredit the opening credits that were done so exceptionally well. And I see that the sole reason translating this film from "Forget about it" to "Not Bad" are the last five minutes of run-time which the theatergoers better be talking about.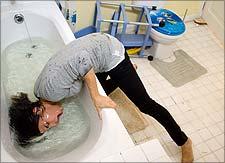 The Bad
Kiefer Sutherland as a disgraced detective struggles for the right acting reflexes. We thank Aja for giving plenty of focus to Paula Patton's cleavage (a very unintelligible move), but keeping the sentiments of a horror film in mind, is nevertheless welcomed for pure reasons of gratuitous titillation (not that the guys should be complaining). Despite the terrifying idea of someone watching you through the mirrors, Aja falls short at the hands of Asian filmmakers who possess the inborn tendency of transforming everyday objects into uncanny forms of fright. There are certain scenes that end abruptly during the first half and the storyline crumbles with the second half ending a bit on the farcical side.
The Ugly         
Ultimately, a film with a misplaced cast and even weaker performances, Mirrors would need more than a gold-plated frame to hold its reflection at the theatres.If you long for something with grit and grime, you'd be better off wating for Saw 5.
Rediff Rating: